Jankowski, Turner spark Missions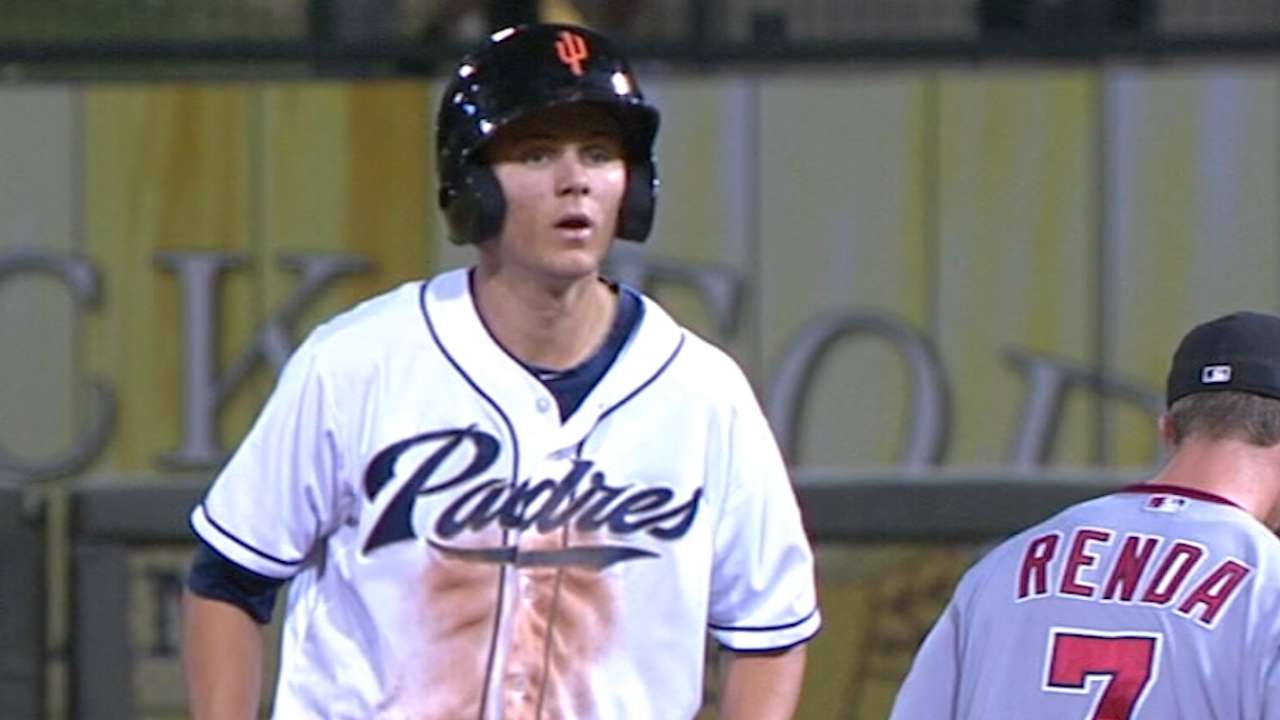 Bill Center, longtime sportswriter for U-T San Diego, is an employee of the Padres.

The San Antonio Missions entered Monday night's game at Springfield, Mo., hitting .150 as a team after four games.

Then center fielder Travis Jankowski and shortstop Trea Turner paced a 14-hit attack with three hits apiece as San Antonio (2-3) defeated the Springfield Cardinals, 5-2.

Jankowski was 3-for-4 with a steal and two runs scored. Turner was 3-for-5 with a stolen base.

Third baseman Casey McElroy (.444) was 2-for-5 with a RBI. First baseman Luis Domoromo was 2-for-5 with a RBI. Left fielder Alberth Martinez was also 2-for-5. Pinch-hitter Yeison Asencio hit a two-run
double.

Right-handed starter Dennis O'Grady allowed two runs on three hits and a walk with five strikeouts in four innings. Righty Michael Dimock allowed a hit in a scoreless inning to pick up the win. Right-hander Jay Jackson allowed a hit with seven strikeouts in three scoreless innings. Righty Tayron Guerrero picked up his first save, allowing a hit in a scoreless inning.

The Padres' three other affiliates lost Monday night.

Around the farm:

Triple-A El Paso (2-3): Reno 2, CHIHUAHUAS 1 -- Catcher Austin Hedges drove in El Paso's lone run with a two-out single in the ninth. Right-handed starter Bryce Morrow gave up a run on six hits and two walks over five innings with four strikeouts. Morrow also had one of El Paso's five hits. Righty reliever Nick Vincent made his El Paso debut after being optioned from the Padres, and he gave up a run on three hits with a strikeout in one inning.

High Single-A Lake Elsinore (3-2): High Desert 4, STORM 3 -- Shortstop Jose Rondon (.450) was 3-for-5 with a double and two runs scored. Right fielder Yale Rosen was 3-for-4 with a triple. Center fielder Auston Bousfield (.389) was 2-for-4 with an RBI. Right-handed starter Justin Livengood allowed all four High Desert runs on eight hits over 5 1/3 innings. He struck out five without issuing a walk. Righty Kyle Lloyd allowed a hit with a strikeout over 1 2/3 scoreless innings of relief.

Low Single-A Fort Wayne (0-2): Lansing 9, TIN CAPS 1 -- Center fielder Michael Gettys, 19, was 2-for-4 with a double and his second steal in as many games. Catcher Jose Ruiz was 2-for-3 and drove in Fort Wayne's lone run. Right-handed starter Walker Lockett allowed only one run on three hits over 5 2/3 innings. He struck out six without issuing a walk. Left-hander Payton Baskette suffered the loss, allowing three runs on two hits and a walk with two strikeouts in 1 1/3 innings. Second baseman Josh VanMeter was placed on the disabled list after the game after suffering an injury to his left leg while turning a double play.