Peralta following 'one pitch at a time' mantra
Decade after converting from outfielder, righty becoming steady hand for Crew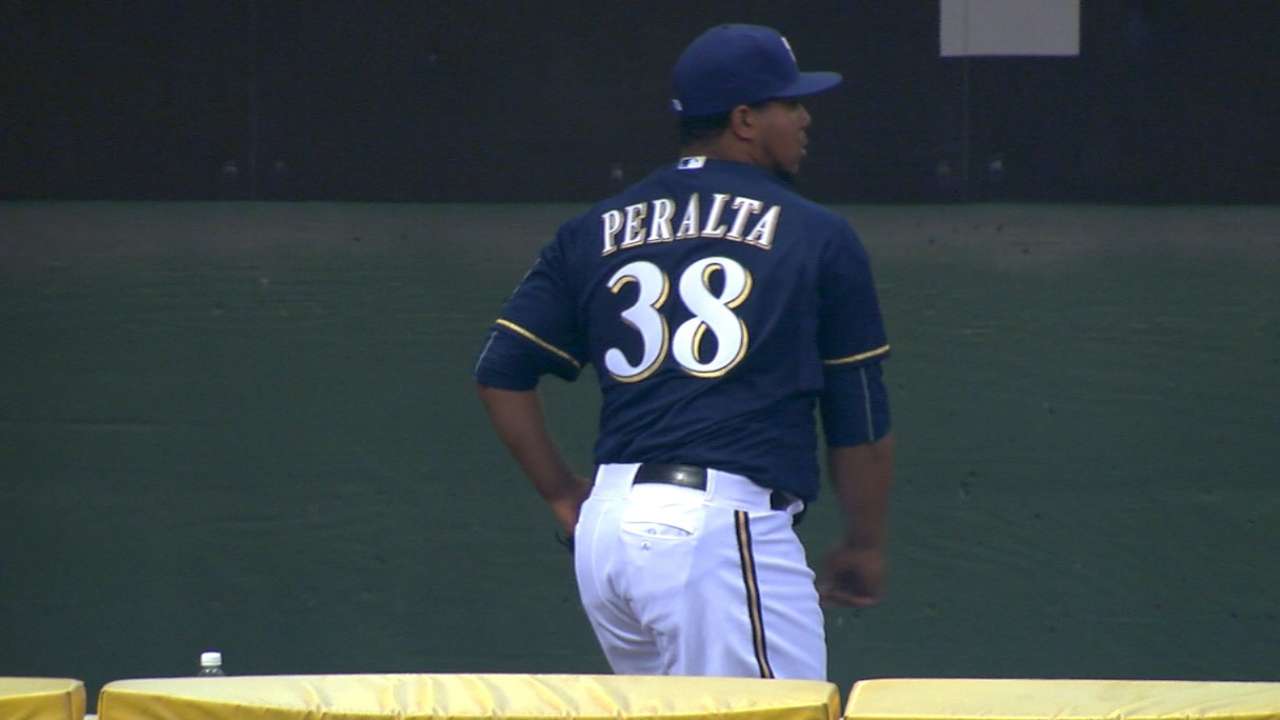 ST. LOUIS -- It's coming up on 10 years since Wily Peralta signed with the Brewers as a 16-year-old in the Dominican Republic, and how things have changed.
"Oh man," Peralta said with a chuckle. "It's a big difference. At that time, I remember I was playing outfield, and I only knew how to throw fastballs. Now I'm here pitching. That's a big step for me. At that time, I only knew how to throw hard."
Peralta threw so hard as an outfielder during a workout with the club in Bonao that Brewers scout Fernando Arrango asked him to simulate an inning on the mound. Peralta remembers throwing about 15 pitches during that fateful tryout, and he heard later that he sat in the 93-94 mph range and touched 96.
Milwaukee saw enough to give Peralta a $450,000 bonus. He moved to Bonao and bought his mother a house, and he learned a sinker, a slider and a changeup.
Nearly a decade after converting to pitching full time, Peralta is beginning to figure it out. In 2012, he broke into the big leagues. In '13, Peralta made 30-plus starts for the first time. In '14, he went 17-11 with a 3.53 ERA, and he led the Brewers in victories, innings, strikeouts and quality starts.
"What I like is when you see him throwing harder in the seventh inning than he did in the first," said Milwaukee center fielder Carlos Gomez. "He knows who he is now. That's going to make him go to another level."
On the other hand, fellow Brewers pitcher Kyle Lohse, who has served as a mentor to Peralta over the past two seasons, has urged him to avoid the temptation to "try to do too much."
Lohse has hammered home a simple message: Throw strikes.
"The main thing for him is to not say, 'OK, this is what I did last year. I need to do better,'" Lohse said. "That's something I'm really going to impress into him, that there's going to be a lot of pressure put on him to do better than last year, but he was pretty darn good last year.
"Go look at '04, my stats. That's what happened when I tried to do better."
Lohse didn't throw quite as hard as Peralta, but he was essentially a power pitcher as a younger player. After making progress with the Twins in 2002 and '03, his ERA jumped to 5.34 in '04 and his walks increased by nearly 70 percent.
It was the result of trying too hard.
"It doesn't work out very well," Lohse said.
"Lohse is a great mentor," Peralta said. "I've been talking to him during the game; I always ask questions and he helps me a lot. [He tells me], 'Don't try to do too much, and go one pitch at a time.'
"I think I have a lot of things to improve. I can improve my command. My goal this year is to be healthy and try to get 200 innings. If I get 200 innings, that's going to be a good season."
It would also go a long way toward one of general manager Doug Melvin's goals for the team: One thousand innings from the starting pitchers.
Last year, five Major League teams reached that total. The Brewers just missed, ranking No. 7 of 30, with 992 1/3 innings from their starting pitchers.
Does Peralta miss being an outfielder?
"Not really," he said. "Not right now."
Adam McCalvy is a reporter for MLB.com. Follow him on Twitter at @AdamMcCalvy. This story was not subject to the approval of Major League Baseball or its clubs.