'Visionary' Carlton a candidate for Cards' Hall of Fame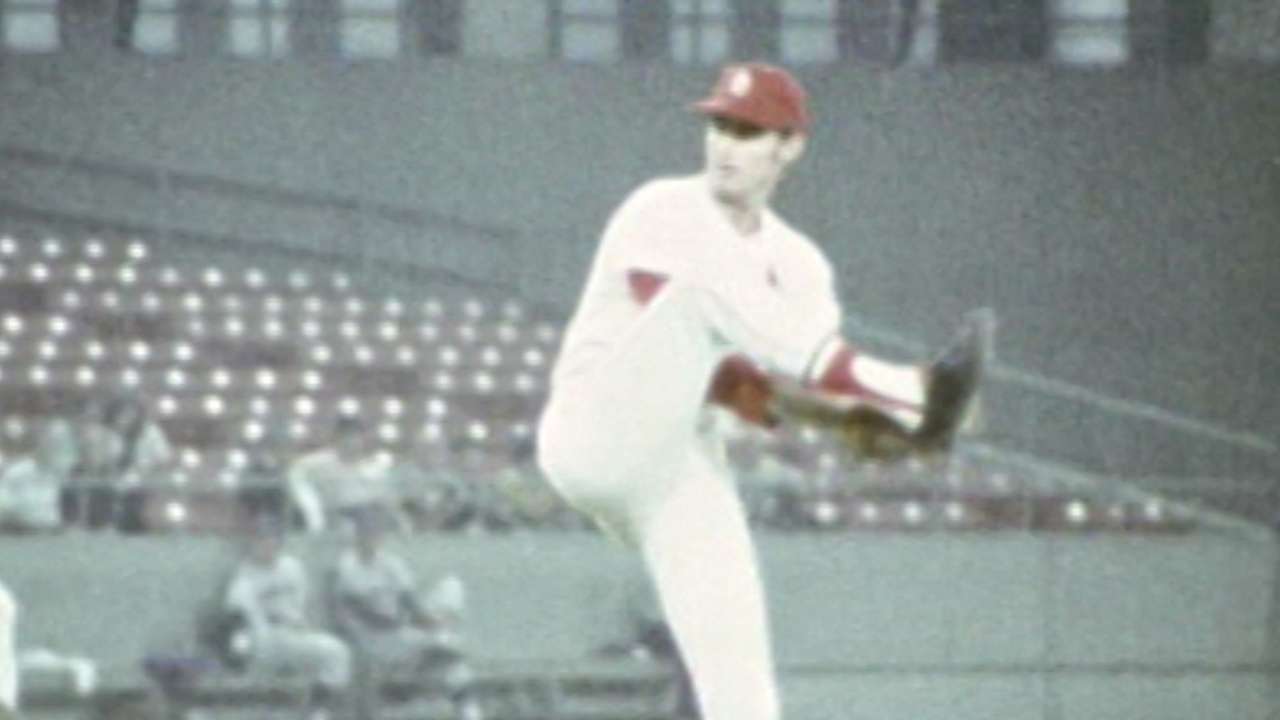 This is the eighth in a series of stories profiling the eight modern candidates on the Cardinals' 2015 Hall of Fame ballot.
There are few who know Steve Carlton better than Tim McCarver. Of the 741 times Carlton took the mound in a Major League game, McCarver was behind the plate for 236 of them -- nearly 100 more than any other player who caught the Hall of Fame hurler.
They shared the field for 12 seasons in St. Louis and Philadelphia. When Carlton shied away from the media and refrained from talking to reporters, McCarver became somewhat of a de facto spokesperson for the lefty. And the two remain close friends to this day.
The batterymates hit it off as fast friends decades ago due in part to a shared unconventional nature, which McCarver believes is one facet of what made Carlton so successful on the mound. The southpaw accomplished all he did while going against the grain.
"Steve deserves a lot of credit, and what he did, he did on his own and right smack dab in the face of convention," McCarver said. "For example, lifting weights, becoming the strongest man I ever met from his finger tips to his elbows, particularly his left arm.
"And baseball people continued to say that you couldn't do that, including our trainer with the Cardinals, Bob Bowman. He said there's no way you can lift weights and be a good Major League player. But Steve proved them all wrong. He was a visionary, ahead of his own time."
That unorthodox visionary went on to win 329 games, four Cy Young Awards and two World Series titles in a 24-year Hall of Fame career. And now Carlton has an opportunity to be recognized for his achievements in a Cardinals uniform. Carlton is one of eight modern legends up for a place in the Cardinals Hall of Fame gallery.
Through Monday, fans can vote at cardinals.com for up to two of the eight modern legends: Carlton, Mark McGwire, Matt Morris, Keith Hernandez, Edgar Renteria, Bob Forsch, Ted Simmons and Joe Torre. The top two vote-getters will be enshrined during an Aug. 15 ceremony at Ballpark Village.
Carlton may be best known for his time wearing Phillies red, but St. Louis is where his historic career began. He signed with the Cardinals as an amateur free agent in 1963 and played in parts of seven seasons with the club. While with the Cards, Carlton went 77-62 with a 3.10 ERA over 190 games (172 starts). He also became the first big league pitcher to tally 19 strikeouts in a nine-inning game, a feat he accomplished on Sept. 15, 1969, against the Mets.
"Steve Carlton was not with the Cardinals for a long time," McCarver said, "but what he did while he was there set the stage for one of the most dramatic careers by a left-handed pitcher in the history of the game."
Carlton won the first of his two World Series titles in 1967 with a Cards team that won 101 games and defeated the Red Sox in seven games in the Fall Classic.
Carlton would go on to pitch four more seasons as part of St. Louis' rotation, eventually being dealt to Philadelphia for Rick Wise before the 1972 season. After 14-plus years with the Phillies, Carlton made brief appearances with the Giants, White Sox, Indians and Twins, retiring in 1988. He was a near-unanimous Hall of Fame selection in 1994.
The 10-time All-Star finished his career with a 329-244 record and a 3.22 ERA. Those 329 wins rank 11th all time, and second among lefties. Carlton also remains fourth all time for strikeouts, with 4,136.
Chad Thornburg is a reporter for MLB.com. This story was not subject to the approval of Major League Baseball or its clubs.