Broken hand to sideline Rios indefinitely
Royals OF to 15-day DL; Dyson, Orlando likely to see more time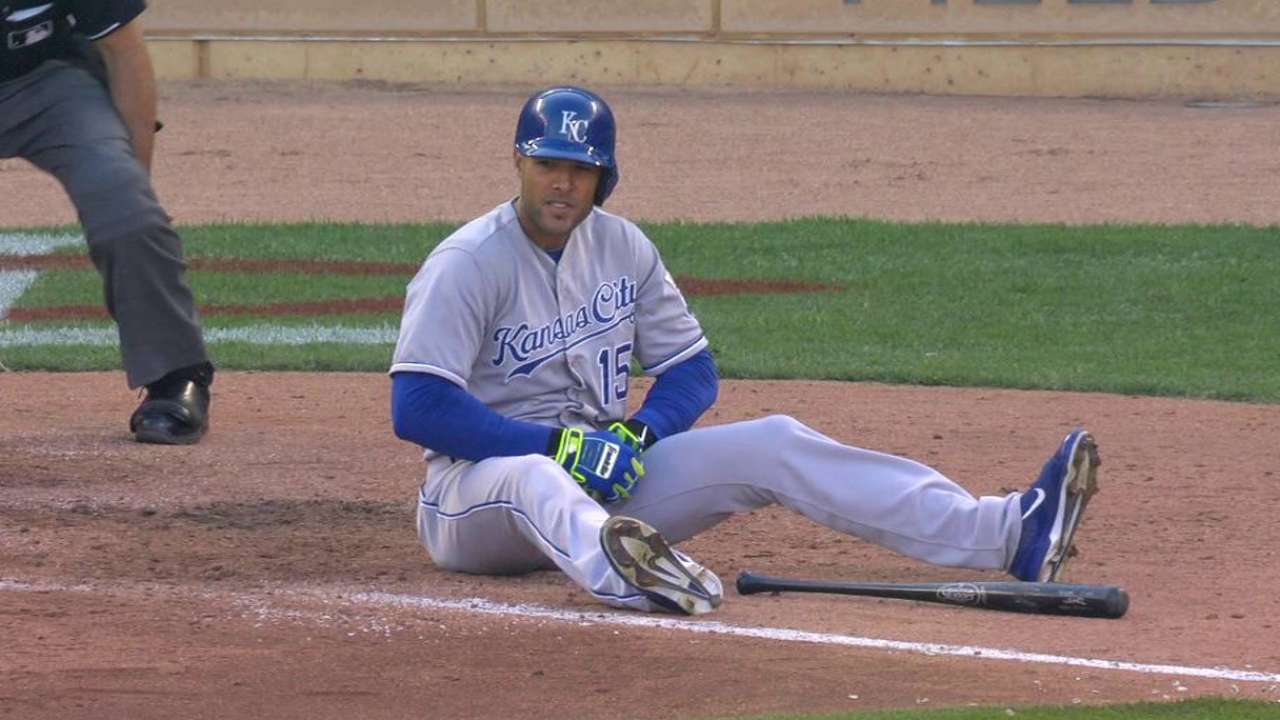 MINNEAPOLIS -- The unbeaten Royals now will face their first perseverance test of 2015 after learning that right fielder Alex Rios will be out indefinitely with a non-displaced fracture of the fifth metacarpal in his left hand.
Royals general manager Dayton Moore said by phone that the team doesn't have a timetable yet for how long Rios, who was placed on the 15-day disabled list, will be out.
"We hope it wouldn't be longer than six weeks," Moore said. "Everyone's a little different in that situation. I know that [Eric Hosmer] was out four weeks with a similar injury."
Hosmer was hit by a pitch by Jon Lester in Boston in late July last season, tried to play for a week, then reinjured his hand on a checked swing. He suffered a stress fracture of the third metacarpal and was placed on the disabled list Aug. 1. He resumed playing Aug. 31.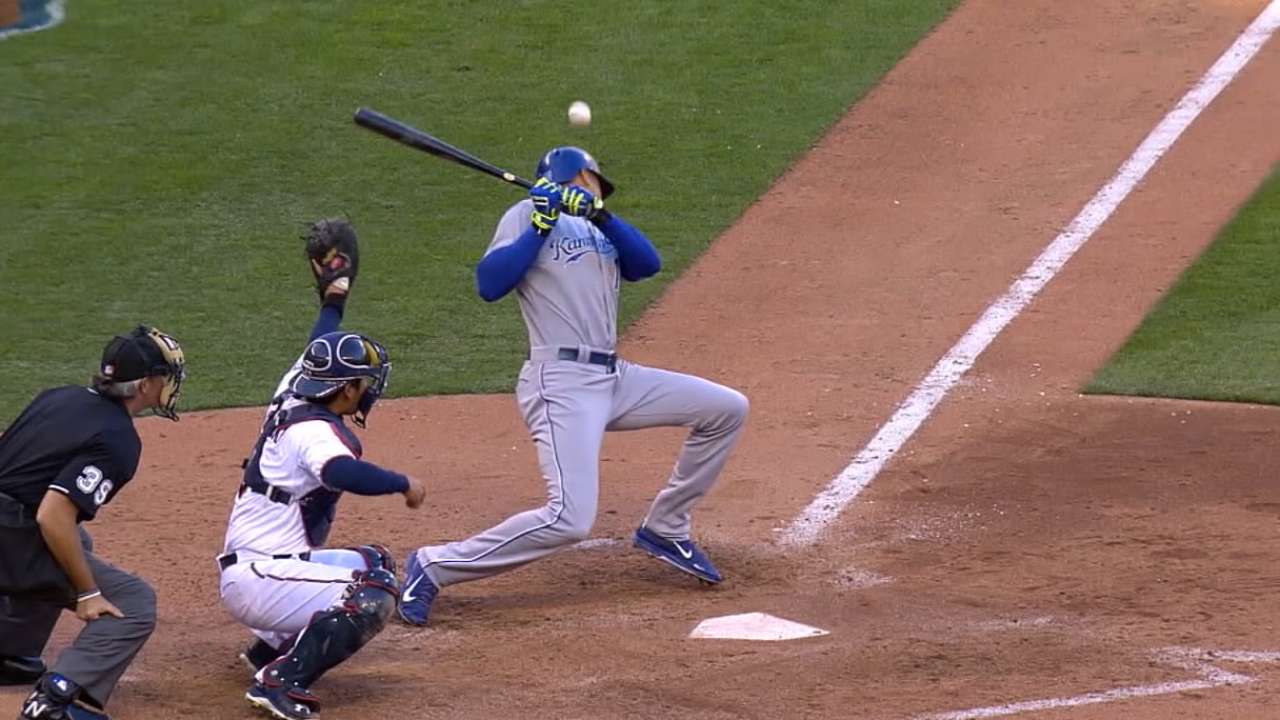 Rios, who was hitting .321 with one homer and eight RBIs, was hit in his left hand by a fastball from reliever J.R. Graham in the eighth inning of Kansas City's 12-3 win over Minnesota on Monday. It was the 12th time the Royals have been hit by a pitch already this season, most in all of baseball.
The encouraging news was that Rios passed some strength tests in his wrist after the game, Moore noted.
Moore said he was unsure who would replace Rios on the roster, but he indicated it wouldn't necessarily have to be an outfielder.
"I'm still discussing it with Ned [Yost]," Moore said. "We just don't know yet. We're very confident in Jarrod Dyson and Paulo Orlando."
Kansas City could shift to a platoon of sorts in right field. Orlando would play against lefties, while Dyson would play center field against righties, with center fielder Lorenzo Cain shifting to right.
Coincidentally, Dyson told MLB.com on Monday that he was eager to get more playing time. His brief appearance at the end of Monday's blowout was his first action of the season.
"It's been kind of tough, because you'd like to be a bigger part of the winning," Dyson said. "I'm not complaining, because you can't be selfish. We're winning and we all have a role and I've got mine. But it's hard when you don't feel a part of it all."
That's about to change for Dyson.
As for whom the Royals might call up, it's unlikely to be outfielder Brett Eibner, who had a fantastic spring. Eibner isn't on the 40-man roster, though Kansas City could add some flexibility by placing left-hander Tim Collins (Tommy John surgery) on the 60-day disabled list.
"We honestly don't know yet," Moore said. "We don't have to make any decisions until tomorrow."
Jeffrey Flanagan is a reporter for MLB.com. Follow him on Twitter at @FlannyMLB. This story was not subject to the approval of Major League Baseball or its clubs.