Masterson stayed optimistic despite subpar outing
BOSTON -- While it may not have been the return to Fenway Park that Justin Masterson imagined, the right-hander remained optimistic after a frustrating start in the Red Sox's 8-7 win over the Nationals on Tuesday night.
Selected by the Red Sox in the second round of the 2006 First-Year Player Draft, Masterson hadn't worn the home uniforms since July 29, 2009. This time out, he allowed seven runs on eight hits in 4 2/3 innings.
"It was great. It was fun. I was just hoping I would have pitched a little bit better," Masterson said. "The fans are incredible. The memories of where it all started and being able to be back here."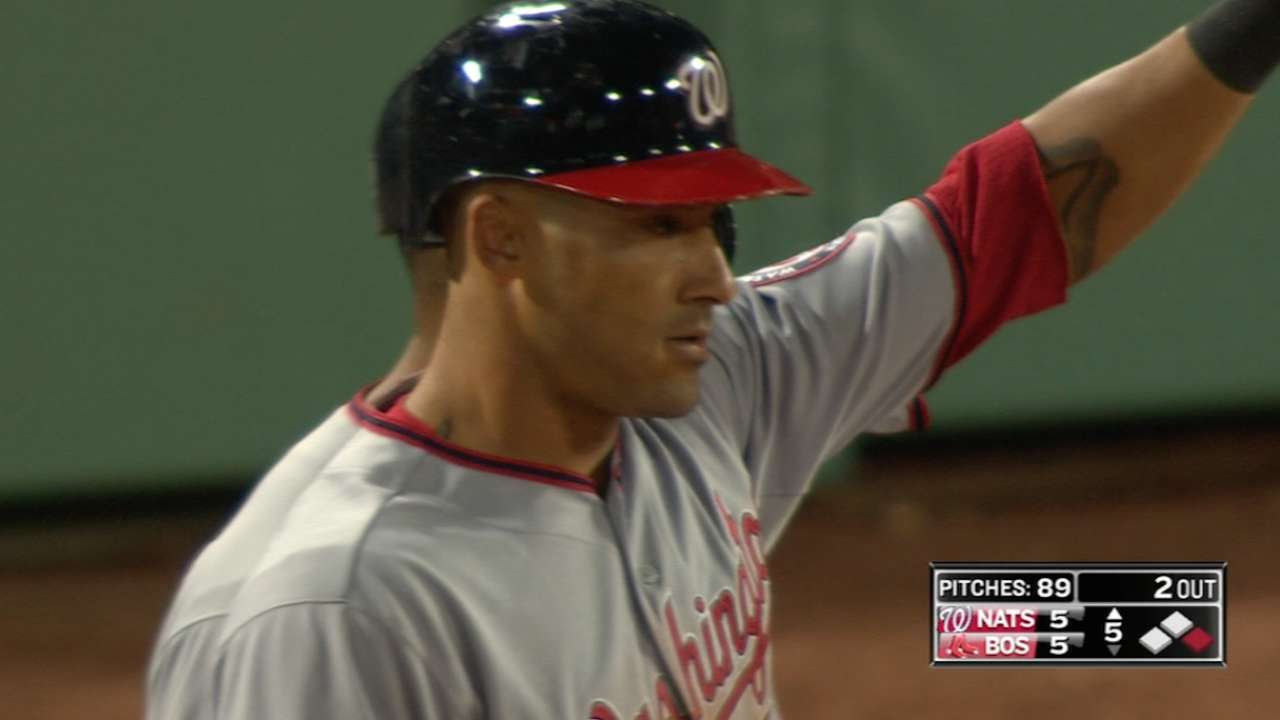 Masterson's undoing came in the fifth inning when he faced eight batters. Two were hit by pitch, one batter walked and three others recorded singles. Six of his seven earned runs came in the frame.
"I was a little tight. Sometimes you come out just great. I thought it was maybe going to be three or four runs, and it turned out to be seven total," Masterson said. "I thought we'd get through the fifth, get to the sixth. It didn't happen the way that I wanted it to. A little mechanics, I just have to trust everything. I was battling that mentally and physically."
Masterson's issues centered around his command and inability to repeat his delivery. Allowing the Nationals to get into hitters' counts, the right-hander felt his body tense up in the fifth.
Masterson didn't have the same issues in his first start on Thursday against the Phillies, allowing just two runs on three hits in six innings for the win.
Red Sox manager John Farrell thought Masterson had good action to his fastball and slider, but the lanky right-hander couldn't find the control necessary to finish the inning.
"Didn't have his best stuff overall," said Farrell. "I thought he threw enough strikes early on to keep away from a big inning, and then it seemed like the stuff kind of ran out of gas a little bit with a couple of walks in that fifth inning -- where multiple baserunners and a pitch up on the plate, where they're able to start chipping away."
While Masterson struggled through Tuesday's outing, he still trusts his stuff.
"We had some close balls. It is all a part of getting better and learning from it," Masterson said. "I have a lot of things we can continue on, some good, some bad to take into the next one. I think we'll be just fine."
Quinn Roberts is a reporter for MLB.com. This story was not subject to the approval of Major League Baseball or its clubs.