Former construction worker Martin arrives in big leagues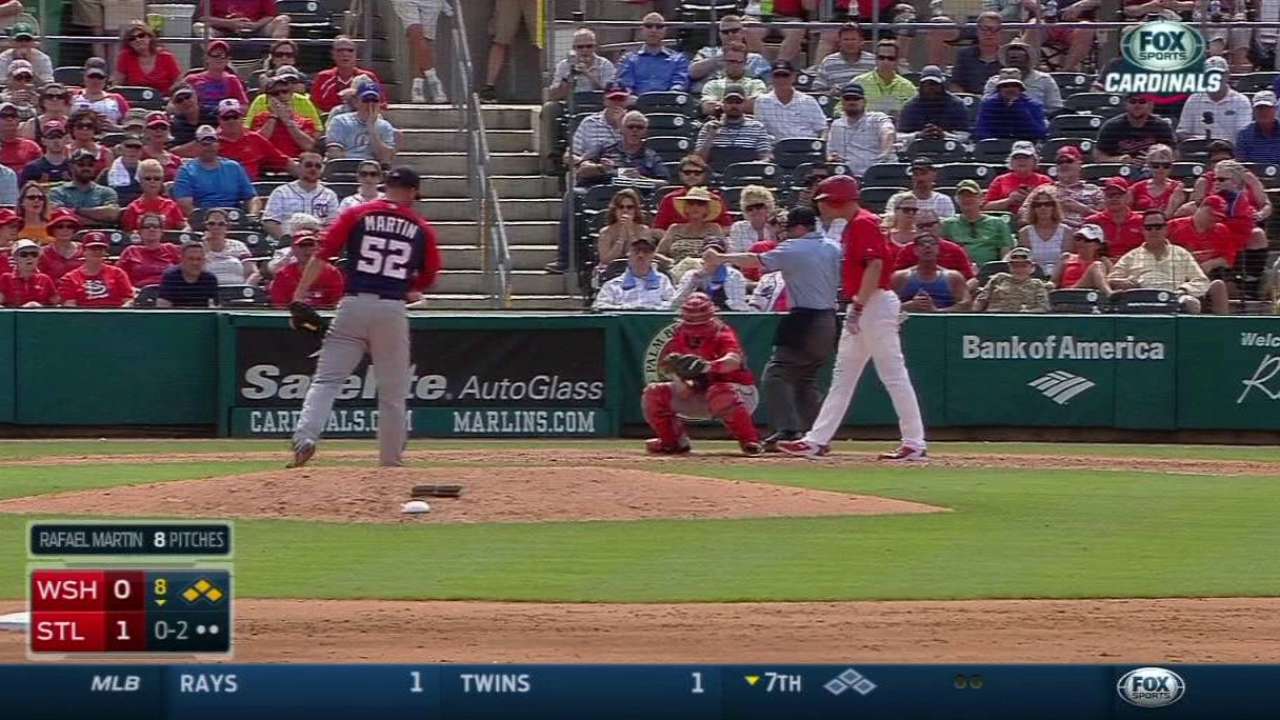 BOSTON -- Once upon a time, Rafael Martin was a Californian construction worker who had no expectations of playing professional baseball. On Tuesday, with the Nationals selecting Martin's contract from Triple-A Syracuse, the 30-year-old reliever will have the honor of adding "Major League pitcher" to his resume.
"I was kind of speechless," Martin said after hearing the news on Monday night. "I was like, 'Are you guys playing with me? What's going on?' I kind of looked around, everybody was just smiling, happy for me."
Martin graduated from Jurupa Valley High School and worked in the construction industry for four years before he signed with the Saltillo Saraperos of the Mexican Summer League as a free agent in 2007. Three years later, he signed a Minor League free agent contract with the Nationals.
The 30-year-old turned in a 1.39 ERA and saved 11 games for three different Nationals affiliates in 2014. He primarily relies on a tough-to-track slider, and according to manager Matt Williams, also possesses quality command and location.
"The ability to spin the baseball for strikes, work both sides of the plate," Williams said. "He fields his position, he does a lot of things well. He gives us the ability to go multiple innings, too."
In a corresponding move designed to bolster their fatigued bullpen, the Nationals designated lefty Xavier Cedeno for assignment. Cedeno owned a 6.00 ERA in five relief appearances this season and had pitched four times in the previous five days. The decision leaves Washington with just one southpaw in its bullpen -- veteran Matt Thornton -- to face a talented Red Sox lineup, and later on this week, the lefty-heavy Phillies.
Williams called it a move of necessity above all else.
"Unfortunately with the situation we have today with [Cedeno], there's really no choice," he said. "We need that length. We have to make that move today. We'll see what happens, but it's about the next game or two and being healthy with the bullpen."
As for Martin, he is thrilled by the reality that he has finally reached the Majors, and what's more, having the opportunity to make his debut at Fenway Park.
"I think I had the determination to get here," said Martin. "I went through some downs, a couple surgeries and stuff. I just kept working hard for the opportunity, and it finally happened."
Alec Shirkey is an associate reporter for MLB.com. This story was not subject to the approval of Major League Baseball or its clubs.