MLB.com Columnist
Anthony Castrovince
7 reasons to love the 7-0 Royals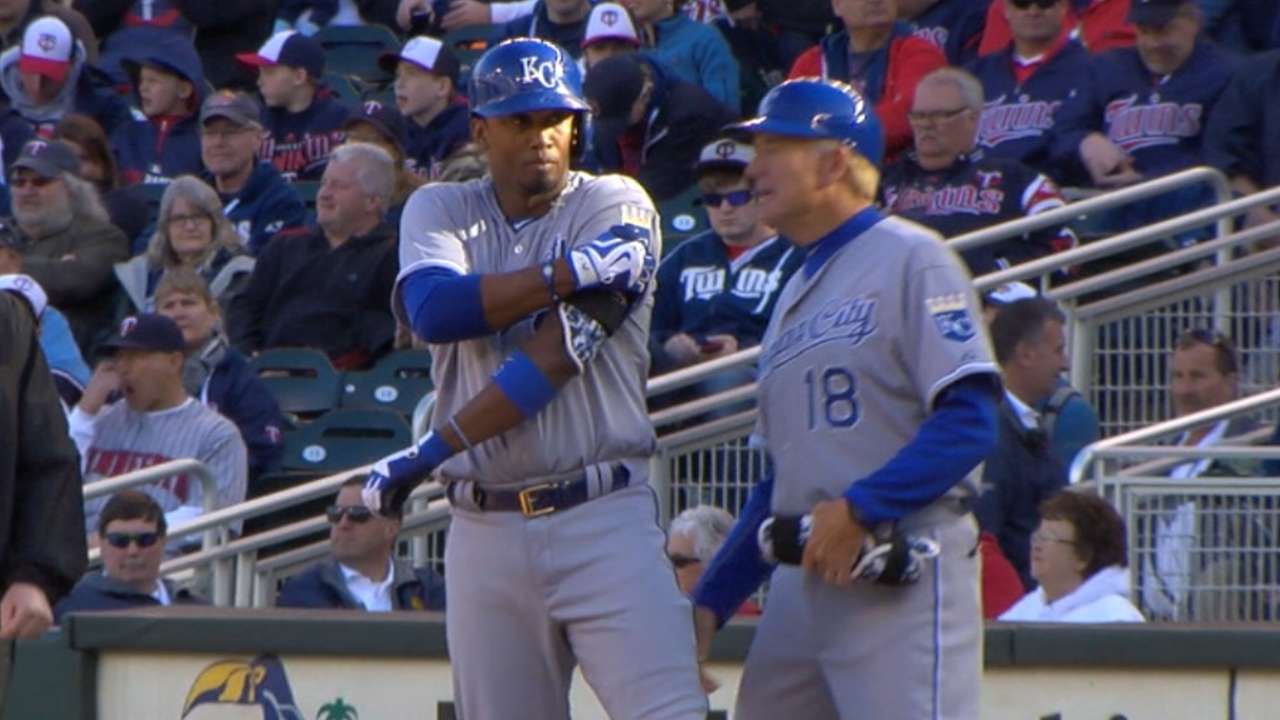 It's become abundantly clear that the Royals aren't ever going to lose another baseball game. Ever.
Even if that's not true (it's not), Kansas City's 7-0 start has at least proven that the October onslaught that put the Royals in the World Series for the first time in nearly three decades was far from a fluke. If anything, coming up 90 feet short of tying Game 7 of the Fall Classic has only inspired more hair-and-pants-on-fire-type intensity from this club, which entered Tuesday's off-day as MLB's last undefeated team still standing.
A lot of baseball fans fell in love with Kansas City last fall. But here are seven more things we love about these 7-0 Royals.
1. One of their smallest guys challenges Mike Trout.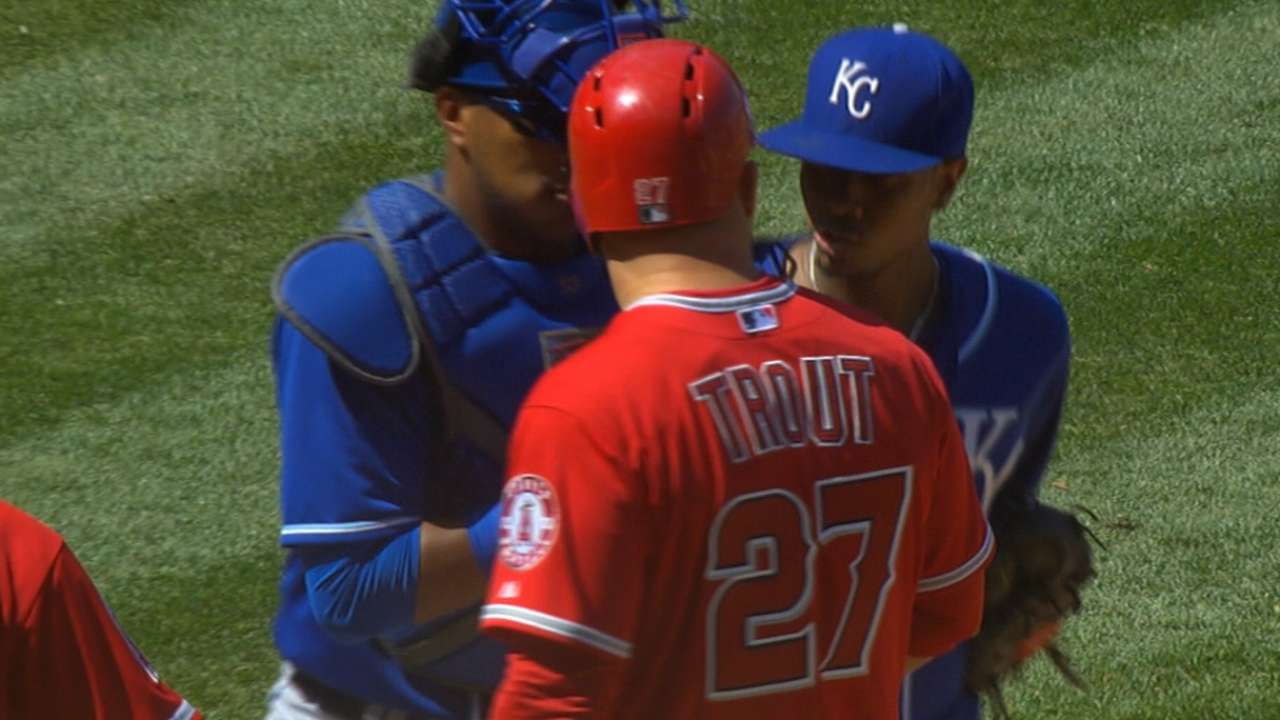 I'm not advocating altercations, especially ones apparently based on something as innocuous as a batter calling for time and stepping out of the box. Yordano Ventura stared down and barked at Trout on Sunday, and it was all a little odd and unnecessary. But it's hard not to look at that exchange as indicative of the competitive spirit of this club, in general. They don't take kindly to slights, real or perceived. They're legitimately upset at all the national prognosticators who picked them to finish out of the playoff picture this season. The Royals play with an energy and an edge that is unmistakable.
2. Kendrys Morales doesn't know what year it is.
Not that the Royals were replacing a Hall of Fame candidate in Billy Butler, but their decision to replace him with a guy in his 30s who was coming off abysmal 2014 seasons was bold, to say the least. As it stands, though, Morales has a 1.224 OPS, two homers and three doubles, and he's inspiring memories of his brief-but-promising Angels heyday, way back in 2009.
3. Mike Moustakas is the two-hole hitter.
And it works! If you looked at Moose's career .236 average and .290 on-base percentage going into the season and instantly thought, "No. 2 hitter," congrats. You are every bit the mad scientist Ned Yost is.
Speaking of which…
4. Ned Yost: Master Tactician.
The guy who once seemingly could do no right is still riding a streak in which he can do no wrong. Moustakas at No. 2, Alcides Escobar (.300 career OBP) at leadoff, sacrifice bunting in the first inning. Whatever. Yost can do anything he wants these days. His friends on his hunting team (they call themselves "The World Famous Thump Monkeys," even though nobody outside the Georgia backwoods has ever heard of them) have always known Yost to be a winner. Now, the baseball world knows.
5. That bullpen. Still.
If a bullpen goes an entire weekend without giving up a run, that's a pretty good weekend. Kansas City's bullpen hasn't allowed a run at all this year. Royals relievers have struck out 21 guys in 19 innings. Opponents are hitting .119 off them. It's not just the Greg Holland-Wade Davis-Kelvin Herrera trio. It's also Jason Frasor and Chris Young looking untouchable. It's Ryan Madson pitching in the bigs for the first time in four years and hitting 95 mph on the gun. Oh, and Luke Hochevar hasn't even joined the mix yet.
6. They've outscored their opponents 52-18.
Morales, Rios, Escobar, Moustakas, Lorenzo Cain, Salvador Perez and Eric Hosmer are all off to strong starts, and suddenly Kansas City is a legit home-run-hitting team. Even Alex Gordon, who is batting just .063, has a .348 on-base percentage and was intentionally walked in Monday's thumping of the Twins.
7. Paulo Orlando.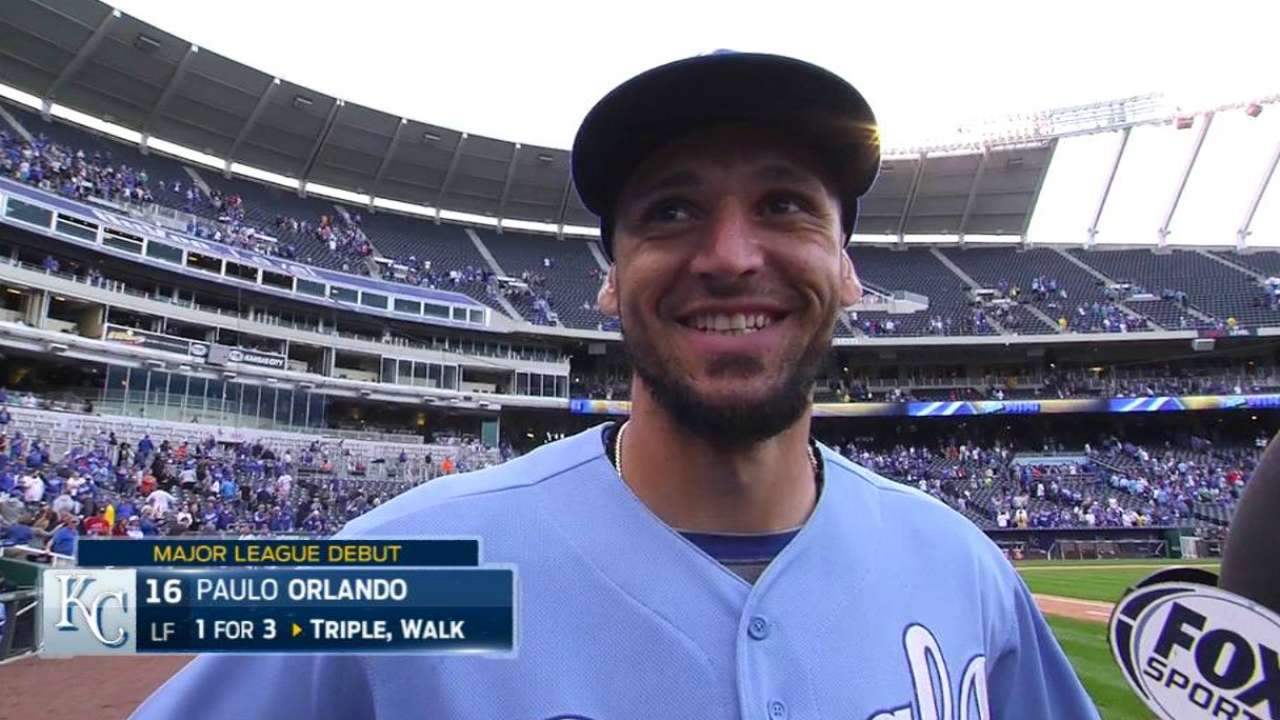 He's 29. He's from Brazil. Orlando spent nine years in the Minors, where he logged 1,017 games played without a callup. The Royals made him their 25th man, and he responded with three hits in his first two games -- all of them triples. No other player in the modern era has tripled for his first three hits.
Yeah, things are going well for the Royals.
Anthony Castrovince is a reporter for MLB.com. Read his columns and follow him on Twitter at @Castrovince. This story was not subject to the approval of Major League Baseball or its clubs.