Braves infielders' emergence creates good problem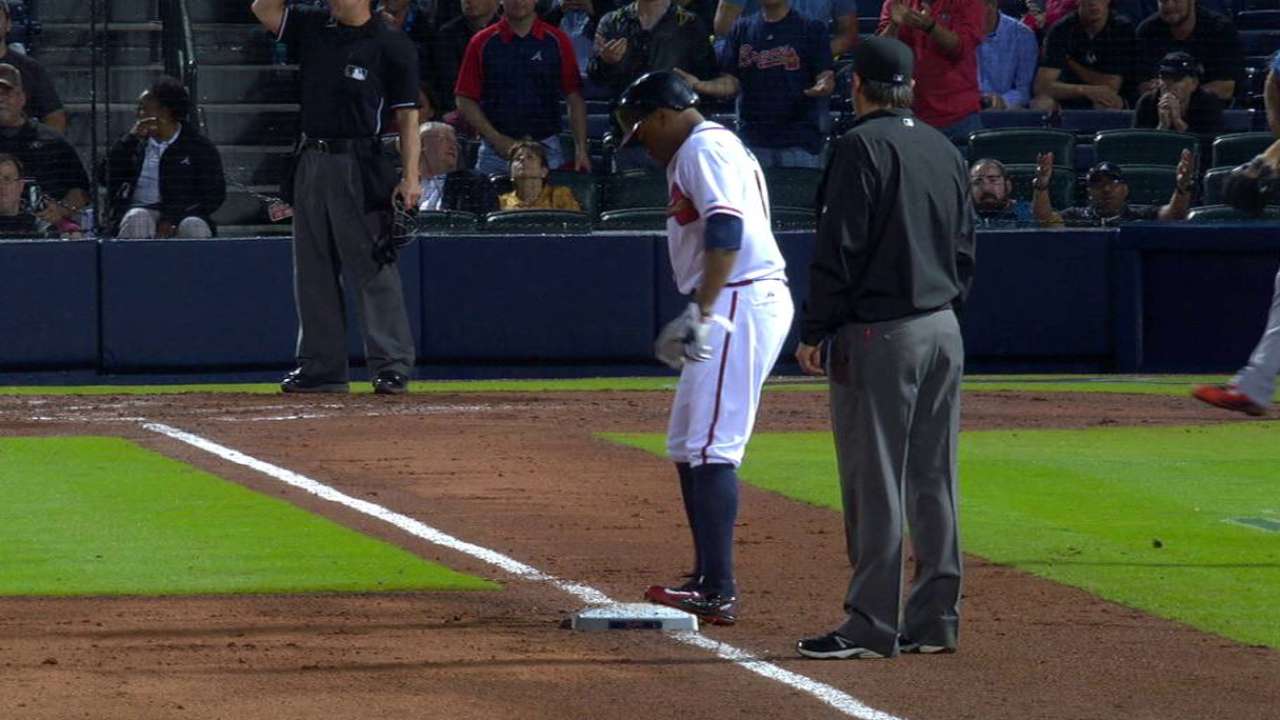 ATLANTA -- Braves manager Fredi Gonzalez might not have anticipated having to make many tough lineup decisions this season from an offensive perspective. But with Chris Johnson, Alberto Callaspo and Jace Peterson all proving productive through the season's first week, Gonzalez finds himself with a pleasant dilemma.
"It's nice to have flexibility," Gonzalez said. "It keeps everybody engaged and you feel like you have the advantage off the bench. It's a good mixture right now."
Though Peterson was given a chance to get a mental break at the start of Monday night's 3-2 win over the Marlins, he sparked the decisive two-run fifth inning with a leadoff pinch-hit single. Callaspo and Nick Markakis highlighted the inning with consecutive RBI singles off Sam Dyson, who entered after Mat Latos allowed Eric Young Jr. to double off the center-field wall.
"Everybody is doing their part," said Young, who has been sharing time in center field with Cameron Maybin. "I think that is why we are playing such good baseball. It's not just one guy. It seems like every night somebody comes up with a big hit or drives in a run."
As the Braves neared the start of this season, it appeared Johnson would get a majority of the playing time at third base and occasionally sit while Callaspo manned the position against select right-handed starters. But Johnson has started just three of the first seven games of this season.
Still, when given an opportunity to deliver on Monday, Johnson doubled in the second inning against Latos and flied out to deep right in the fourth inning. After drawing a walk in the fifth inning, he was removed as part of a double-switch to allow Cody Martin a better chance to complete two innings without his spot in the lineup coming due.
"If I play, I'm going to be ready to play," Johnson said. "If not, I'm going to do whatever I can to help the team on the bench or to get ready for a pinch-hit. Right now, we're winning ballgames and I'll never complain being on a winning team."
Johnson set himself up for a potential platoon situation by hitting .231 against right-handers last year. But the early part of this season has been different for the veteran infielder, who has gone 6-for-12 with four doubles -- three of which have been tallied in the process of going 4-for-6 against right-handed pitchers.
But Callaspo, who is the better defensive third baseman, has also made it difficult to keep him out of the lineup. The veteran switch-hitter has batted .471 (8-for-17) with a .526 on-base percentage through seven games.
While Gonzalez has the option to play Callaspo at second base and Johnson at third base, there is no doubt the club wants to continue benefiting from the energy and athleticism Peterson brings to the second base position. The rookie infielder has just four hits through his first 20 at-bats. But like on Monday, he consistently provides indication he has the capability to deliver in key situations.
Mark Bowman is a reporter for MLB.com. This story was not subject to the approval of Major League Baseball or its clubs.