Shoemaker shows poise under pressure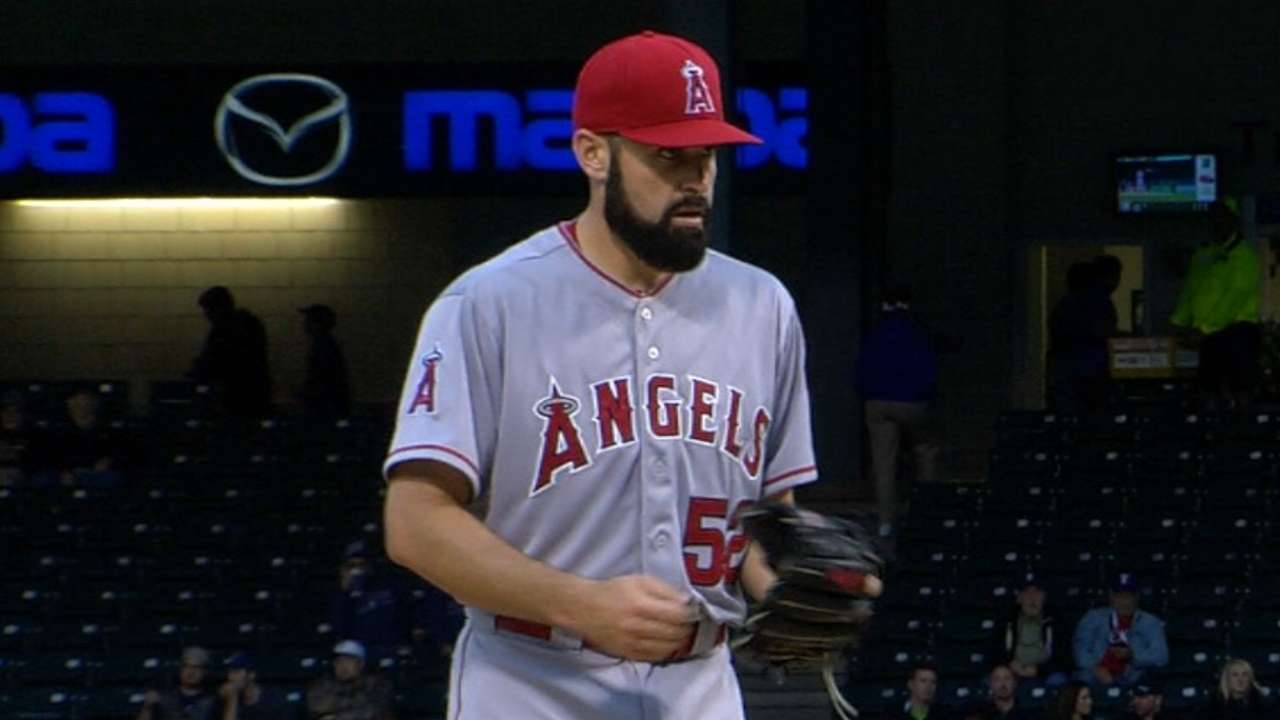 ARLINGTON -- It took Matt Shoemaker 22 pitches to record the first three outs on Monday night, and 55 pitches to record the 15 that followed. What looked like the start of a nightmare outing for the 28-year-old right-hander finished as a quality start and a 6-3 Angels victory, further proof that Shoemaker at the very least has the makeup to follow up his impressive rookie season.
"There's a presence to him," manager Mike Scioscia said. "He's not out there all hyper and getting distracted with the situation. He showed last year he can really pitch his way out of trouble. That's just a great game, from where it started to where it ended."
It started with a three-run, four-hit first inning in which "everything was up, everything was flat," according to Scioscia. And it would have been a lot worse if not for a lunging catch Collin Cowgill made on an Elvis Andrus line drive that ended up as a sacrifice fly.
After that, Shoemaker retired 17 of 20 hitters, six via strikeout, and finished giving up just those three runs in 6 1/3 innings. Since Aug. 9 of last year -- a stretch that includes Game 2 of the American League Division Series -- he's 9-0 with a 1.88 ERA.
"He's a good pitcher," catcher Chris Iannetta said. "If he keeps doing what he's doing, he's going to be great."
The narrative regarding Shoemaker's second season has centered on the potential struggles he'll face with a league that is now more familiar with him, partly because the general public had such a hard time believing someone could finish second in AL Rookie of the Year Award voting six years after going undrafted.
The Angels are confident Shoemaker can repeat his 2014 numbers -- 16 wins, 3.04 ERA, 5.17 strikeout-to-walk ratio -- largely because of the simplicity in his approach. He has four pitches he can throw for strikes, he locates all of them down in the zone and he carries an unrelenting confidence and focus, no matter how badly things are going.
"He thinks he's Nolan Ryan out there with his mentality," Scioscia said, repeating a phrase he used often last season. "He's not afraid to challenge any hitter in any count."
Iannetta blamed that first inning on himself, saying they tried to attack the Rangers' hitters "a little differently than we normally would" because there were "some glaring things out there" that he didn't want to specify. Then they went back to Shoemaker's strength, which includes throwing his four-seam fastball inside, getting the sinker to tumble below the zone and mixing his curveball and slider on off counts.
"Once we started doing that," Iannetta said, "everything kind of fell into place."
Shoemaker didn't really need a pep talk, either.
"Once I get into the dugout, I can maybe reflect on it for four seconds and just forget it," said Shoemaker, now 4-0 with a 2.75 ERA in his career against the Rangers. "There's nothing you can do about it; it already happened. It's like, 'Man, that inning [stunk] terribly.' But then it's, 'OK, let's move on.'"
Alden Gonzalez is a reporter for MLB.com. Read his blog, Gonzo and "The Show", and follow him on Twitter @Alden_Gonzalez. This story was not subject to the approval of Major League Baseball or its clubs.