Butler, Lawrie, Semien notch 1st homers with A's in rout
Newcomers go deep in Houston, account for five runs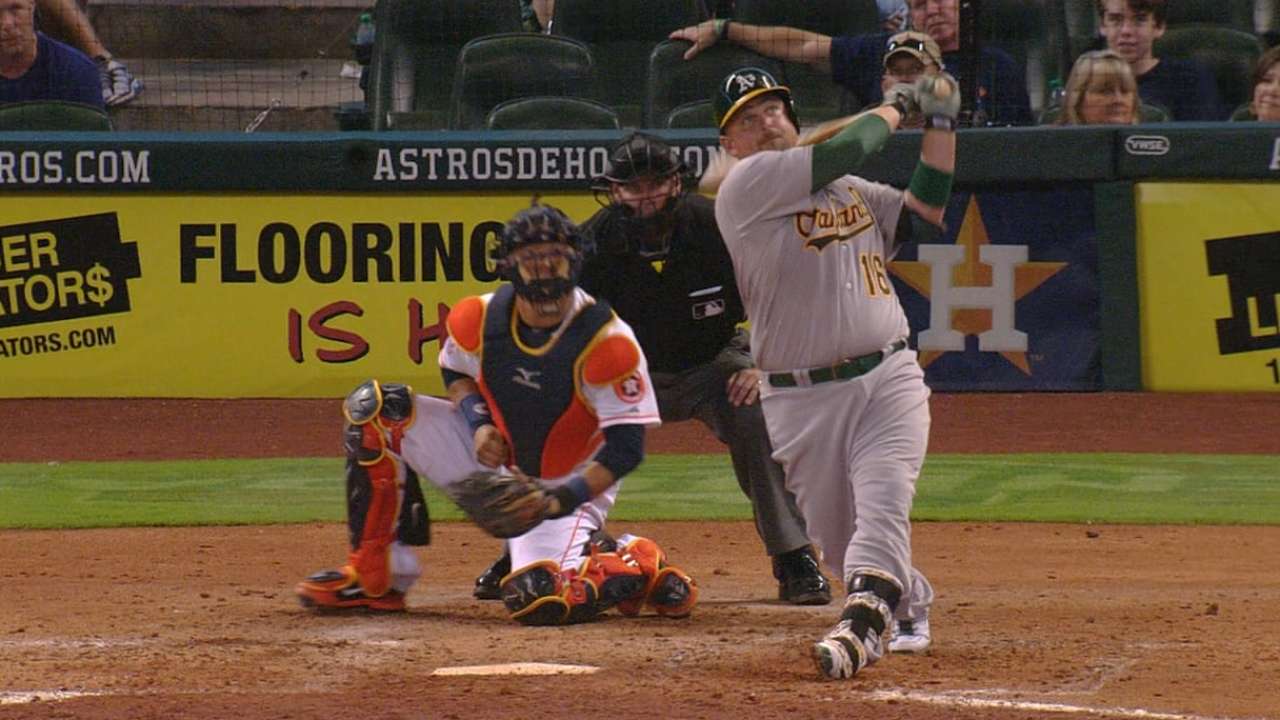 HOUSTON -- The A's buried the Astros with a trio of home runs in Monday's three-game series opener, with long balls from newcomers Brett Lawrie, Marcus Semien and Billy Butler accounting for five runs in their 8-1 victory.
Lawrie's was a bullet, Semien essentially swatted his off the scoreboard with a one-handed swing, and Butler's three-run blast is likely still orbiting in space, after departing Minute Maid Park.
"That went a ways," said A's manager Bob Melvin, grinning.
"I had a great view from the dugout. It was beautiful. Just a moonshot," said catcher Stephen Vogt. "It was a good night to see three guys get on the board with homers. We all know the first one's the hardest one to get. It's so awesome to see what we all thought about this lineup, somebody new every night stepping up. You never know who's going to get the big hit. So it's been really fun to watch. This team is so much fun. Most fun I've had in the first week, that's for sure."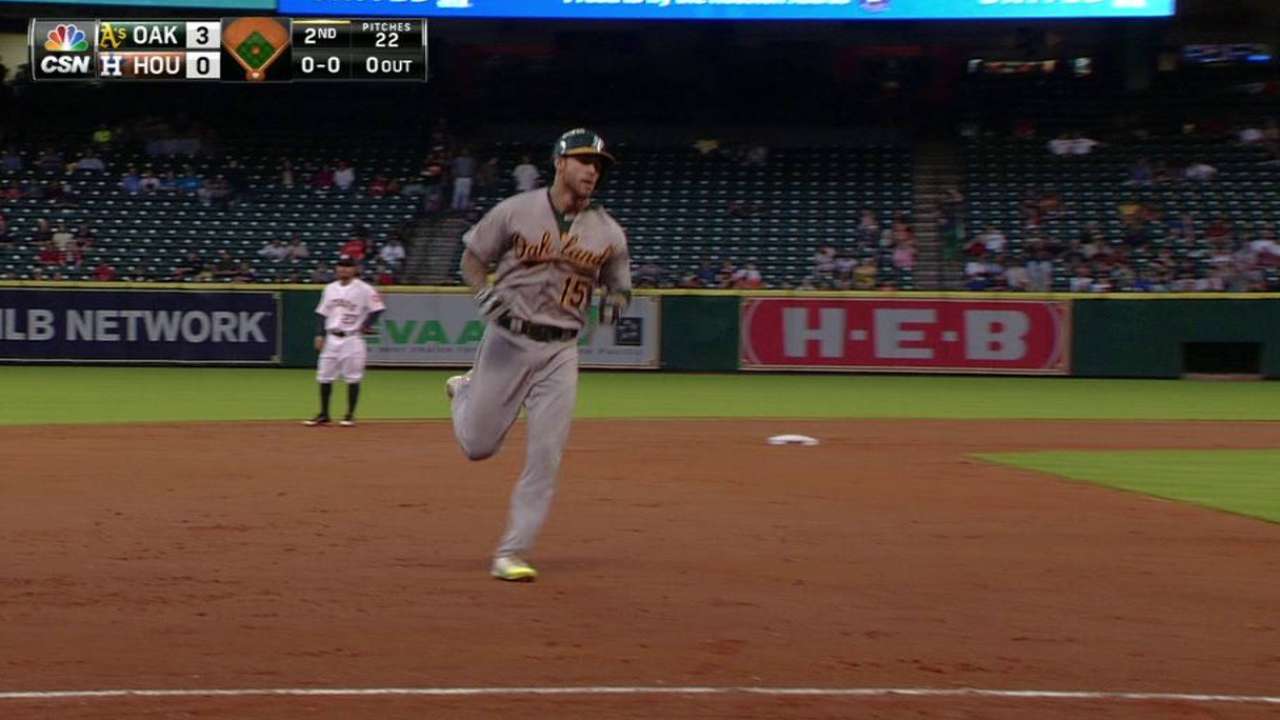 The A's, though sitting at .500 after eight games, have plated a combined 38 runs, while batting .306 as a team, which ranks third in the American League. On Monday, they reached double digits in hits for the sixth time.
"It's been great," Melvin said. "I've said it here often. You look at our record, you look at what our offense has done, it's probably not indicative of what it should be."
Outsiders considered power to be this club's downfall at the onset of the season, following the departures of sluggers Brandon Moss, Josh Donaldson and Yoenis Cespedes. Yet, all along, the A's have believed otherwise, even though they entered the day with just three home runs totaled in their first seven games.
That they had three by the end of the fifth inning off Astros right-hander Scott Feldman shows, "We have what it takes," said starter Scott Kazmir.
"That's what I see," he continued. "He's a good pitcher out there, a great pitcher, and the way we made him work out there, that's the sign of a good team."
"One through nine, you never know what can happen, any given day," Lawrie said. "Everyone can swing the bat. We've been stringing hits together, and when you can do that you can be loose and just play and not worry too much. You know someone's going to pick you up. It's good to know anyone who gets in the box can do some damage."
Butler, whose home run extended his hitting streak to an AL-leading eight games, returned to his locker Monday evening to find the Michigan helmet left behind by head football coach Jim Harbaugh this spring -- known in the A's clubhouse as the "Jungle Lion Award," a play on Harbaugh's description of the A's.
"I knew I hit that one real good," Butler said. "Watching video, he'd thrown me some curveballs, and I had some bad results off curveballs off of him. He's got a good one, it's just real slow and I stayed back on that one. In the previous at-bat, I looked bad on a curveball, I figured he might try to come back for it."
Jane Lee is a reporter for MLB.com. Read her blog, Major Lee-ague, and follow her on Twitter @JaneMLB. This story was not subject to the approval of Major League Baseball or its clubs.