Middle of order remains stagnant for Astros
Gattis gets first hit, but he, Springer, Carter go 1-for-10 in series opener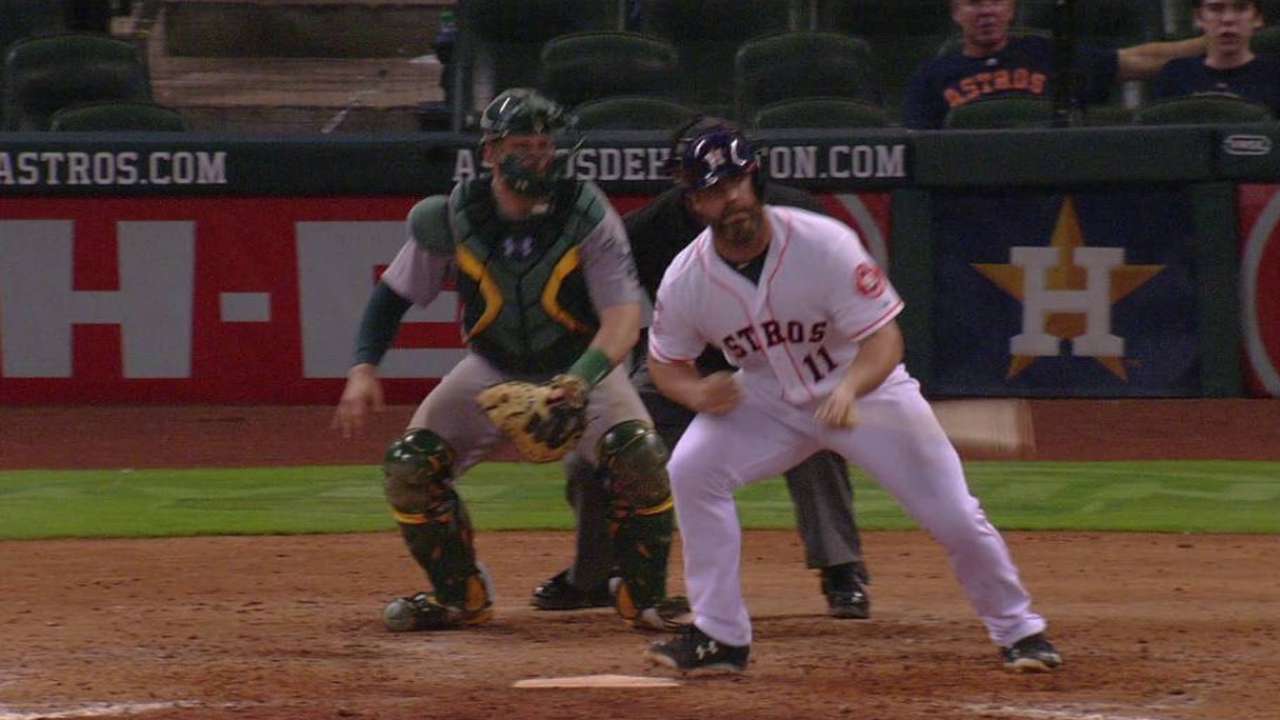 HOUSTON -- Not that anyone in the Astros' lineup other than Jose Altuve (3-for-4) did much of anything Monday, but the team continues to get no production out of the third, fourth and fifth spots in the batting order. George Springer, Chris Carter and Evan Gattis combined to go 1-for-10 in an 8-1 loss to the A's at Minute Maid Park.
Through seven games, those three spots in the batting order are a combined 5-for-67, numbers that largely reflect the struggles of Carter (1-for-22) and Gattis (1-for-24), whose ninth-inning single Monday snapped his 0-for-23 start to the season. Springer batted sixth the first six games.
"I like that we've been able to keep our head above water a little bit without that kind of production -- to hold serve or whatever analogy you want to use," manager A.J. Hinch said. "It's important for us to stay afloat while those guys are getting themselves on track.
"I don't want to put any heightened press or expectations on them. They're good players, good, productive offensive players. These 20, 25 at-bats, depending on when they happen, create different kinds of emotions for players. I don't wake up thinking we have a problem in the middle of our order or these guys aren't going to bounce back."
Hinch had lunch with Gattis on Monday, but it was pure happenstance. He walked into Union State on Monday and Gattis was eating in the café in the lobby, and Hinch joined him. Gattis' offensive woes never came up.
"You encourage them and continue to put them out there," Hinch said. "These are our guys. They know that. Obviously, I've got a job to do to give them days off or get some sparkplugs in there if they are struggling. These guys know that we back them and they're not going to continue to struggle in the production categories they have so far."
Gattis' hit was his first since Sept. 6 and snapped an 0-for-37 drought dating to last season, which was the longest in baseball.
"It's been a grind for him to get a hit," Hinch said. "He hit the ball on the nose early in the game. He cares a lot and works hard. He's a good hitter and he's going to get hits. The timing of the year really exaggerated what he was going through. He's hit the ball on the nose a number of times these first six or seven games. Evan Gattis will get plenty of hits for us."
Brian McTaggart is a reporter for MLB.com and writes an MLBlog, Tag's Lines. Follow @brianmctaggart on Twitter. This story was not subject to the approval of Major League Baseball or its clubs.