MLB.com Columnist
Tracy Ringolsby
Giants reflect on remarkable run of success
Festive home opener celebrates third World Series title in five seasons
SAN FRANCISCO -- A week into the season, and the Giants finally got a chance to come home, allow their fans to be a part of the celebration of having won a third World Series championship in a five-year span last October.
"Three in five years," manager Bruce Bochy said in a moment of solitude. "It's incredible. I'm blessed."
And then, quicker than remaining members of the roster from the three championship teams would hoist the 2014 championship banner up the flag pole in center field at AT&T Park, the reality hit.
It's a new year.
The memories are great.
"You think about it, 70 years, and you realize what has to happen for you to accomplish that," Bochy said, referring to the Giants' feat of being the first National League team since 1946 to win three World Series championships in five years.
There, however, is no carryover. A new season brings a new challenge.
Enter the 2-0 loss to the Rockies in the Giants' home opener Monday afternoon as a single-game piece of evidence.
The afternoon was so much fun -- to begin with. Madison Bumgarner, whose offseason endeavors include team roping, even rode a horse along the outfield warning track to deliver the banner to his teammates, who climbed the steps in the outfield bleachers to reach the flag pole for the hoisting.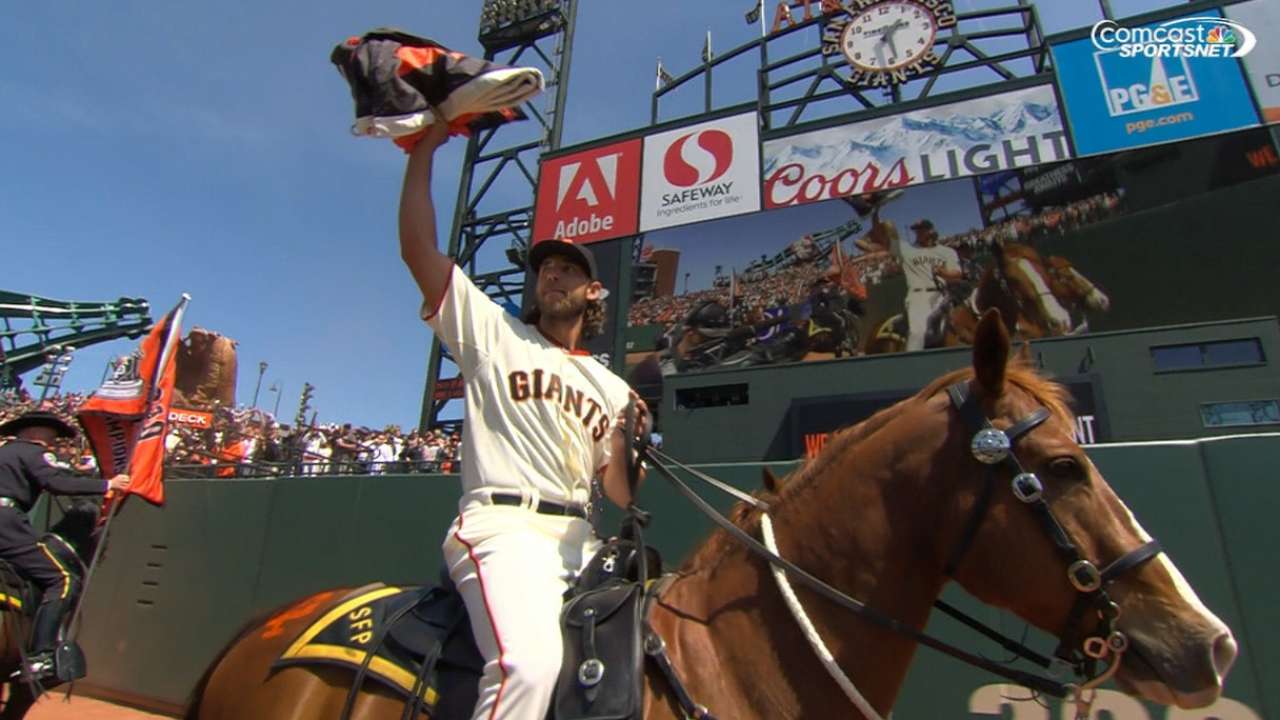 Before the first pitch was thrown by rookie Chris Heston, however, there were reminders of what was but what isn't.
The third baseman from last year, Pablo Sandoval, is now in Boston. The left fielder, Michael Morse, is in Miami. The right fielder and emotional catalyst, Hunter Pence, is on the disabled list with a fractured left forearm. The hoped-for-No. 2 starter, Matt Cain, is on the disabled list with a right forearm flexor strain. And No. 5 starter Jake Peavy made his season debut with a four-inning effort Sunday after having to be scratched from his anticipated first start because of back stiffness.
"That's what makes it all so incredible," said Bochy. "Things happen you can control. In 2011, we lost Buster Posey. Those are things you deal with, and when you win you are able to overcome them, but sometimes ..."
Bochy shook his head.
Now, one game doesn't mean San Francisco won't repeat in 2015. There are 154 games remaining on the Giants' schedule. They have shown in their recent successes that a front office headed by Brian Sabean does have a knack for uncovering hidden gems that Bochy and his staff polish as key parts of championship teams.
"We don't have a full deck right now," Bochy said. "There's nothing we can do except hold court until everyone is back."
But then it's not like the schedule maker is much of a help, either. Next Monday, the Giants will get their first off-day of the season. The Cardinals, on that same day, will not have a game for the fourth time since Opening Day. In fact, San Francisco has only two scheduled off-days in the first 35 days of the season.
But then nobody said it is easy to win a championship.
If it was, the 1942-46 Cardinals wouldn't have been the last NL team to have won three World Series championships in five years.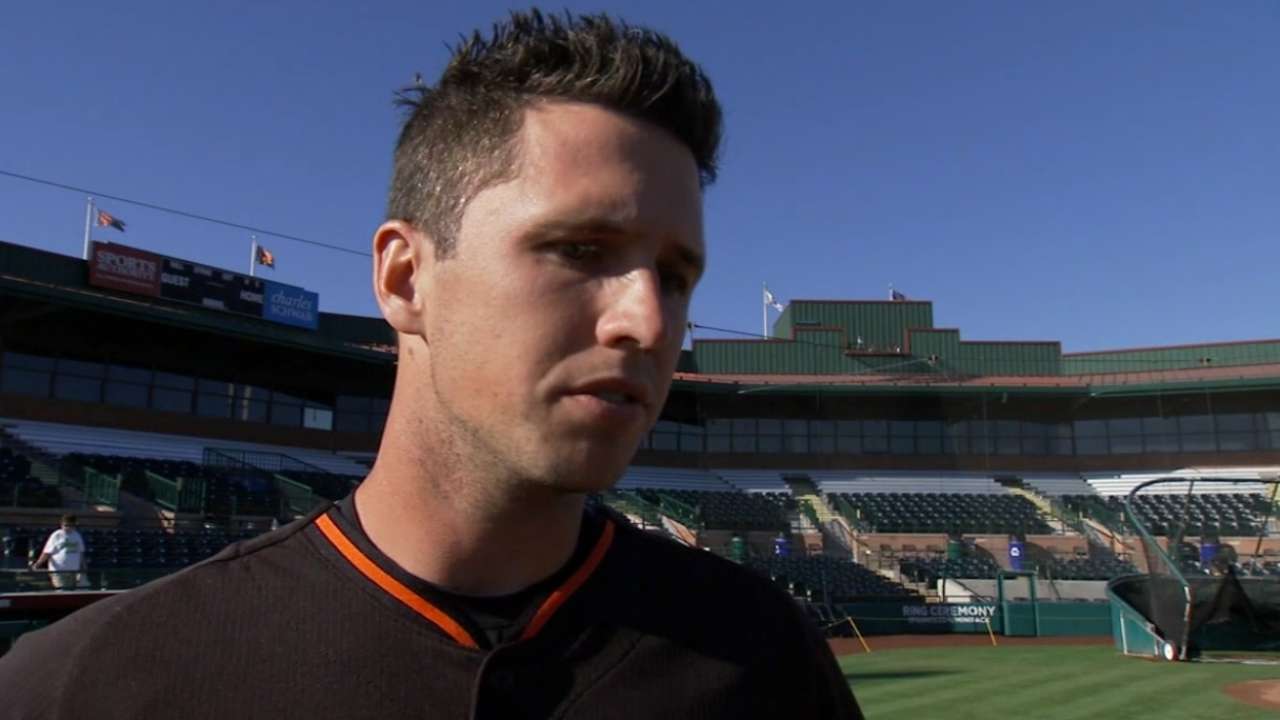 The Big Red Machine, which featured a lineup led by all-time hits leader Pete Rose and Hall of Famers Joe Morgan, Johnny Bench and Tony Perez, won back-to-back World Series (1975-76), but those were the only championships they could claim in the decade that the nucleus was together.
And the argument can easily be made that extended success is more difficult today than ever.
"I get asked, 'What is it with the odd years [and not winning]?'" Bochy said. "I tell them, 'It's not that easy.' That's why what has happened here is so incredible."
There's a bigger grind to the postseason.
After a regular season that was expanded from 154 games to 162 games in 1962, there is now a postseason which the last two years included a Wild Card Game (which the Giants won last October against the Pirates), a best-of-five Division Series that was introduced in 1995, and a League Championship Series that was adopted in 1969 as a best-of-five and expanded in 1985 to a best-of-seven. And that's all before Game 1 of the World Series is even played.
Oh, and the talent pool has been thinned. The NFL and NBA have become major players, siphoning off some potential baseball talent, and the Major Leagues themselves have been expanded from the original 16 teams to the current alignment of 30 teams. Just factoring in active rosters -- and not the disabled lists that have increased exponentially -- that means there are 350 more players wearing big league uniforms every day of the season than there were in 1960.
"At the end of the World Series last year, Buster Posey and I were hugging each other," said Bochy. "We pulled away and I said, 'How the heck did we do it this time?'"
Now, Bochy and the Giants are dealing with the even bigger question -- how the heck are they going to do it again?
Tracy Ringolsby is a columnist for MLB.com. This story was not subject to the approval of Major League Baseball or its clubs.