On the double: Twin killing in 9th huge for Rays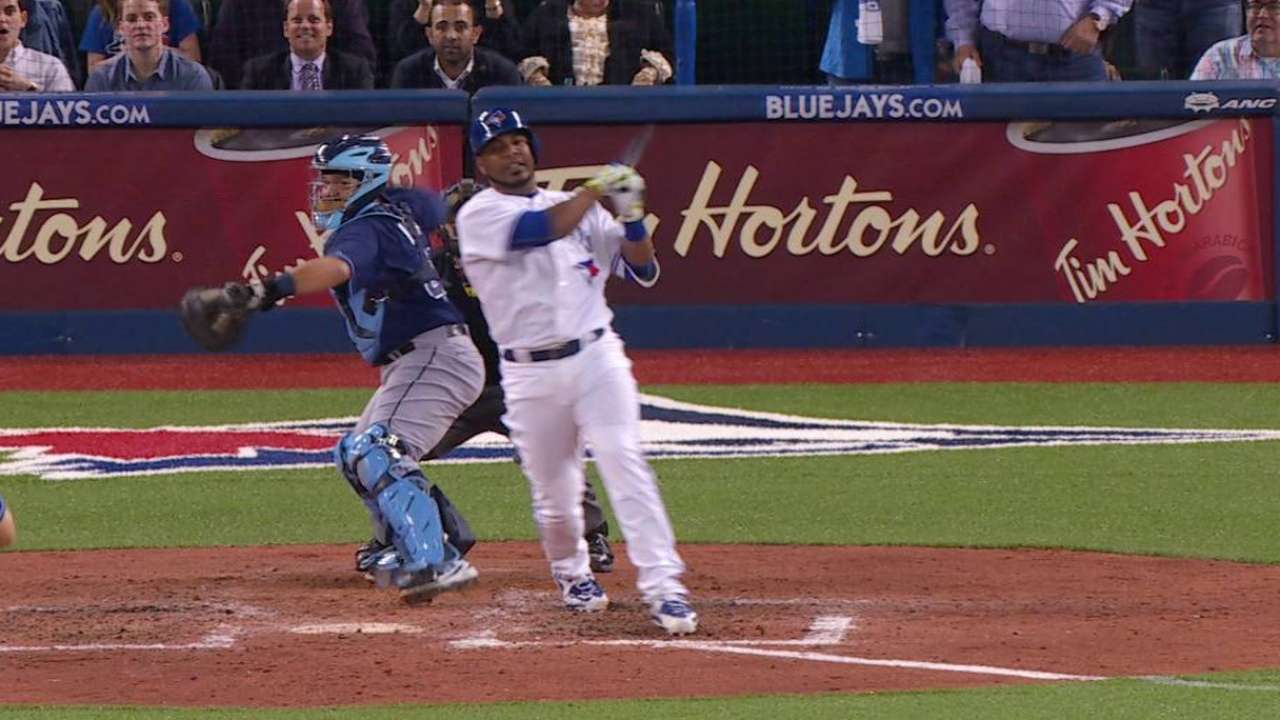 TORONTO -- With the game on the line in the bottom of the ninth, the Rays got a much needed strike-em-out, throw-em-out double play to help seal a 2-1 win over the Blue Jays on Monday night at Rogers Centre.
After Jose Bautista drew a leadoff walk from Brad Boxberger, the count went full against Edwin Encarnacion. That's when Bautista took off running, Boxberger struck out Encarnacion on a high fastball, and catcher Rene Rivera threw out Bautista at second.
Talk about a game changer.
"Unbelievable play," Rays manager Kevin Cash said. "Bautista got a really good jump from our angle. But, Rene can really throw, we know that about him. That might be as big of a play as we've had all season.
"... Huge. Man on second, one out. He swings and misses. The whole play. They chase on the ball up. If not, we're sitting first and second and no outs and not in the most ideal situation. I just saw the highlight of the throw, it was a bullet down there."
Rivera said he was ready for it "and things worked out."
Encarnacion "swung and then his body came across home plate," forcing Rivera to adjust on the fly. "But I made a good throw."
Rivera then watched as second baseman Tim Beckham slapped the tag on Bautista.
"I saw him take off," Beckham said. "Saw the ball up [to Encarnacion]. Saw the ball beat him. And once I saw it in the air, it was a great throw by Rivera. I just wanted to make sure I got the ball and put the tag on him."
Boxberger explained that he was just trying to get ahead.
"Definitely get a ground ball," he said. "Get a double play to kind of break up what was going on. But I was able to get the strikeout and Rene was able to make a really good throw down.
"... I was just trying to find a strike at that point. I was kind of struggling with my command tonight. Being able to get him to swing through something was definitely helping out."
Boxberger then retired Josh Donaldson on a long fly ball to right to end the game.
Bill Chastain is a reporter for MLB.com. This story was not subject to the approval of Major League Baseball or its clubs.