Odorizzi making quality count in win column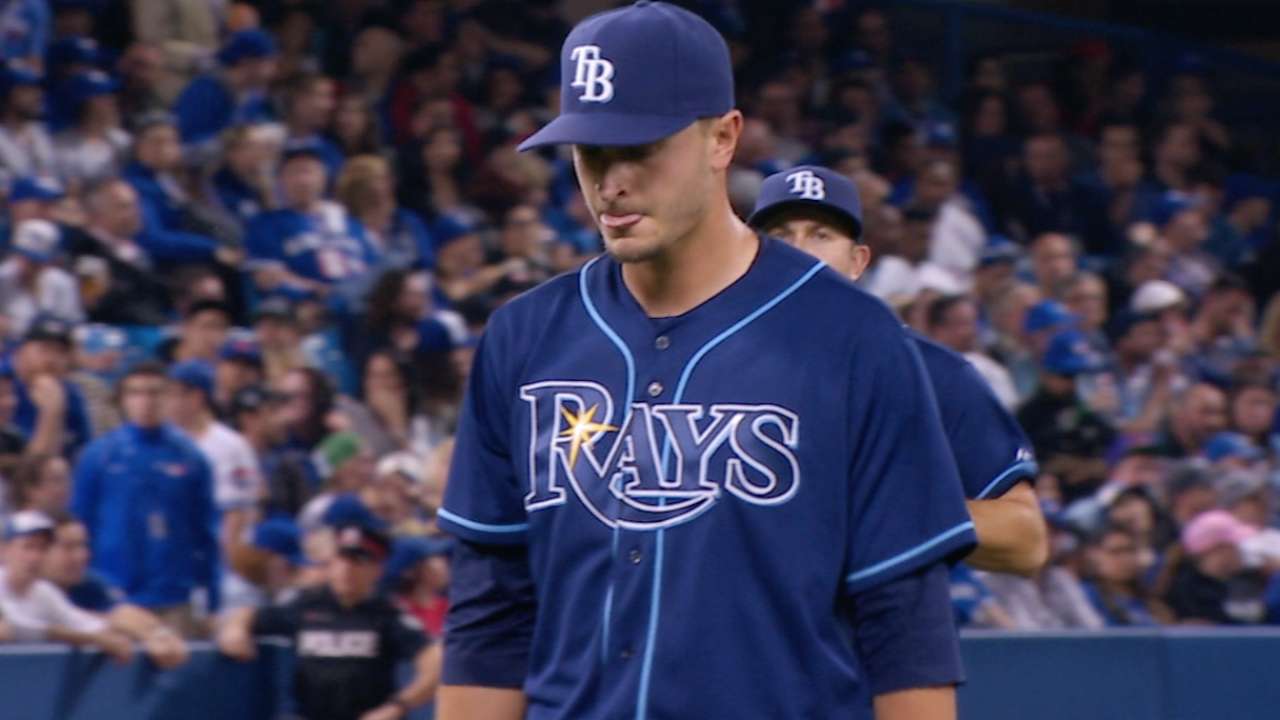 TORONTO -- Can't say enough good things about Jake Odorizzi these days. On Monday night, the Rays right-hander once again backed up the superlatives.
Odorizzi gave the Rays a second quality start in a 2-1 win over the Blue Jays to move to 2-0 on the season. He allowed one run on two hits and three walks while striking out three in eight sharp innings.
"Great effort tonight," manager Kevin Cash said. "Kind of appeared like he was fighting it a little bit. I didn't see him in sync quite as much as he was against Baltimore. He bended a little bit, but never broke. Sometimes those type of outings are even more impressive than the ones where you've got it all figured out."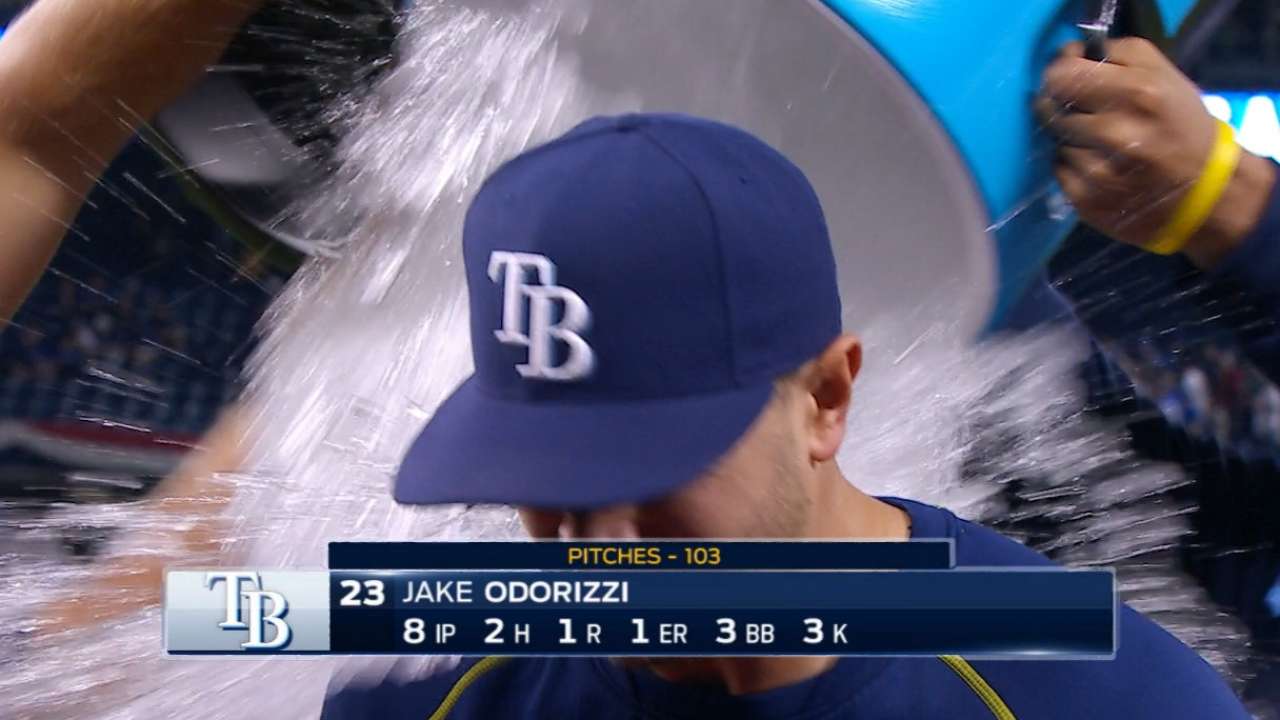 Odorizzi admitted to not being "very comfortable to start the game."
"First couple of innings, the ball wasn't going where I wanted it to," he said. "And, it didn't feel very good coming out and where it was going. Just being uncooperative really, but Hick [pitching coach Jim Hickey] got with me between innings and said it was all head positioning. ... Once it got going good, I felt good the rest of the game. There were no hiccups."
Odorizzi said it felt "great" to not start out in a groove and still get positive results, paying tribute to catcher Rene Rivera.
"I had Rene back there," Odorizzi said. "Another coach on the field. And we just kind of executed our gameplan and he was very positive back there. It's always great when you have your defense making plays like that behind you.
"Just throw the ball in there and we were just kind of pitching to contact. All the guys were making great plays, infield did a nice job, and all the fly balls got run down, and I appreciate that."
Odorizzi added that he appreciated the diving attempt in right by Steven Souza Jr., even though he didn't make the catch of Kevin Pillar's fly and it led to a run.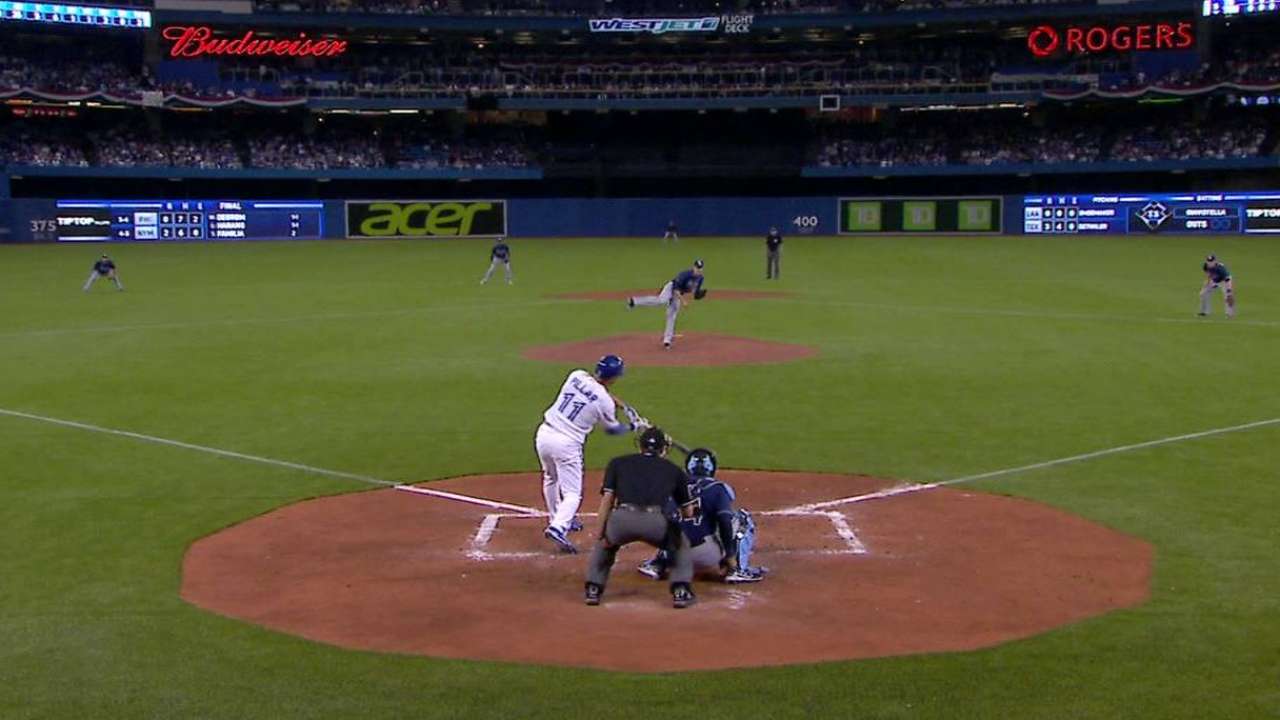 Monday night's contest marked the fourth time in the Rays' seven games that a Rays starter has gone at least six innings while allowing two hits or fewer and no more than one earned run.
In the last three games, Rays starters Chris Archer, Nathan Karns and Odorizzi have combined for three quality starts while allowing three earned runs and striking out 14 in 22 innings. Given the results, it's not surprising the Rays have won three straight.
"It all starts with [the starters]," Odorizzi said. "We have to go out there and establish the game. Get it going. And let our offense do what it needs to do. We've done a good job of attacking the strike zone, and that's the biggest thing."
Bill Chastain is a reporter for MLB.com. This story was not subject to the approval of Major League Baseball or its clubs.