MLB.com Columnist
Fred Zinkie
DraftKings picks: Pearce, McCann, Headley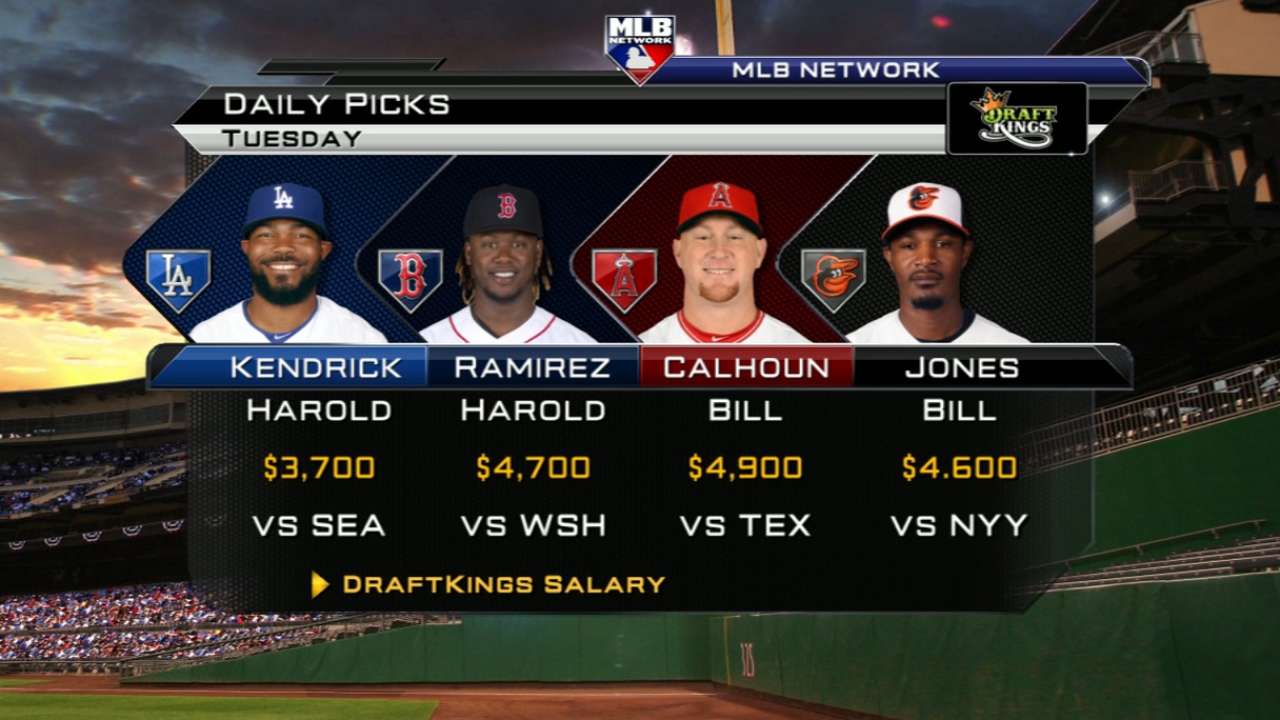 Crooked numbers could be the norm on Major League scoreboards Tuesday night, as several inexperienced hurlers are slated to take the mound. Choosing the right hitting stack and finding two successful starters will be the keys to navigating this potentially high-scoring evening. Below, you'll find a handful of players who should help that cause.
Steve Pearce (Orioles): CC Sabathia has allowed 60 homers in 69 starts since the beginning of 2012, so an Orioles hitter will likely take him deep at homer-happy Camden Yards. And with a career .874 OPS vs. lefties (.706 against right-handers), Pearce has as much of a chance as any O's hitter to hit one out.
Brian McCann (Yankees): The Yankees should also play the power game, as O's right-hander Miguel Gonzalez has served up 49 homers in his 58 appearances (55 starts) since the beginning of 2013. New York's catcher -- who owns a career .831 OPS vs. right-handers (.756 against lefties) -- could be the one to put a Gonzalez offering into the outfield seats.
Chase Headley (Yankees): Headley is another Yankees slugger who does his best work off right-handers, against whom he owns a career .770 OPS (.724 mark vs. lefties). The third baseman could join McCann in the homer category on Tuesday.
Jose Reyes (Blue Jays): The shortstop will face Matt Andriese, who has one inning of Major League experience. The owner of balanced career righty-lefty splits, Reyes could be a source of steals and runs if he can spark his team to a high-scoring night against the Rays rookie.
Dalton Pompey (Blue Jays): The switch-hitting outfielder has been batting second in Toronto's lineup, directly in front of star sluggers Jose Bautista, Edwin Encarnacion and Josh Donaldson. Coming off a 2014 campaign in which he posted a .392 on-base percentage in the Minors, Pompey could be a source of steals and runs if he can reach base against Andriese at hitter-friendly Rogers Centre.
Shin-Soo Choo (Rangers): Choo -- who owns a career .906 OPS against right-handers, as opposed to a .680 mark vs. lefties -- could have a productive game in his hitter-friendly home park against the Angels' Drew Rucinski, who will be making his first Major League start.
Prince Fielder (Rangers): The first baseman has dominated right-handers to the tune of a .964 career OPS (.797 vs. lefties), and he could record multiple hits and RBIs against Rucinski.
Leonys Martin (Rangers): DraftKings participants should not expect many homers from the Rangers, as the right-handed Rucinski did a great job of keeping the ball in the yard while pitching in the Minors. But Martin could nonetheless spark the Texas offense, as he owns a career .718 OPS vs. right-handers (.567 against lefties). Additionally, he has picked up 57 of his 70 career steals with a right-hander on the mound.
Rougned Odor (Rangers): Odor has done his best work against righties, posting a career .734 OPS in those matchups (compared to a .610 mark vs. lefties). DraftKings participants who stack their lineup against Rucinski could include this reasonably priced second baseman.
Anthony Rizzo (Cubs): DraftKings participants could target Rizzo, who owns a career .822 OPS vs. right-handers. The slugger is especially attractive in this contest, as he will face Reds righty Anthony DeSclafani, who has a 5.77 ERA with a 1.2 HR/9 rate in 39 career innings. On a related note, Rizzo has smacked 51 of his 71 career homers vs. righties.
Miguel Montero (Cubs): With a career .795 OPS vs. right-handers (.648 against lefties), the catcher is another strong candidate to put one of DeSclafani's offerings into the outfield seats at Wrigley Field.
Nelson Cruz (Mariners): Wise DraftKings participants will check to ensure that Cruz is in the Mariners' starting lineup at Dodger Stadium on Tuesday. Typically a designated hitter, the slugger will likely draw a start in the outfield against southpaw David Huff, who has posted a 5.02 ERA and a 1.2 HR/9 rate across parts of six big league seasons. For his part, Cruz owns a career .883 OPS vs. left-handers.
Jake Arrieta (Cubs): The right-hander earned a win after holding the Cardinals to three hits across seven innings in his season debut, and he should pick up victory No. 2 if he can have a similar level of success against the Reds on Tuesday. It should be attainable, as Arrieta is a much more dominant hurler than DeSclafani.
Matt Harvey (Mets): One of the few aces who will toe the rubber on Tuesday, the right-hander -- who struck out nine batters across six scoreless innings in his first 2015 start -- has a great chance to excel against the Phillies.
Daniel Norris (Blue Jays): The lefty tossed five effective innings against the Yankees last week before allowing a pair of homers in the sixth frame. If Norris can keep the ball in the yard for the entirety of his start against the light-hitting Rays, he should be able to provide quality innings -- with K's -- and a win.
Odrisamer Despaigne (Padres): Despaigne could be a strong value option in DraftKings on Tuesday, when he will work at his pitcher-friendly home park against the D-backs. On the opposing side, Arizona will start Jeremy Hellickson, who posted a 5.00 ERA from 2013-14 and opened '15 with a pedestrian outing.
All statistics are accurate through the completion of Sunday's games.
Fred Zinkie is a senior fantasy baseball writer for MLB.com. Follow him on Twitter at @FredZinkieMLB. This story was not subject to the approval of Major League Baseball or its clubs.