Butler dances out of trouble to get win in shutout
Rockies rookie walks six Giants in 5 1/3 innings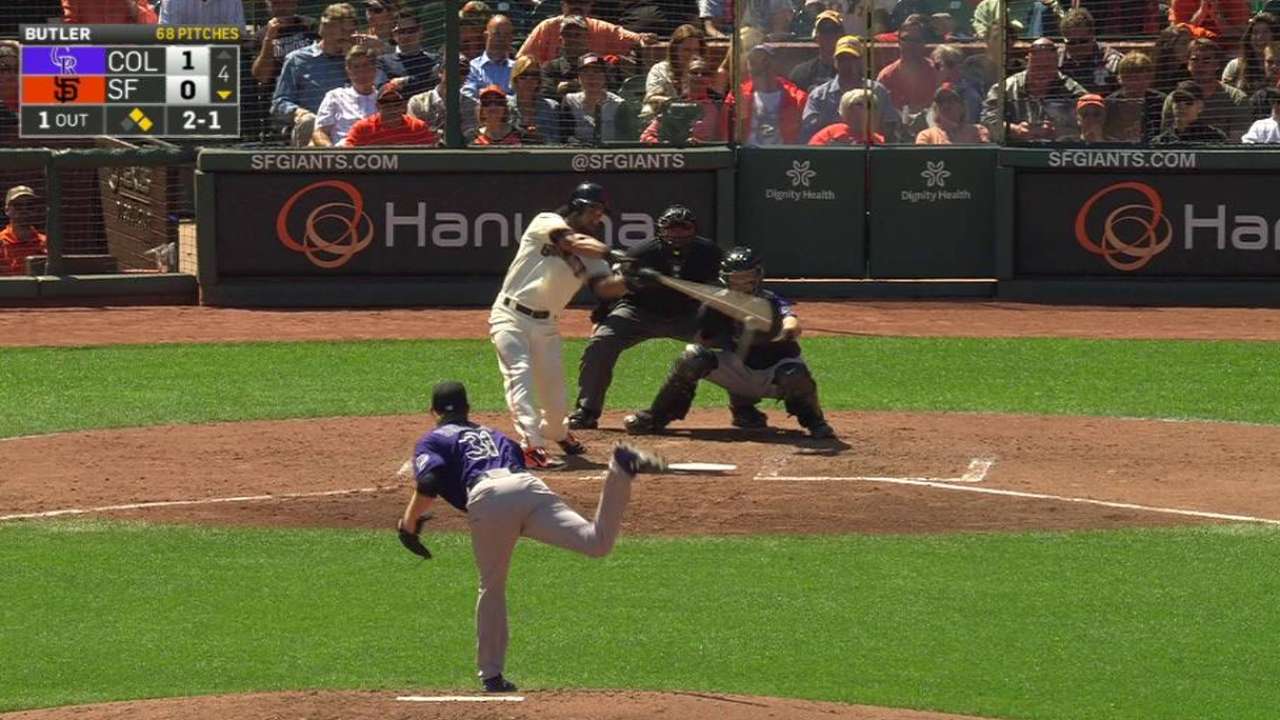 SAN FRANCISCO -- Behind Rockies right-hander Eddie Butler's gingerbread beard is a baby face and mischievous smile -- one that will star in the Giants' nightmares when they hit the hay Monday night.
In 5 1/3 innings of the Giants' home opener, Butler gave up five hits, issued six walks and hit a batter. Yet not one runner scored, and Butler wound up with a strange but satisfying decision in the Rockies' second shutout of the season, 2-0.
Butler (1-0) stranded nearly all of those runners -- including loaded bases in the first two innings on grounders by Gregor Blanco and Angel Pagan, and runners at first and second in the third -- by forcing deflating ground balls. Butler also ended the fourth by working Pagan into a double play. He struck out just one, Matt Duffy on a fastball to end the fifth for one of just four outs that didn't result from a grounder.
Butler was inefficient but he's a 24-year-old rookie. He has the energy, not to mention a heavy sinking fastball and a power changeup, to burst out of trouble.
"I reach back for a little bit more," Butler said. "I just need to get ahead of guys and make it a lot easier."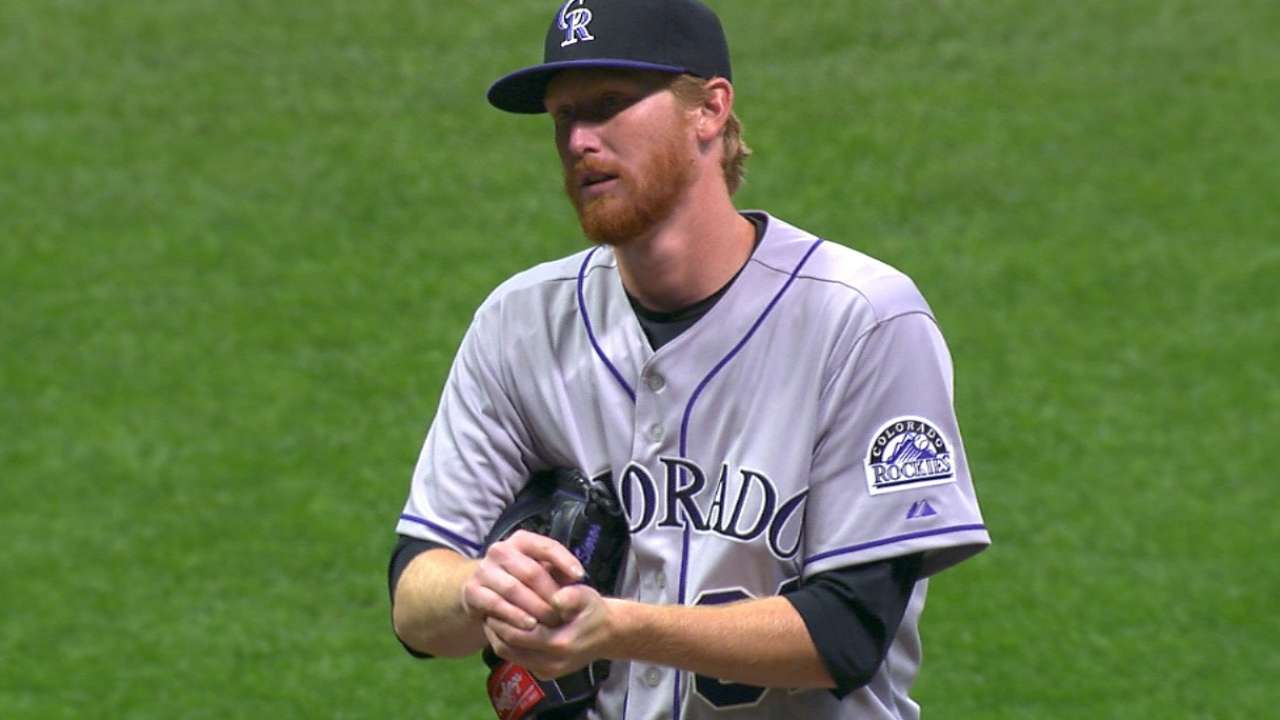 Butler, a supplemental first-round choice out of Radford University in 2012, has pitched similarly in both of his starts. He yielded four hits and walked four in 5 2/3 innings at Milwaukee on Wednesday, but just two runs scored and the Rockies won the game late. The base traffic leaves him often a pitch away from a mess, but the sinker has been keeping him clean.
"He's got the two-seamer," Rockies manager Walt Weiss said. "That's his safety net. When the guys make contact, they're usually hitting the top of the ball. He created some traffic for himself but he pitched through it, pitched around it."
Butler threw strikes on just 47 of his 93 pitches, then left the game to an efficient bullpen. Brooks Brown, Christian Friedrich, Boone Logan and Rafael Betancourt held the Giants to one baserunner.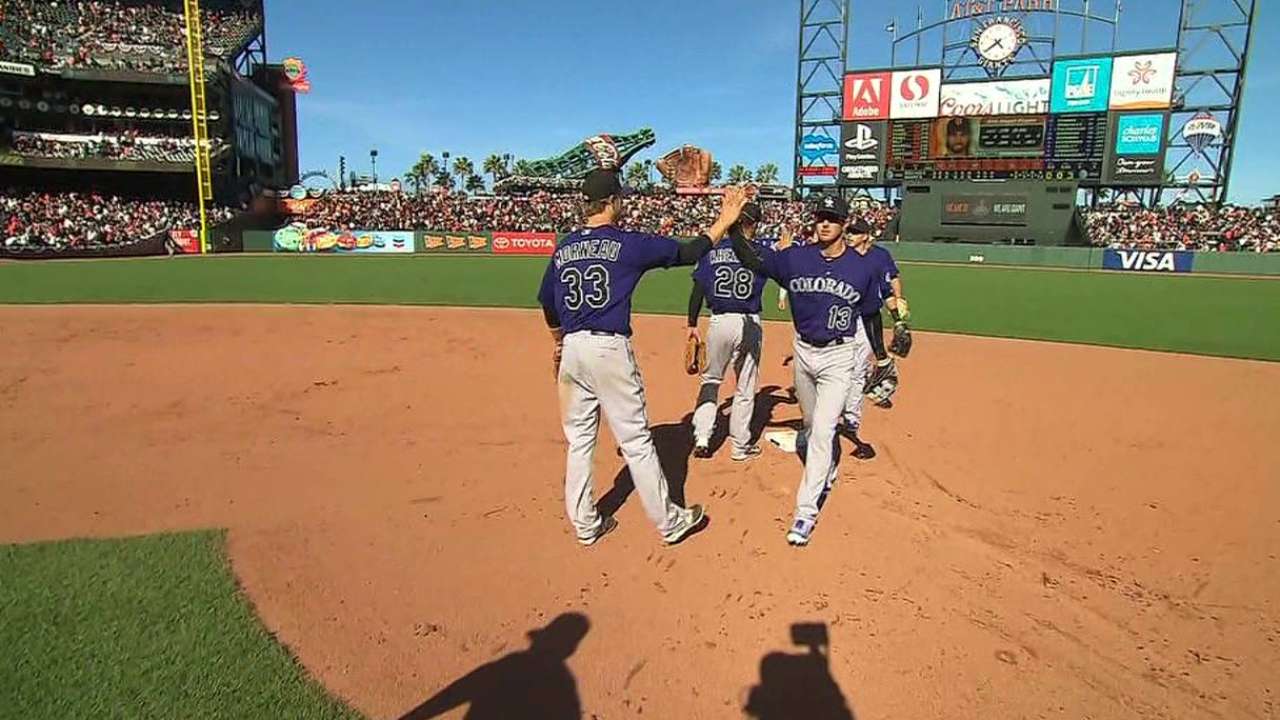 Butler can rely on ability because of his trust in veteran catcher Nick Hundley, whom he shook off just once. But more sequences like the Duffy strikeout -- he overthrew a fastball, then pinpointed a fastball to take advantage of Duffy's expectation of an offspeed pitch -- could help him become smoother. If he finds the correct pitch earlier, he doesn't have to worry about strikeouts.
"I'd like to have more strikeouts, but I'm looking for contact in the first two or three pitches," Butler said. "That's what I did in college. That's what I did the first two years of pro ball. It's something I need to get back into the rhythm of doing, getting those guys swinging earlier."
Thomas Harding is a reporter for MLB.com. Read his blog, Hardball in the Rockies, follow him on Twitter @harding_at_mlb, and like his Facebook page, Thomas Harding and Friends at www.Rockies.com. This story was not subject to the approval of Major League Baseball or its clubs.