Capps clears up confusion on illegal pitches
Recalled reliever was elevating off mound, resulting in automatic ball calls at Triple-A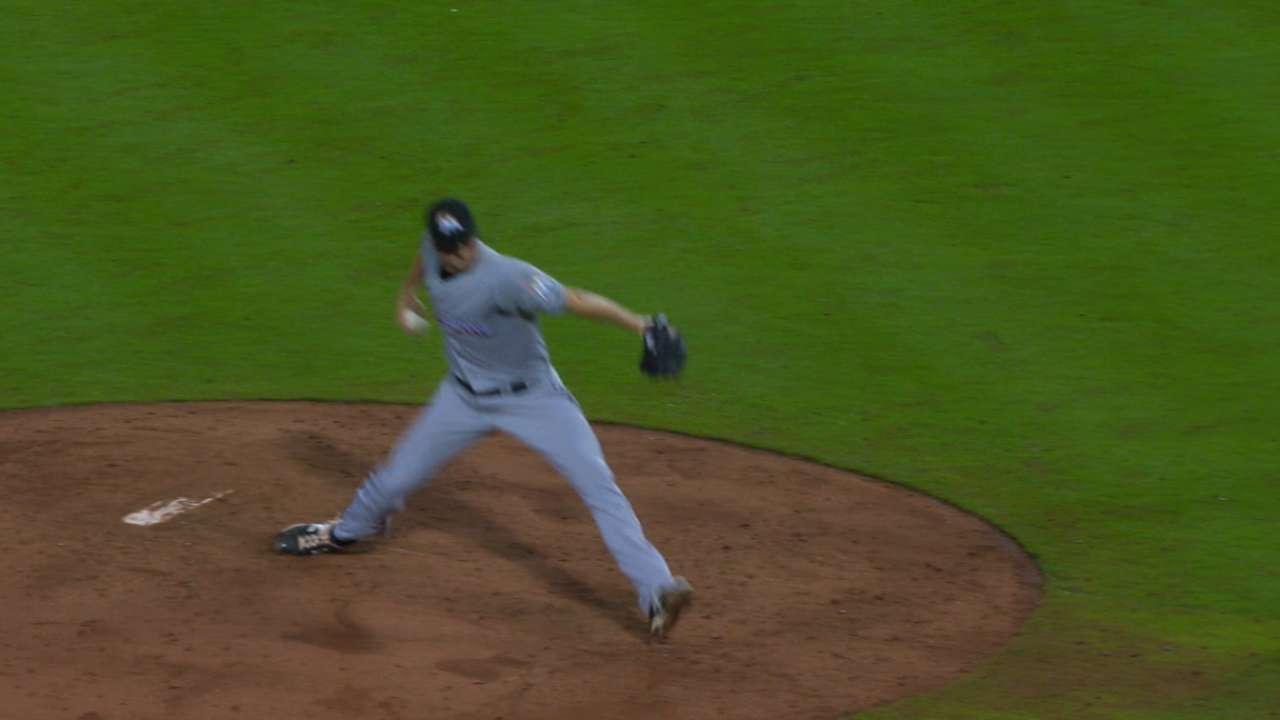 ATLANTA -- Marlins reliever Carter Capps received some clarification from Major League Baseball regarding his unorthodox delivery, where he takes a small hop off the rubber. Basically, it was pointed out to the reliever to not elevate so high.
Capps' mechanics came into question last Thursday, when he was pitching in the ninth inning for Triple-A New Orleans. Each of Capps' first two pitches against Omaha were called illegal pitches, resulting in automatic balls.
Rather than have Capps change his delivery, which could lead to injury, he was instructed to intentionally walk the batter. After the four pitches, Capps was replaced.
The next day, the Marlins contacted Major League Baseball seeking clarification on what Capps, who has 88 games of big league experience, was doing wrong.
"They just said they wanted me to make sure I dragged my foot and not get too elevated in the air, and make sure it's more on a lateral plane," Capps said. "As long as I do that, they have no problem with it. But it was very strange."
The Marlins recalled Capps from New Orleans on Monday. Capps made one other appearance with the Zephyrs and his delivery wasn't an issue. The right-hander said he's never had a problem with an umpire about how he pushes off the rubber.
"It doesn't look pretty, obviously," Capps said. "But that's the first time anybody had a blatant problem with it. They didn't want me to get too much elevation. They understand I'm going to come off the rubber, but they wanted me to drag my toe a little bit more. I'm going to try to do that."
Joe Frisaro is a reporter for MLB.com. He writes a blog, called The Fish Pond. Follow him on Twitter @JoeFrisaro. This story was not subject to the approval of Major League Baseball or its clubs.