MLB.com Columnist
Phil Rogers
Maddon has knack for unlocking a player's best
After 10-inning win, Lester attributes Cubs manager's success to communication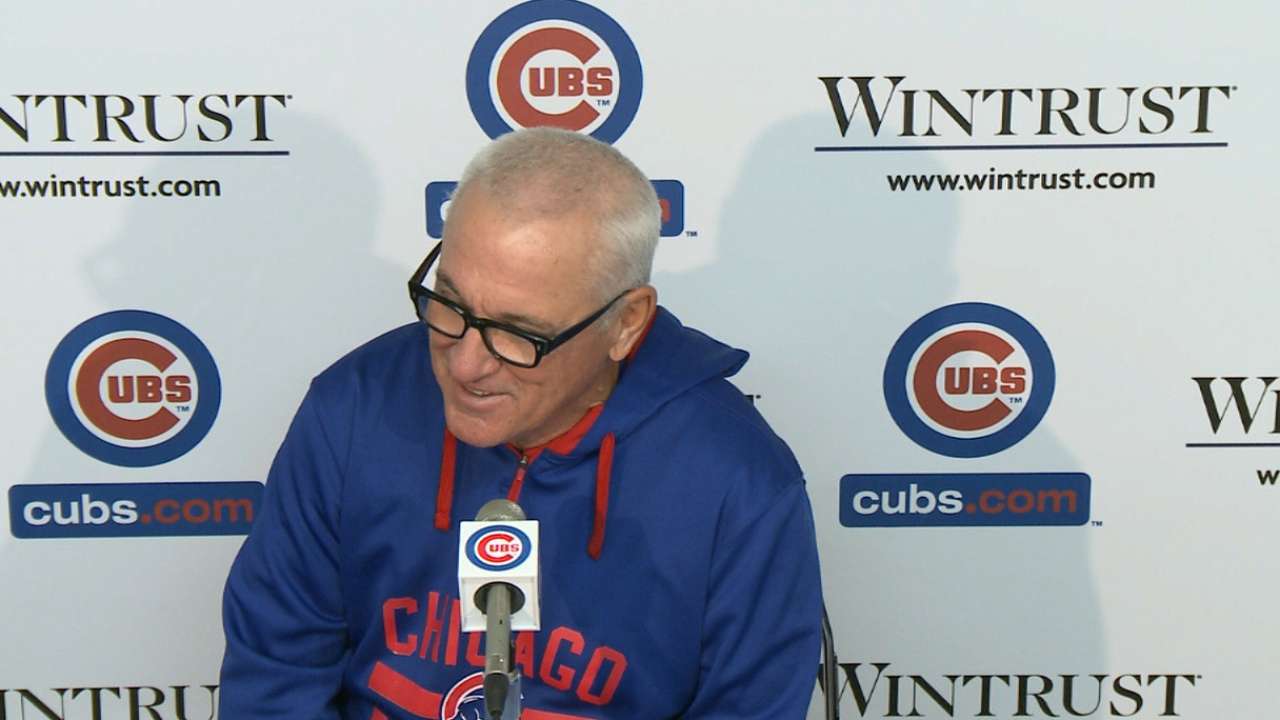 CHICAGO -- It almost seems like Joe Maddon can't help himself.
Maddon says what comes to his mind. He does what he wants with the team he's given to manage, whether anybody else would have done it the same way or not, and somehow it always seems to make sense. You've got to love a man who is that comfortable in his own skin.
For instance, as Maddon was walking into the tiny interview room in the bowels of Wrigley Field after Monday night's dramatic 7-6 victory over the Reds in 10 innings, he was talking as much to himself as to anyone else.
"Entering the Vatican, the catacombs, the Da Vinci Code is being broken,'' Maddon said as he headed toward the microphone.
About an hour earlier, Maddon had moved Chris Coghlan from left field to third base, a position Coghlan had played only eight times in the 466 Major League games he'd been used as a fielder. He then watched with satisfaction as Coghlan made one of the biggest little plays in a game that will be remembered for Jorge Soler's two line-drive home runs and Arismendy Alcantara's game-winning single.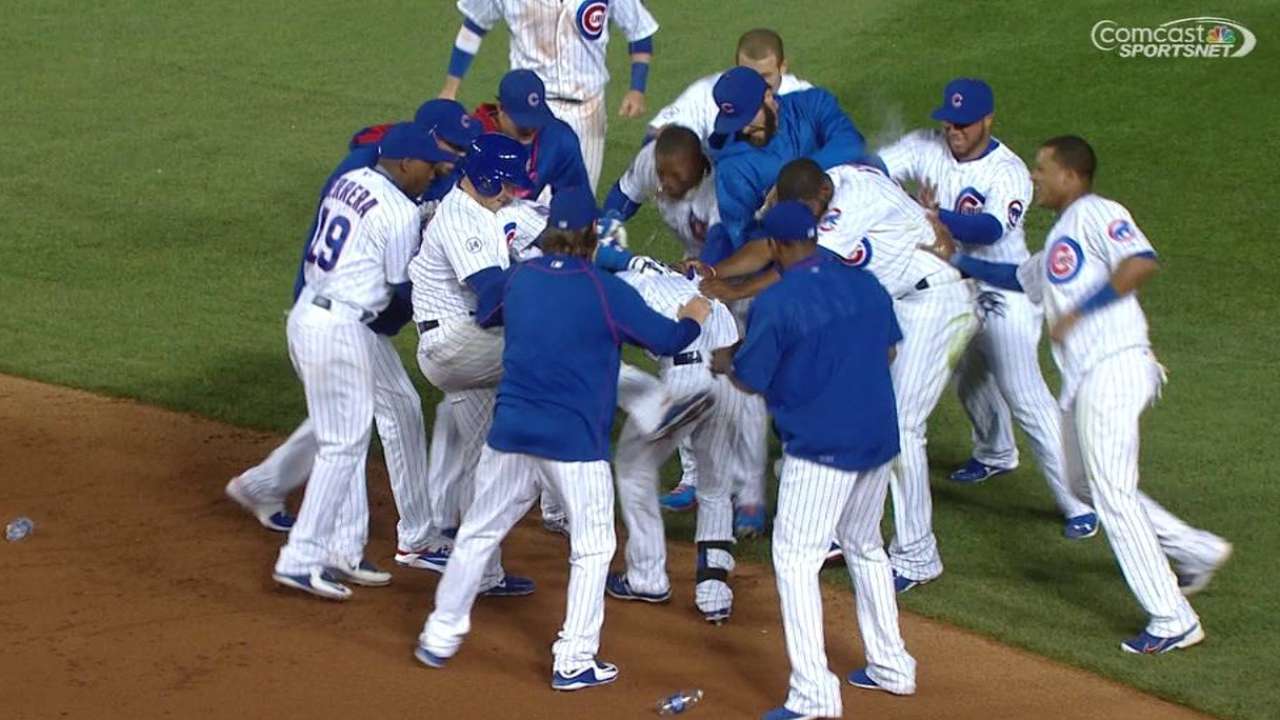 Hector Rondon rushed a throw when he had Joey Votto out by a mile going into third base, but Coghlan bailed out Rondon by lunging to his left to grab the ball and then swiping his arm to the right to catch Votto.
"That was a really good play,'' Maddon said. "It was not a great throw from Rondon to him.''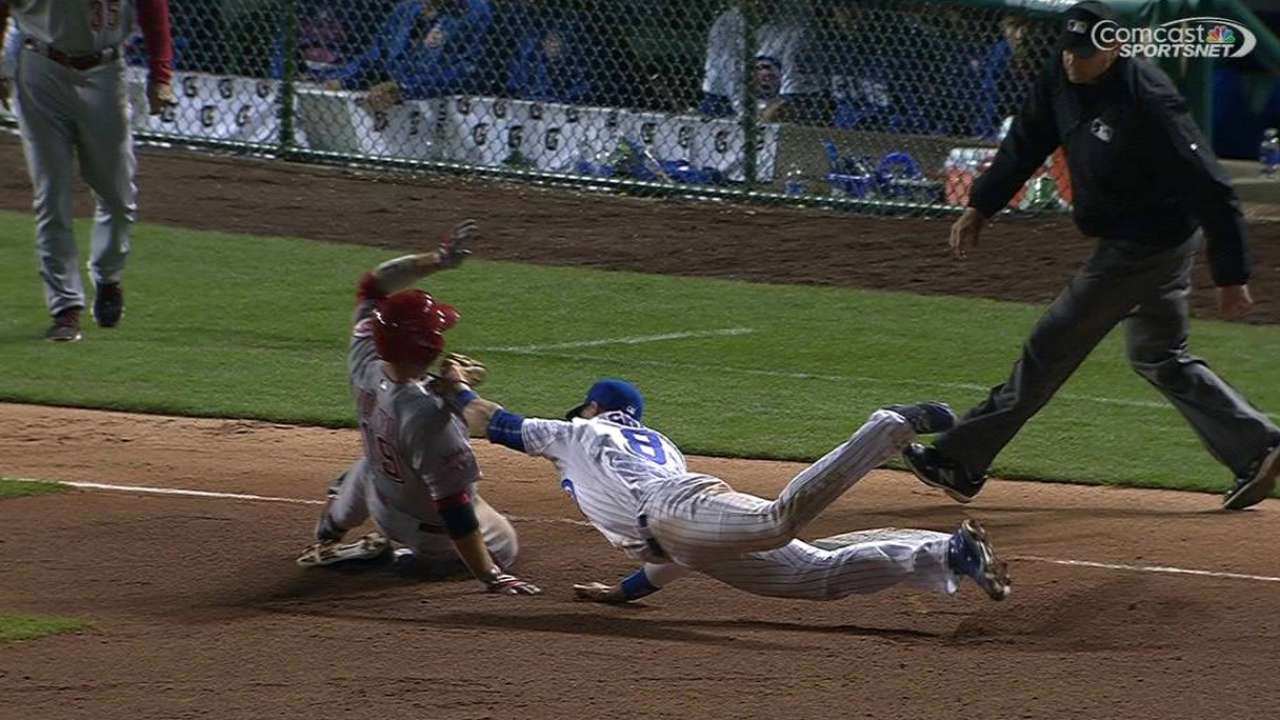 Coghlan is the fifth player Maddon has used this season at third base, none of whom is named Kris Bryant. He's used three catchers and moved most of his position players around the board like chess pieces, in different spots on the field and in the lineup. The result is a 4-2 start and the early lead in the National League Central, after back-to-back comeback wins.
This is exactly why president of baseball operations Theo Epstein made an immediate bid to hire Maddon when he became available in October. It's how his small-market Rays teams went to the playoffs four times in his nine seasons there.
"Watching him for so long over on the other side, it seems like he always gets guys to succeed in roles they're not normally used to,'' said former Red Sox ace Jon Lester, who was delighted with a no-decision after giving up six runs in six innings. "I think that's just the comfort he provides in the clubhouse as far as the belief he has in each individual. He does a great job of communicating, a great job of letting guys know, 'Hey, this might arise and you need to be ready.'
"That's huge. … It's just kind of his little knack. He's established himself as that guy who, for some reason -- I haven't been able to put my finger on it yet -- is able to get the best out of guys. Maybe by the end of the season I'll be able to answer that question. But I think the biggest thing in this game, especially at this level, is communicating. That's huge.''
Guess what Maddon did during batting practice on Monday? After Mike Olt was scratched from the start at third base, Maddon wandered up to Coghlan and asked how he'd feel about playing some infield if the right situation arose.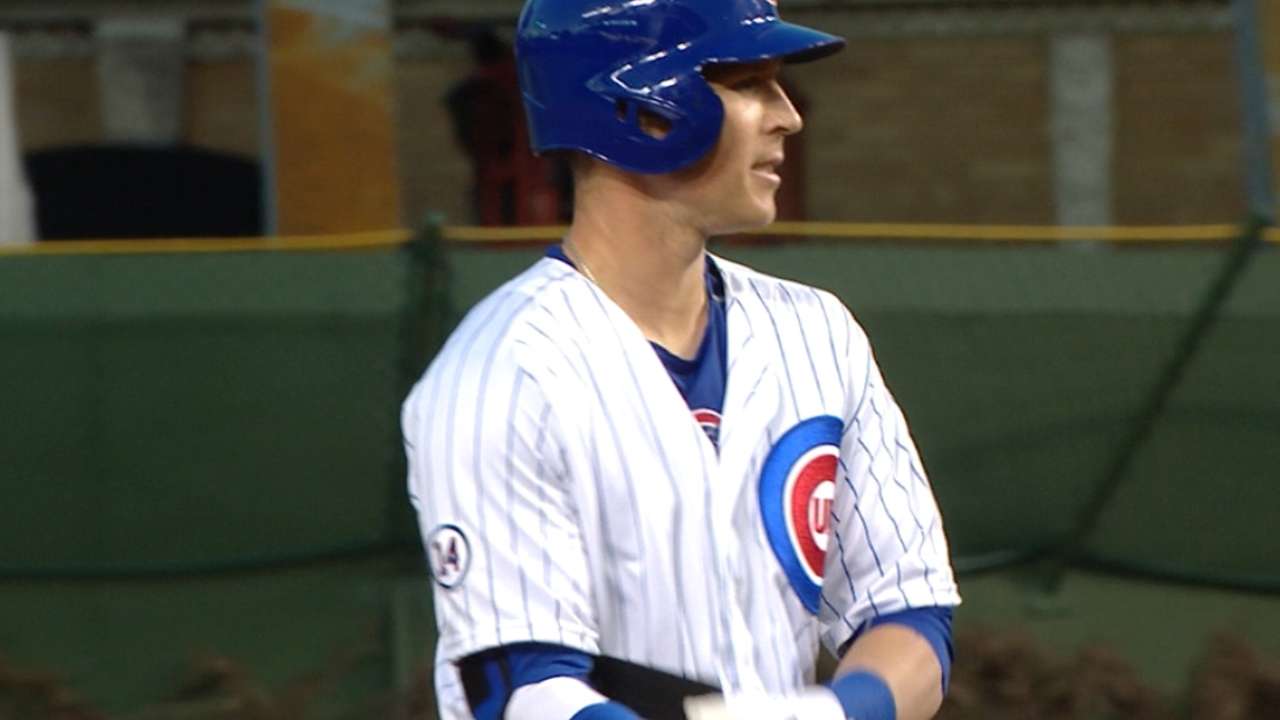 "Chris has played there before,'' Maddon said. "We talked about that before the game, talking to him by the cage. He did not blanch. He said, 'I've done it before; I'm fine with it.'''
Jake Arrieta, who starts for the Cubs on Tuesday night, says Maddon does a great job of keeping his team loose. The Cubs certainly needed to keep their wits about them in Denver on Sunday, when they were down to their last strike before Dexter Fowler delivered a go-ahead two-run homer.
This time around, they rallied from deficits of 3-0 and 6-3, with Maddon once again making moves that all seemed to work out. Soler was the star of the game, but at least a dozen players headed out of the clubhouse feeling very good about their night's work.
"The liveliness in the dugout is a lot of fun to witness now,'' Maddon said. "When you start doing things like this, you believe you can win late. That's really important, to believe you can win late. It's also really important that you feel you can come from behind. Those are two of the best things you can get across to a young team. … I like the way we've played. I like the fight. I like that everybody's participating.''
Other than Maddon's willingness to defy custom by hitting his pitcher eighth, the one consistent piece to the Cubs' fast start has been quality work by their bullpen. This is not a surprise, as Fangraphs published a post in February pointing out the parallel between Rondon, Pedro Strop and Neil Ramirez and the trio of power relievers in Kansas City.
The bullpen was the best part about the Cubs team that won 73 games last season, and that has continued. The four scoreless innings worked by Rondon, Strop, Jason Motte and Brian Schilitter against the Reds dropped the ERA of Maddon's bullpen to 1.66.
Maddon says the bullpen is the first thing he thinks about every morning as he maps out his plans for an upcoming game. In addition to the three holdover right-handers, the Cubs are getting lifts from Motte, the former Cardinals closer signed as a free agent, and left-hander Phil Coke, who signed a Minor League contract during Spring Training.
"I think our bullpen's been a big story so far for us,'' Epstein said. "It was a huge part of winning the game [Sunday]. Guys are picking right up where they left off. It's not always the case. Guys are emerging. Jason Motte had his struggles in Spring Training; he's been fantastic. Phil Coke showing 93 [mph] with huge life, which is a big plus for us to have that from the left side. It's been nice early, real nice.''
With Olt and Tommy La Stella ailing, the calls for Bryant to be promoted from Triple-A Iowa have picked up again -- helped along by the fact that Bryant is, as always, killing the ball. Epstein acknowledged on Monday that Bryant could be at Wrigley sooner rather than later, leading to lots of speculation about Friday, when the Cubs open a series against the Padres.
You can't blame Bryant for wanting to be here. He's missing out on the fun.
Phil Rogers is a columnist for MLB.com. This story was not subject to the approval of Major League Baseball or its clubs.