Manny visits Cubs, likes look of offense
Ramirez, now a hitting consultant, believes Chicago will excel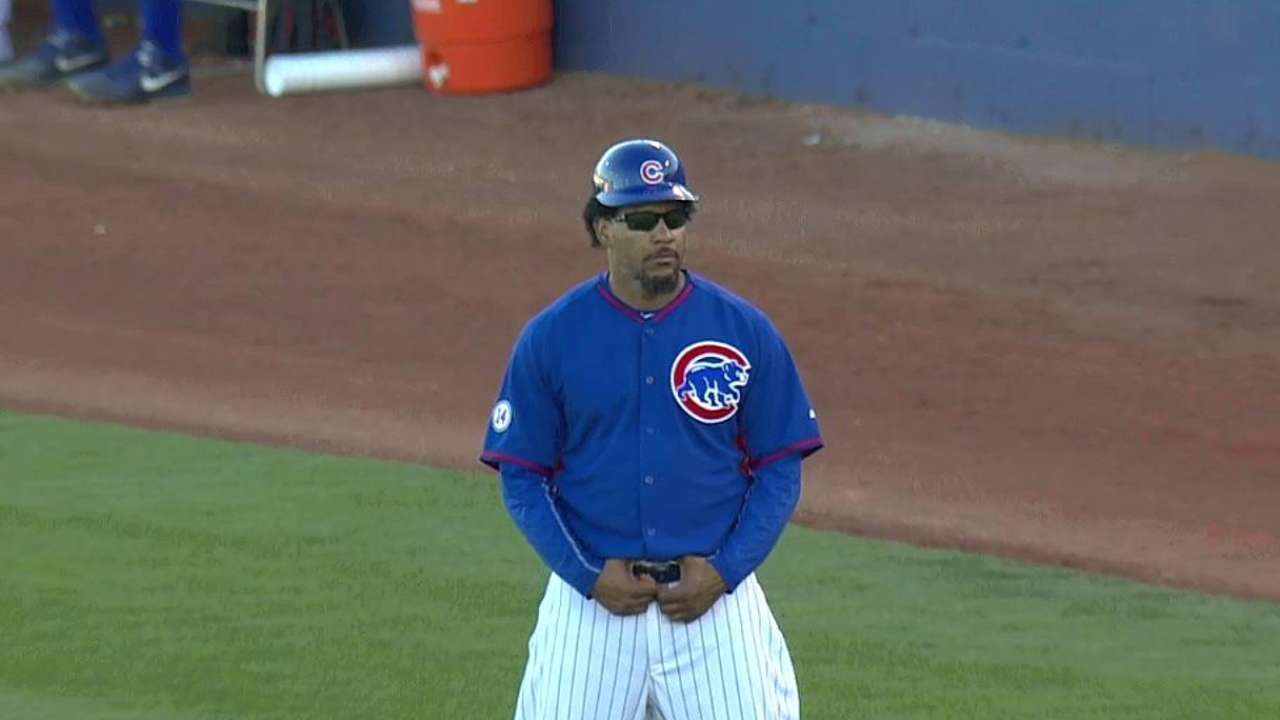 CHICAGO -- Manny Ramirez has been watching the Cubs on television, and likes what he sees so far.
"They're doing fine," said Ramirez, who joined the team Monday at Wrigley Field in his new role as hitting consultant. "We just have to be patient with them and the whole team. They played a great game [Sunday]. I think this is the year, I think the Cubs will do very well."
On Sunday, the Cubs rallied to beat the Rockies, 6-5, scoring three runs in the ninth inning, including two on Dexter Fowler's home run.
Manager Joe Maddon likes having Ramirez with the team because of his experience.
"Manny's good with approach," Maddon said Monday. "He's also good mechanically, but I think when it comes to talking about how to attack a pitcher, he was really good at that.
"Everybody's looking for mechanical answers," Maddon said. "I like coaches who can teach approach and teach you to think better."
Ramirez connected with Javier Baez, and has talked to the young infielder since his sister passed away. Baez was taking a leave from Triple-A Iowa to take care of his family.
"It's like I always tell Javy, he's an unbelievable kid," said Ramirez, who talked to Baez recently. "His hitting is going to come along. I haven't seen anybody with that kind of bat speed."
When Ramirez says "this is the year," are prospects Baez, Kris Bryant and Addison Russell part of it?
"[The Cubs] have great starters now and the bullpen is awesome, unbelievable," Ramirez said. "They have a great bullpen. That's what I saw in Spring Training. Let's give them time. They'll learn how to play together. They're going to play better than they did last year. I can see that."
Carrie Muskat is a reporter for MLB.com. She writes a blog, Muskat Ramblings, and you can follow her on Twitter @CarrieMuskat. This story was not subject to the approval of Major League Baseball or its clubs.