MLB.com Columnist
Marty Noble
Mets show they believe in themselves in home opener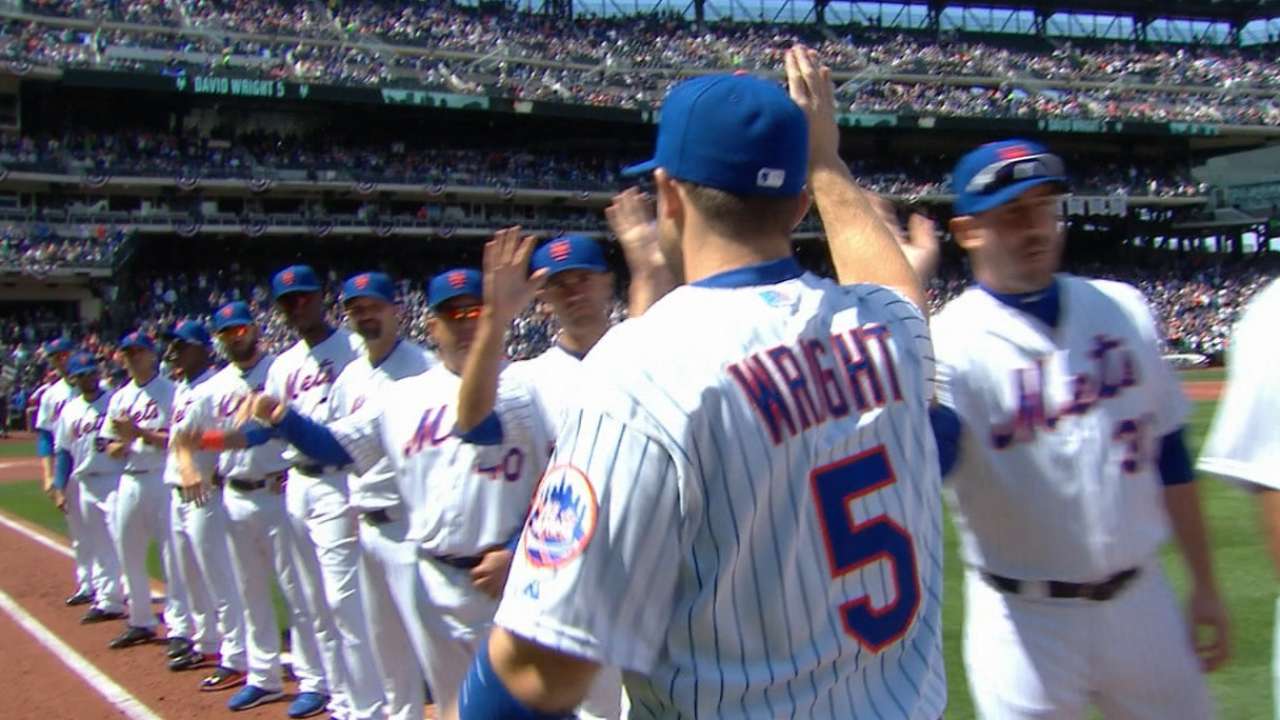 Was a sunny day
Not a cloud was in the sky
Not a negative word was heard
From the people passing by
-- Paul Simon, "Was a Sunny Day," 1973
And the folks who came to watch the Mets face the Phillies in the Mets' first home game had nothing bad to say, either. Simon, the Mickey Mantle devotee, had this one pegged 47 years ago when he penned it, without baseball or Citi Field -- or the Mets -- in mind. But the lyrics were quite appropriate Monday.
For the purists among us, the Mets' opener at Citi Field was the way it ought be -- tense, taut, tight and terrific on the field.
Doubtful a regular-season game can be much more entertaining and riveting than what the Mets presented. The score was 0-0 or 1-0 long enough to make many of assembled 43,947 squirm in their seats. The masses would have gladly accepted a 7-3 victory fueled by Phillies mistakes. Instead, they witnessed tidy and mostly precise baseball. That all the efforts -- two double plays, a foiled sacrifice-bunt attempt and 6 1/3 innings of Jacob deGrom followed by quality relief -- resulted in a 2-0 victory made it special and rewarding, as well.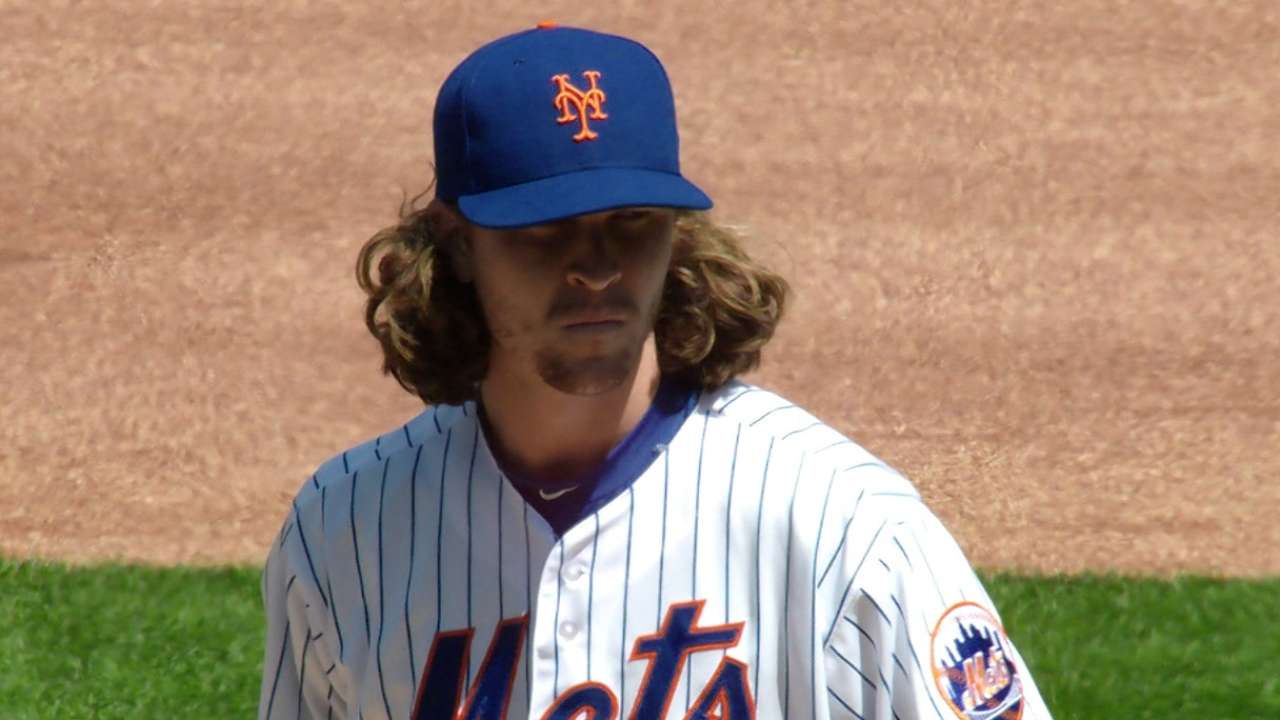 Moreover, the performance and results played right into the winter promise that the Mets would be better. It's always advisable to back up big talk with brilliant play on a lovely day in a season premiere. Credit these Mets with good timing, too.
Now let's see them do it again.
"It's good to win like this," manager Terry Collins said after the home opener. "Now we get to see the big boy [Matt Harvey] go tomorrow. That'll be fun.
"We've done a lot of yapping. You have to believe in yourself. When you do, good things happen."
The case in point occurred in the fifth inning while the Mets' lead was one run. The Phillies had runners on first and second with one out. A sacrifice bunt was logical with the pitcher, Aaron Harang, due up. The runner on second, Cody Asche, was not renowned for speed. David Wright slid over from third and reminded deGrom that a play at third was possible if the bunt was improperly placed. Harang accommodated, and Mets fans instantly recalled the likes of Oliver Perez, Pete Falcone and Ray Burris, who couldn't help themselves in the batter's box.
Onetime shortstop deGrom -- he's been a pitcher exclusively for just four-plus seasons -- was swift to the ball and made an quick, accurate throw to third. Two out, runners on first and second. Wright even relayed the ball to first as if it were 1986. Instead, a lineout to Juan Lagares ended the inning.
deGrom said he would have made the play to third without Wright's counsel. And who are we to doubt him? But it's been a while since a Mets infield has opted to take chances. It was reminiscent of the 1999 infield -- John Olerud, Edgardo Alfonzo, Rey Ordonez and Robin Ventura -- confidently producing outs at second and third in challenging circumstances, because they knew their team was good enough to withstand a loss if their aggressiveness backfired.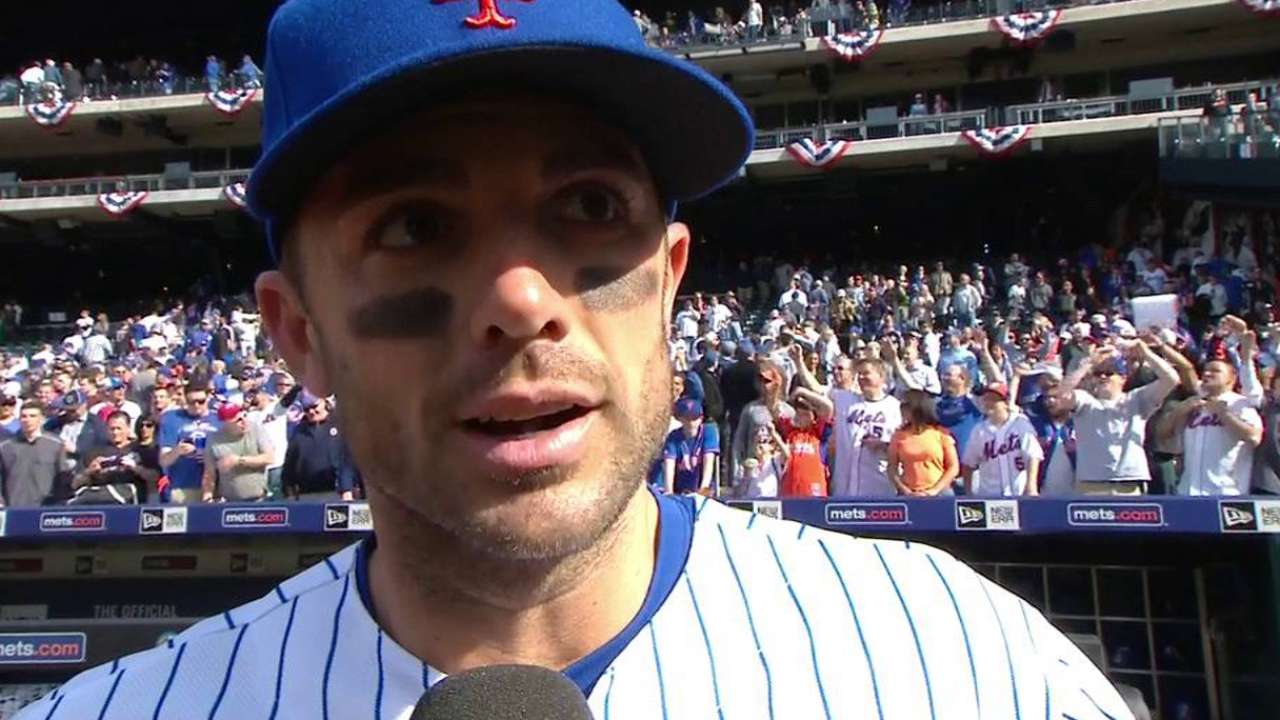 Third baseman Chipper Jones said his Braves team played without fear because "tomorrow we've got a Cy Young Award winner going, and we're gonna win."
And Harvey, sans a Cy, starts Tuesday night. A row of dominos can be a positive.
The Mets made other handsome plays -- a double play with one out and one on in the fourth and the critical two-for-the-price-of-one executed by Lucas Duda, Wilmer Flores and Jeurys Familia following a leadoff walk in the ninth. That play also was preceded by a visit to the mound by the captain.
"I saw he was trying to gather himself [after the walk]," Wright said, so he gave Familia a moment.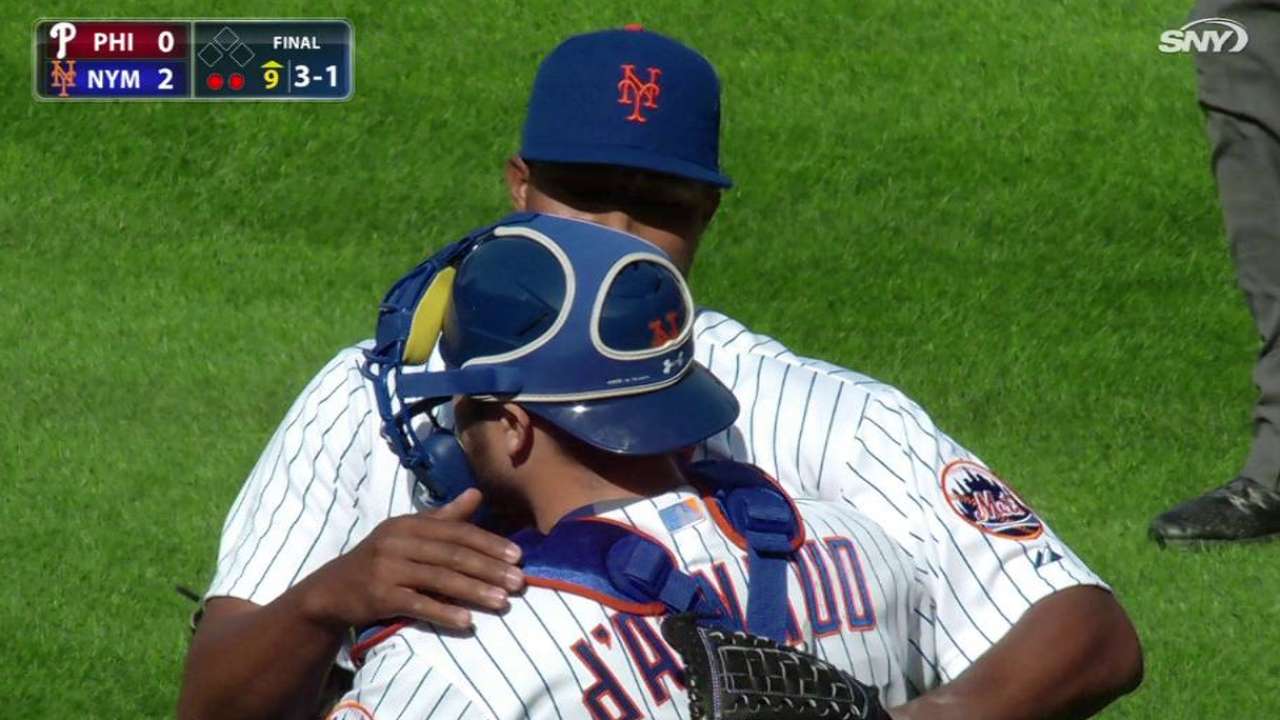 Good players do that. Good teams usually prosper at home. The Citi-dwellers haven't distinguished themselves in Queens in recent years. Maybe that's changing; a tad difficult to say after nine innings, though.
The place was filled with hope Monday. And the Mets met the challenge.
"We have to get used to it," Collins said. "The numbers in the stands can't bother us. We expect to win, and that will draw bigger crowds. We're probably going to play a lot of close games. We have to play like we've been talking."
Marty Noble is a columnist for MLB.com. This story was not subject to the approval of Major League Baseball or its clubs.