Manfred staying on top of Rays' stadium issue
Speaking at Rogers Centre, Commissioner also addresses Montreal seeking team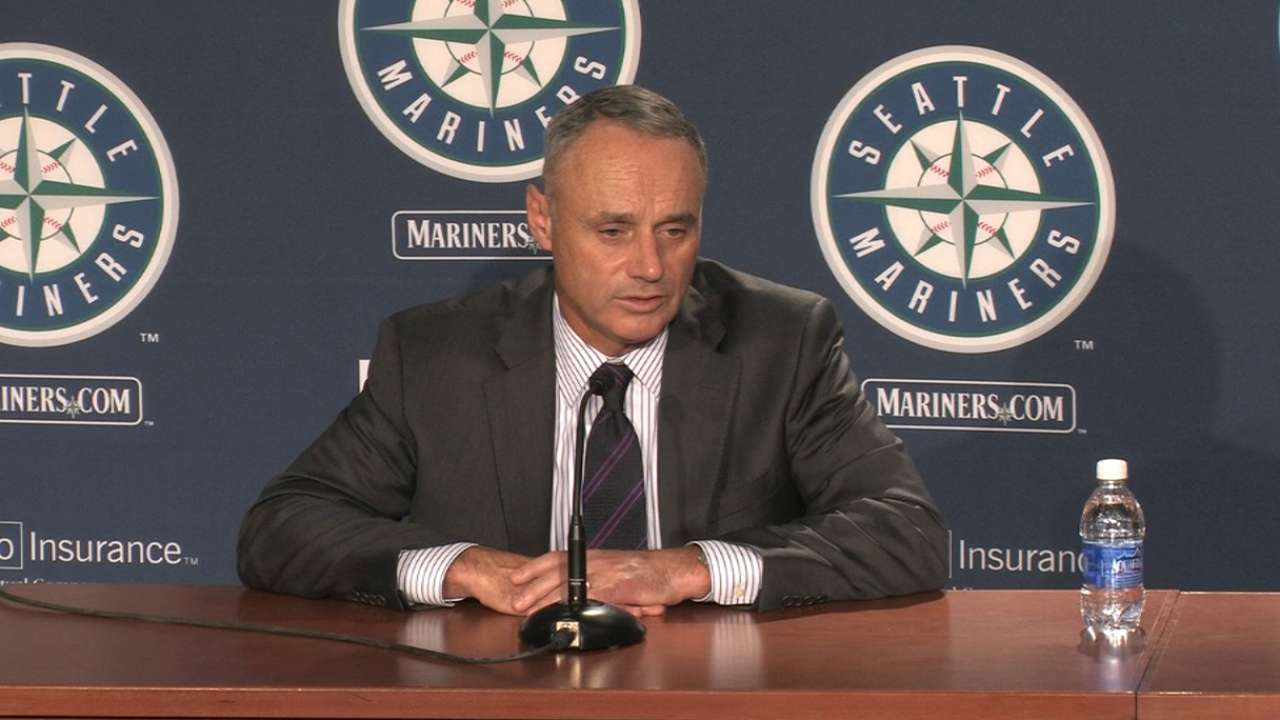 TORONTO -- Major League Baseball Commissioner Rob Manfred addressed the media prior to Monday night's Rays-Blue Jays contest at Rogers Centre. The Rays' stadium issue and Montreal's efforts to land a team were among the more talked about topics.
Manfred updated the room on the most recent conversation he had with Rays principal owner Stuart Sternberg, who recently told reporters that he would wait for the season to end for any further developments on the stadium issue in Tampa.
"I talked to Stu about the most recent developments," Manfred said. "He remains amazingly committed to the idea of trying to make Tampa work. He is realistic about the fact that the timeline shifted a little bit.
"And as I've said before, I think the key for Major League Baseball is to follow the lead of the local ownership. They have the best feel for what's going on in that local community. What the timing can be. What can be accomplished. And I'm very comfortable following Stu's lead on this one."
Meanwhile, the Tampa Bay area is familiar with having the shoe on the other foot from the area's pursuit to land a Major League franchise, a dance that saw the area make inroads in attempts to get the Giants, Rangers, White Sox and Mariners to relocate to the Tampa Bay area. Now it's the Tampa Bay area facing stadium issues, the frustrations of low attendance and the prospect of seeing its team relocate. Meanwhile, Montreal is a former Major League city and hopes to lure a team to relocate to the area or get MLB to expand.
Crowds of roughly 50,000 showed up for two recent exhibition games at Olympic Stadium to watch the Blue Jays and Reds. Manfred said he was "aware of the crowds" though he did not attend the games.
"A very positive thing in terms of demonstrating Montreal's interest in having Major League Baseball," Manfred said. "... I do think it's important for Montreal to have a firm plan as to how they would get a Major League facility, site, a financing plan and the like in place. In terms of a timeline for an actual franchise, it's just impossible to tell.
"There's two ways to get there. Expansion, which I see as a backburner issue for baseball right now. And relocation and that, obviously, depends on developments in other markets."
The mayor of Montreal recently expressed his desire to meet and talk to Manfred. The Commissioner said that no meeting is currently scheduled before adding, "I'd be very happy to meet with the mayor of Montreal."
Manfred noted it was "really important for baseball to have viable alternatives with respect to expansion and relocation."
"It's just good business to make an effort to make sure that we have alternatives available to us in the event that there's a problem," Manfred said. "I'm reluctant to characterize them as only relevant in the context of relocation because I think our sport's a great sport. It's tremendously healthy. And it has the potential to grow so that I see it as both an expansion and relocation issue."
In regard to one other Rays-related topic, Manfred addressed the tampering allegations against the Cubs in their hiring of Joe Maddon as manager. Earlier, Manfred had said he hoped to have the issue resolved by the start of the season.
"Well, it was my goal and fervent hope that we would be done with that investigation by Opening Day," Manfred said. "I thought that made good sense. Unfortunately, as I have learned over the course of my career, investigations are not something that have predictable beginnings and ends. Things happen that need to be pursued. The investigation remains ongoing at this point. But I do expect it to be concluded very soon."
Bill Chastain is a reporter for MLB.com. This story was not subject to the approval of Major League Baseball or its clubs.