Bucs regain momentum on Hughes' relief, then late HRs
After righty induces key double play, dingers by Alvarez, Hart pad lead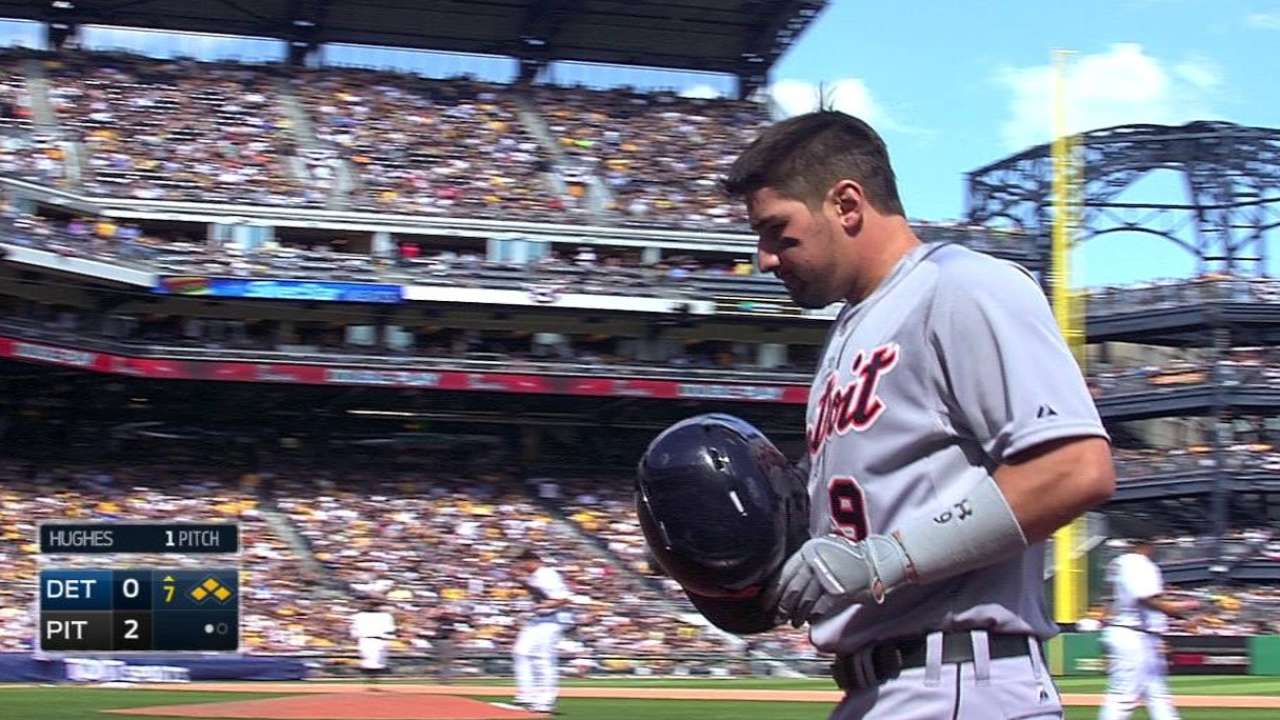 PITTSBURGH -- The Tigers were threatening to spoil the Pirates' joyous home opener Monday afternoon at PNC Park, seemingly stealing the Bucs' momentum in the top of the seventh inning by loading the bases with nobody out.
Eight pitches, a big double play and two home runs later, the Pirates had decisively swung the game back in their favor en route to a 5-4 victory.
Pirates starter Gerrit Cole gave up two singles and a walk to start the seventh, opening the door for the Tigers to erase the Bucs' two-run lead.
"That could have definitely been a turning point of the game," Corey Hart said.
That's when Pirates manager Clint Hurdle called on reliever Jared Hughes, the club's ground-ball specialist, and the eight-pitch swing began.
Cole had been cruising, holding Detroit's dominant lineup to just a hit and a walk through six innings, but Hughes was ready.
"When you come into the game with the bases loaded, you just have to pound the zone," Hughes said. "Hitters know you're going to be doing it, so they're probably going to be swinging."
Nick Castellanos swung away at Hughes' first pitch, grounding into a run-scoring double play. One pitch, two outs, one run. His second pitch was a strike to Tigers catcher Alex Avila, and the third induced a popout in foul territory, a swift end to Detroit's rally.
"He was our go-to guy with men on base last year," Hurdle said. "He's got the weaponry to do it."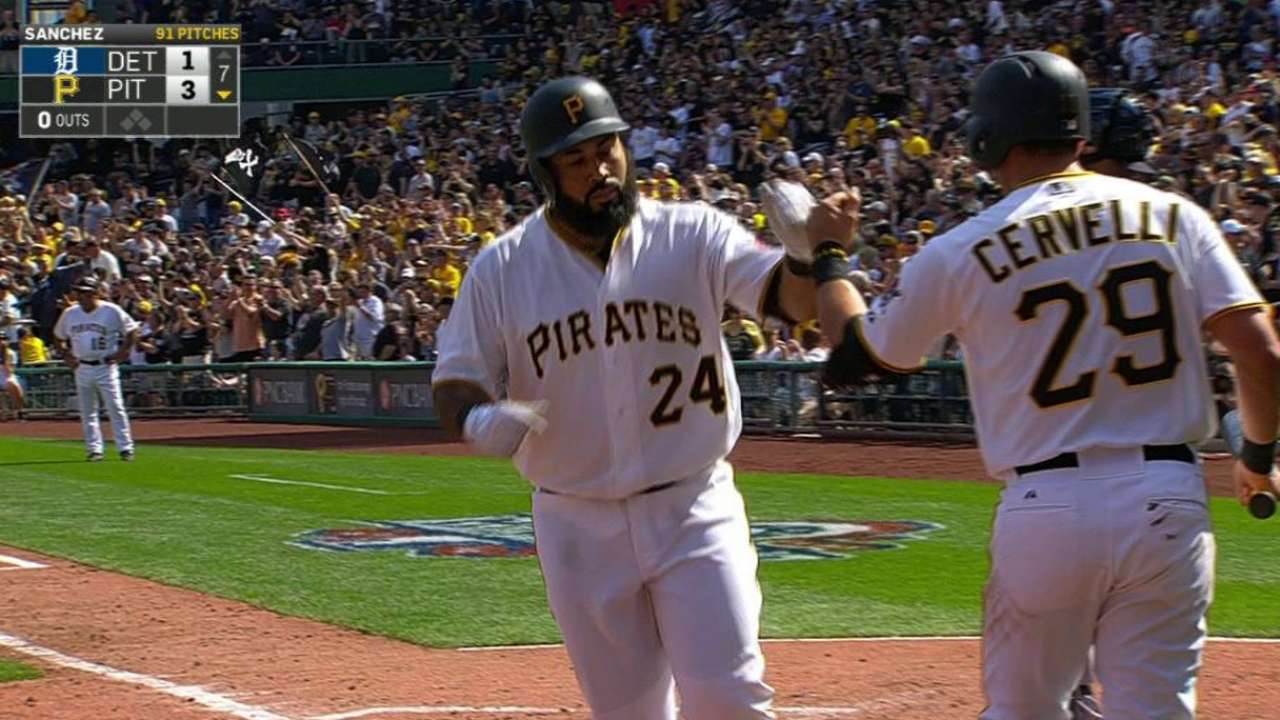 After Hughes' escape, the Bucs quickly tacked on to their lead. Pedro Alvarez ripped Anibal Sanchez's first pitch in the bottom of the seventh to center field, his third home run.
"He's given us some really consistent at-bats early in the season," Hurdle said.
Two pitches later, after a single and Jordy Mercer's sacrifice bunt, Francisco Cervelli stood on second base. Hurdle summoned Hart to pinch-hit for Hughes.
Sanchez's first offering bounced into the dirt. Hart went after the second pitch -- "More of a hopeful swing," he said. "Hit it, and hopefully it goes out." -- and sent it into the left-field stands for a two-run homer.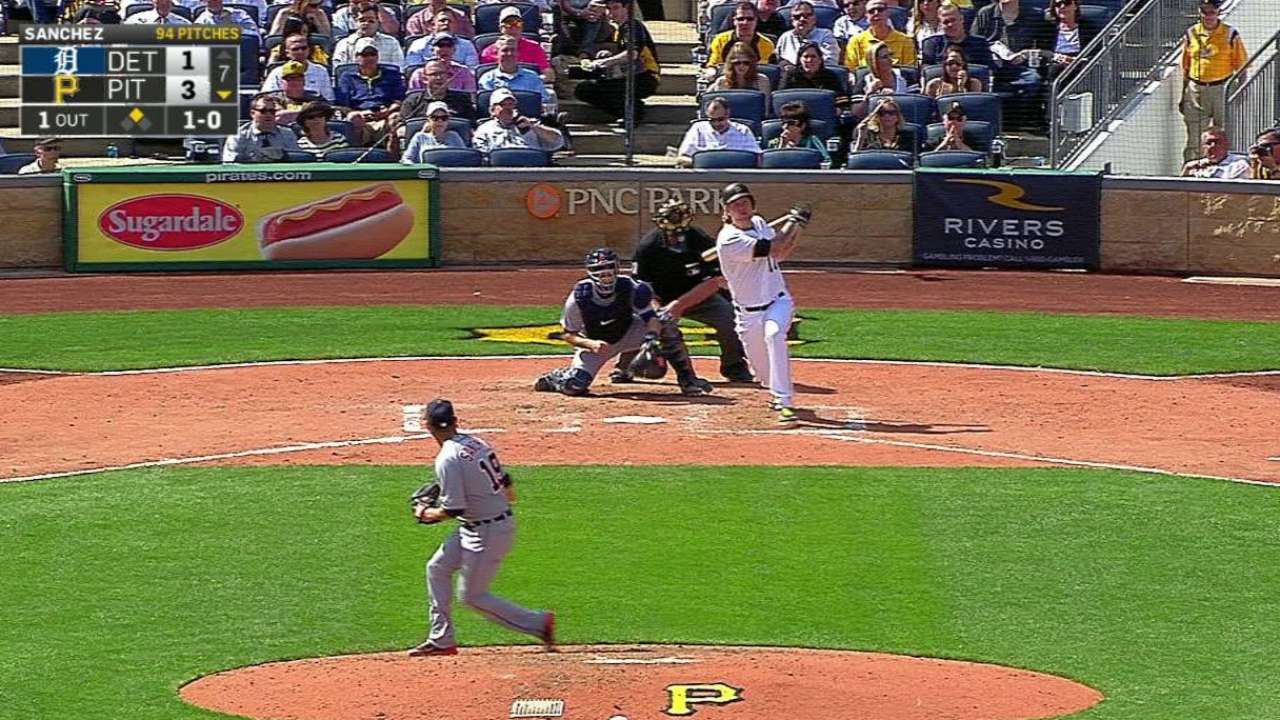 With that, the Bucs had pushed their lead to 5-1 -- and they wound up needing every run they could get, as closer Mark Melancon gave up three runs in the ninth.
Hart's two-run shot continued to prove his value off the bench. In three pinch-hit opportunities, Hart is 3-for-3 with four RBIs and four pitches seen.
Making the moment more significant, it was the 1,000th hit of Hart's 11-year Major League career.
"I'd be lying if I said I didn't know," he said. "I don't go up there thinking about that kind of stuff. Afterward, it's like, 'Oh, that was nice.'"
Adam Berry is a reporter for MLB.com. Follow him on Twitter at @adamdberry. This story was not subject to the approval of Major League Baseball or its clubs.