Cole crafts masterful outing against red-hot Tigers
Pirates righty allows just one run over six-plus, notches eight strikeouts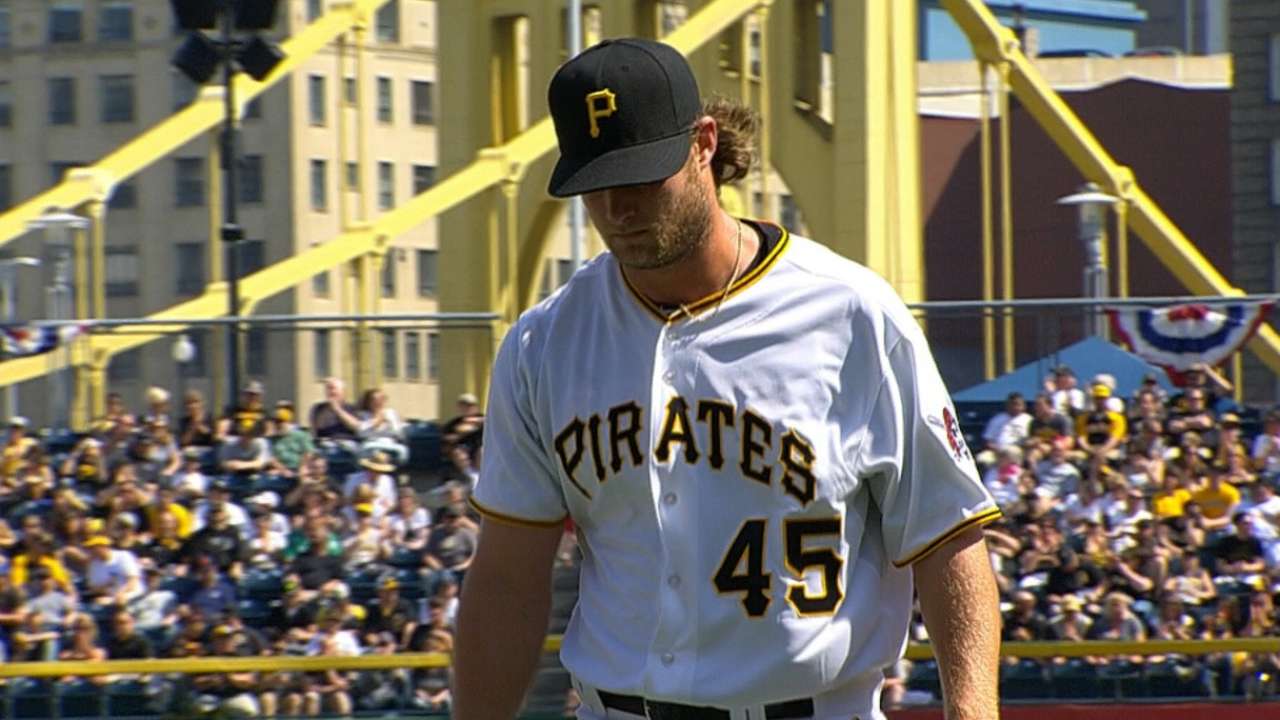 PITTSBURGH -- Gerrit Cole on Monday was "the master craftsman he wants to be on the mound," as his manager put it. The only tool Cole lacked was a Shop-Vac.
Cole called it "frustrating" not being able to "clean my own mess up" in an eventual 5-4 victory over the Tigers. He referred to leaving reliever Jared Hughes in a bases-loaded, none-out dustup in the seventh inning of a game he and the Pirates led, 2-0, on PNC Park's Opening Day.
But after Hughes took his brilliant Mr. Clean turn and the Bucs added just enough runs, there was nothing to prevent full appreciation of Cole's mastery.
"He was really good today," manager Clint Hurdle said, quickly clarifying that that wasn't a unique development. "We've seen him really good before. The fastball command makes him dynamic,. He wants to be a master craftsman out on the mound, and you saw that today through six innings, for sure."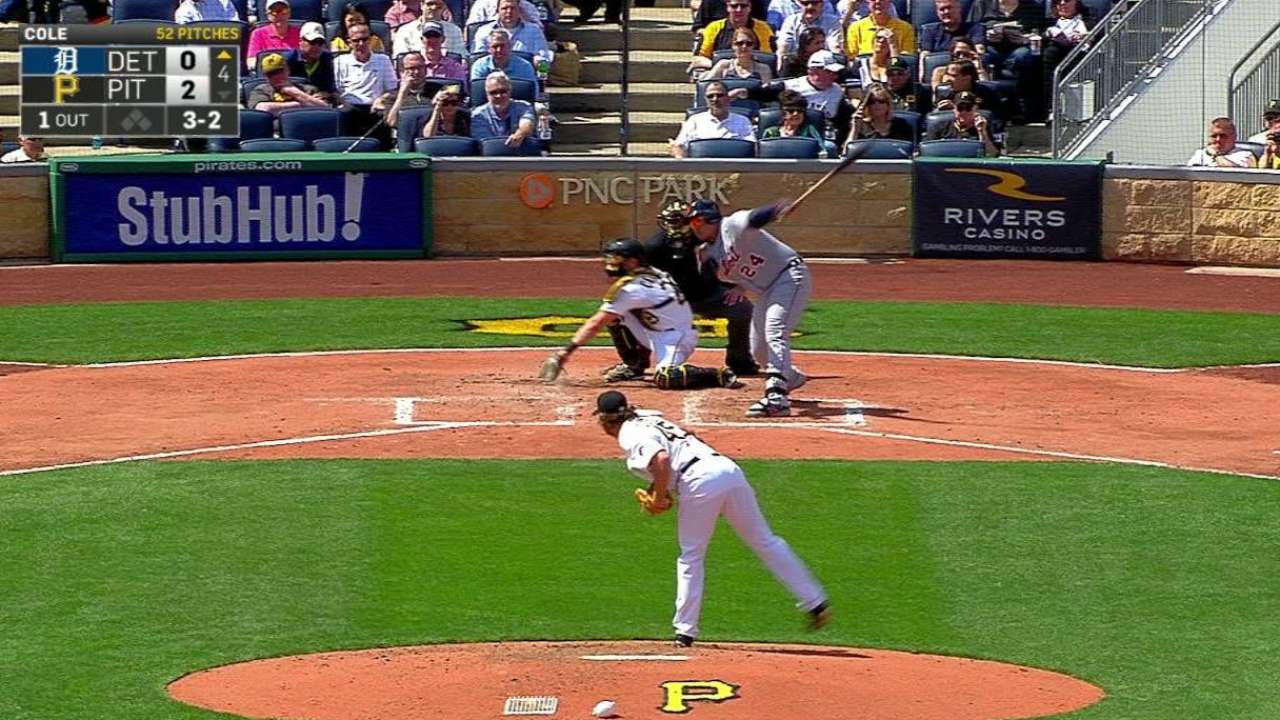 Through those six, Cole muted the 6-0 Tigers -- 47 runs in those six games -- on a second-inning single by Nick Castellanos, striking out eight of them while issuing one walk.
He did that on a high-energy occasion, winning a battle over his own anxiety before the one over the Tigers.
"There were some butterflies early, but I was able to calm those down," Cole said. "Had to navigate through the six- to eight-minute 'God Bless America' and national anthem wait. Fire off that first pitch, and hope that [the butterflies went away]."
Cole had even more reason to get antsy when the game's first batter, Anthony Gose, splintered his bat as he grounded out to short. The big, dagger-shaped part of the bat appeared to float right by Cole, but he hardly flinched.
Until being chased quickly in the seventh, Cole turned arduous into routine.
"He had command, execution," Hurdle said. "Against a lineup playing as big as any in the Major Leagues right now."
"They're hot, so there was a lot of emotion coming into the game," Cole said. "Our season got off to an interesting start [doubtless a reference to the three straight last at-bat losses in Cincinnati], so it was nice to be able to get some traction today, get things moving in the right direction. Especially with all the anticipation building up to it."
Cole remained undefeated in his last six home starts, standing 4-0 over that stretch with an ERA of 2.37.
"I wouldn't say I'm more comfortable here," he said. "I've made most of my starts here, of course, so I'm more familiar with how it plays. But more comfortable? Not really."
True that. With Cole on the hill at PNC Park, the other team batter's discomfort is more evident.
Tom Singer is a reporter for MLB.com and writes an MLBlog Change for a Nickel. Follow him on Twitter @Tom_Singer. This story was not subject to the approval of Major League Baseball or its clubs.