For first time, Torii calls Target Field home
Right fielder has recording of late PA announcer Casey introduce first at-bat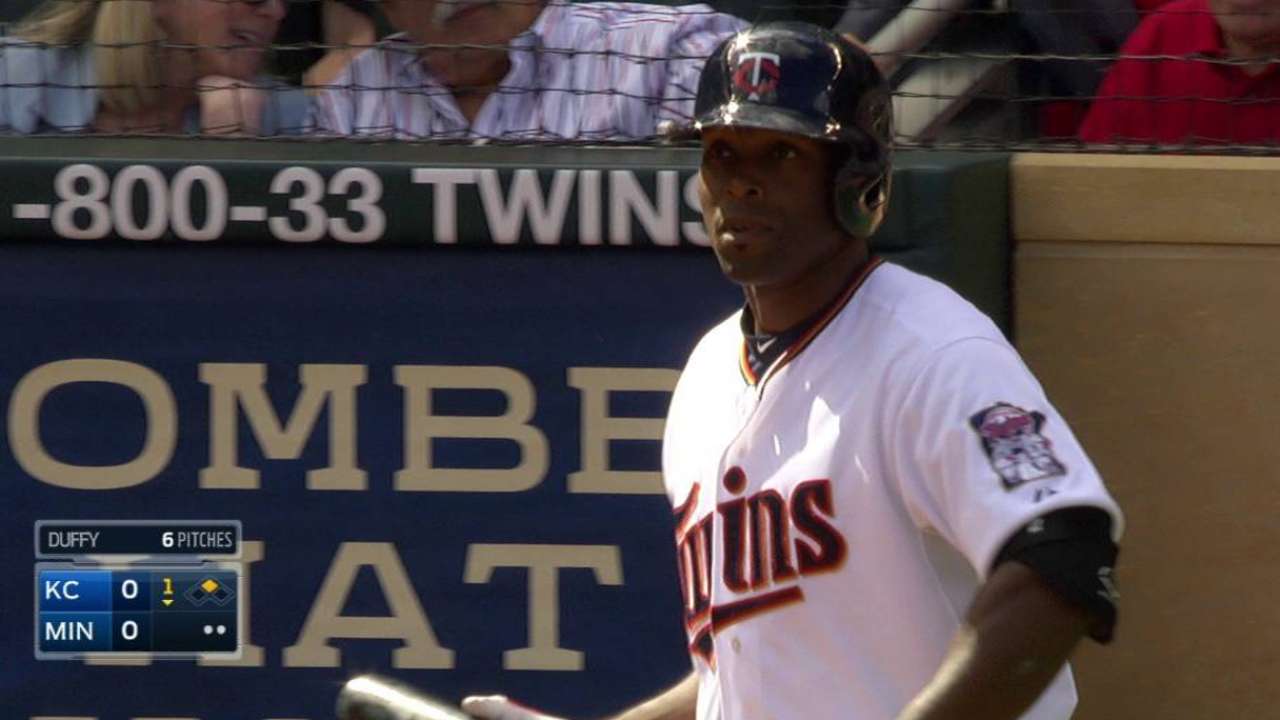 MINNEAPOLIS -- With 29 career games played at Target Field entering 2015, the ballpark isn't exactly new to Twins right fielder Torii Hunter.
But Monday's home opener against the Royals marked the first time Hunter was at Target Field in the home clubhouse as a member of the Twins. Hunter previously played 11 seasons with the Twins at the now-demolished Metrodome before playing five seasons with the Angels and two with the Tigers.
Hunter, though, said he's back home now after signing a $10.5 million contract with Minnesota this offseason, and he said even entering the home clubhouse for the first time was emotional.
"Just walking into the clubhouse and looking at the history with the paintings on the wall, I saw a lot of guys who I played with and guys that played before me that helped mentor me," Hunter said. "It's the best home clubhouse I've ever seen. Just walking through and seeing the pictures of the Twins' history, it takes you back down memory lane. I'm just happy to be back and part of the family again."
The nostalgia was also evident for Hunter in his first at-bat against the Royals, as he paid tribute to the late Bob Casey by having a recording of Casey introducing him to the home crowd. Casey was the club's public-address announcer from 1961-2005.
"Bob Casey was special," Hunter said. "He was a great man to me. I've known him since I was a youngster. I just like that voice. So I just thought it would be cool to get that done."
Hunter was a busy man before the game, getting the loudest ovation from the home crowd during player introductions, and he also caught the ceremonial first pitch from Timberwolves legend Kevin Garnett.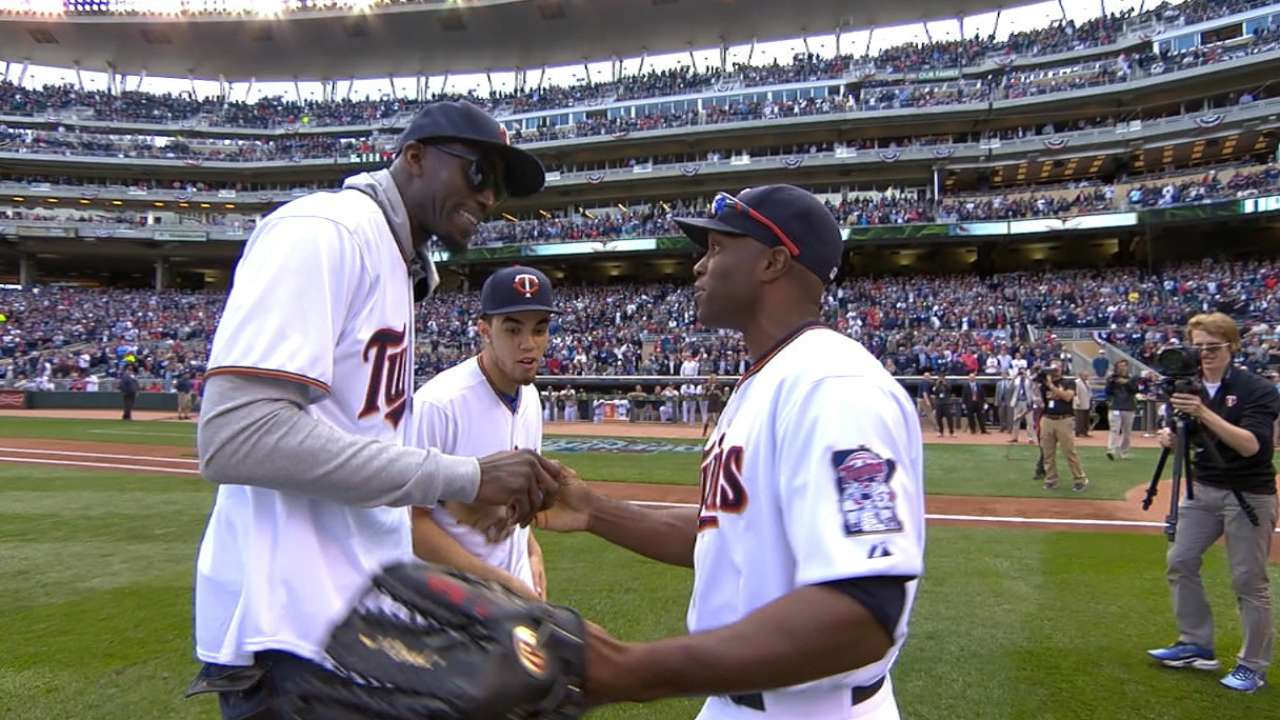 Hunter's leadership hasn't been lost on new Twins manager Paul Molitor, as he said Hunter has been a positive force in the clubhouse already this season.
"I've known Torii for a long time, and you know it's been a long time when we were teammates," Molitor said. "But he's been great this first week. It didn't really click for him offensively, he's had his struggle to get a couple knocks, but he's one of those guys in the clubhouse who brings that emotion every day and is encouraging and reminding guys to keep going and keep playing."
Despite the club's slow start, Hunter remains optimistic and said the struggles are just magnified because it's at the beginning of the season.
"I definitely think we're going to turn it around as a team," Hunter said. "We're going to do some good things. We're going to compete. Right now, we're just not gelling together, but once we get that rhythm, we'll start to gel together."
Rhett Bollinger is a reporter for MLB.com. Read his blog, Bollinger Beat, and follow him on Twitter @RhettBollinger. This story was not subject to the approval of Major League Baseball or its clubs.