Salvy knows when to push, rein in Ventura
Royals catcher diffuses heated situation between righty, Angels star Trout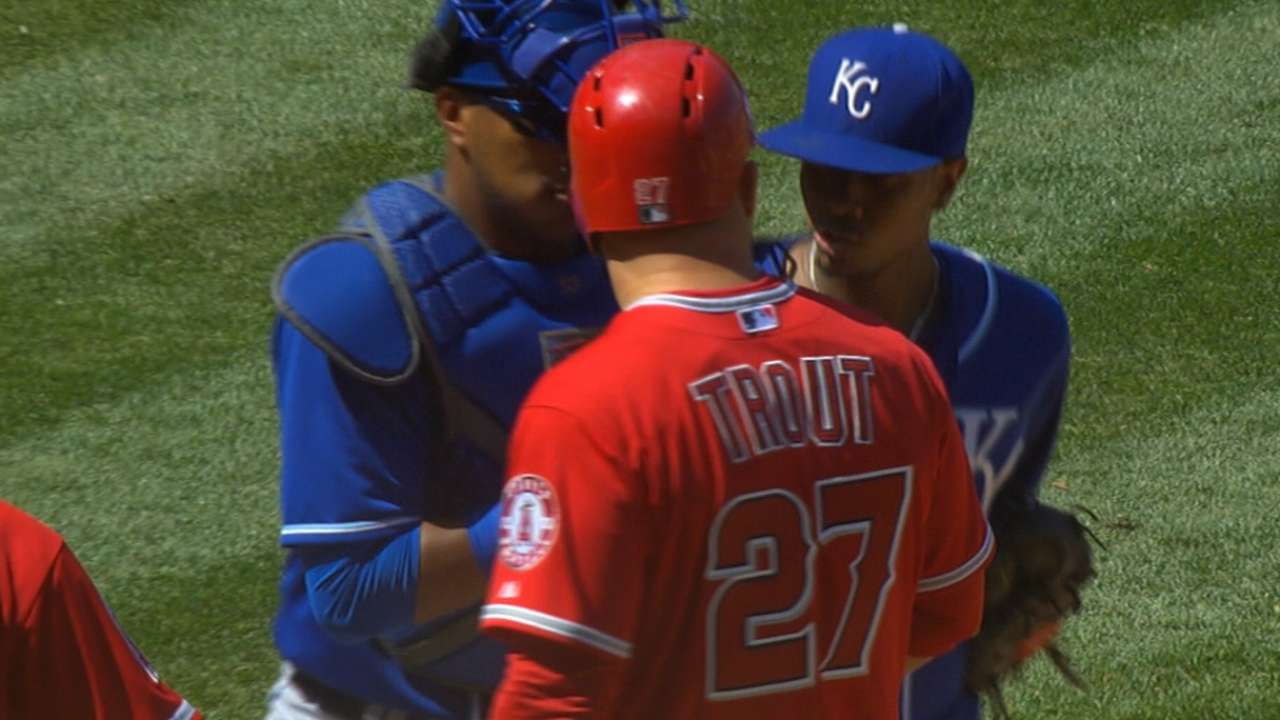 MINNEAPOLIS -- One of the reasons it is so hard for Royals manager Ned Yost to rest catcher Salvador Perez for a day is what Perez means emotionally for the Royals' pitchers.
That was never more evident than on Sunday when starter Yordano Ventura got into a bizarre and heated exchange with Angels superstar Mike Trout.
"What Sal is to us is kind of like the quarterback on the field," Yost said. "He does that for all the pitchers, but with Ventura, he boots him when he needs to, he calms him when he needs to, he pats him when he needs to. He has a real good grasp on how to handle Ventura's emotions -- whether to throttle it or back it off.
"And he did a phenomenal job with that Sunday."
Ventura had been cruising along with a 7-1 lead entering the sixth Sunday when Trout singled sharply up the middle. Ventura had thrown a pitch up and in prior to that.
And after Trout singled, Ventura stared him down at first base.
Later, when Trout scored on a double and got up and celebrated at home plate, Ventura, backing up the play, tried to get in Trout's face. That's when Perez stepped in between.
"I told [Ventura] to get back to baseball." Perez said. "That's my job."
But that job can sometimes be taxing with Ventura, who is full of emotion and competitiveness when he's on the mound.
"It's not like he's unsettled or out of sorts," Yost said of Ventura. "This kid ain't afraid. I've seen him yell at Miguel Cabrera. Our guys were like, 'Calm down' [on Sunday]. They know his competitiveness. When he gets fired up, he's like an assassin. They try to keep him contained.
"Yordano may look small or thin, but he's afraid of no man."
That's when common sense has to enter the equation, which is where Perez steps in.
"Salvy did a great job of diffusing it," Yost said.
Jeffrey Flanagan is a reporter for MLB.com. Follow him on Twitter at @FlannyMLB. This story was not subject to the approval of Major League Baseball or its clubs.