Harang providing impressive early returns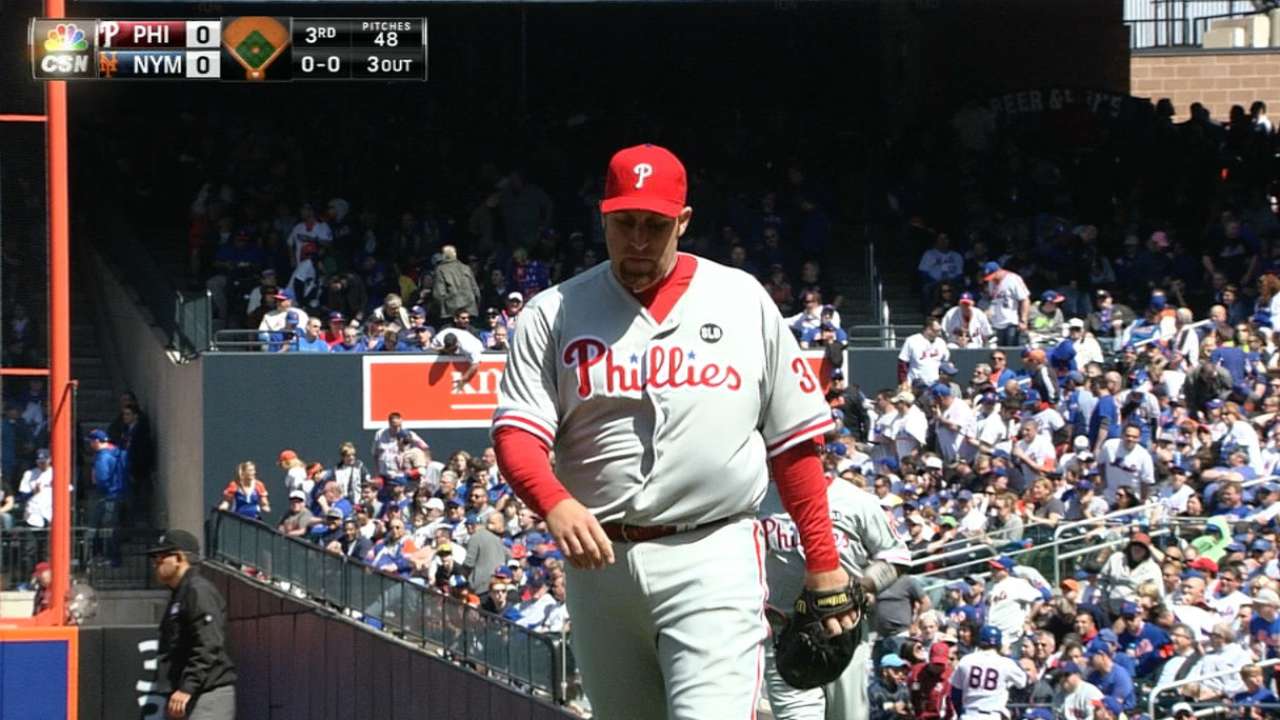 NEW YORK -- If he wishes, Phillies right-hander Aaron Harang can commiserate with Cole Hamels.
Harang allowed four hits, one run, two walks and struck out one over six innings of Monday's 2-0 loss to the Mets at Citi Field. He pitched well enough to win, but the Phillies got shut out for the second time in seven games.
It is a result Hamels knows too well. The Phillies have yet to score a run with Hamels in the game this season.
But Harang has been giving his team a chance to win. He has a 0.73 ERA through two starts, which makes him well worth the $5 million the Phillies are paying him this season.
"Obviously, I wasn't as sharp as the first one [Wednesday against Boston], but I was able to keep their hitters off balance and the guys were making plays behind me, and that's huge," Harang said. "You get their team to put the ball in play early on in the count, the guys are still going to be on their toes and make some big plays for you."
Harang allowed a one-out double to Daniel Murphy in the fourth inning. Murphy advanced to third on a flyout and scored when Harang could not handle a one-hopper Juan Lagares hit back to the mound. The ball popped out of Harang's glove and his spikes got caught in the mound. He twisted his knee and stumbled a bit.
By the time Harang picked up the ball and threw to first, Murphy had scored and Lagares was safe.
"It's all reaction," Harang said about the play. "Just caught it right off the end of my glove. Another eighth of an inch and it's in my web and I'm able to just set and turn and throw."
Todd Zolecki is a reporter for MLB.com. Read his Phillies blog The Zo Zone. Follow him on Twitter. This story was not subject to the approval of Major League Baseball or its clubs.