Maldonado OK after Sunday's dugout dive
Catcher falls over coaches trying to make play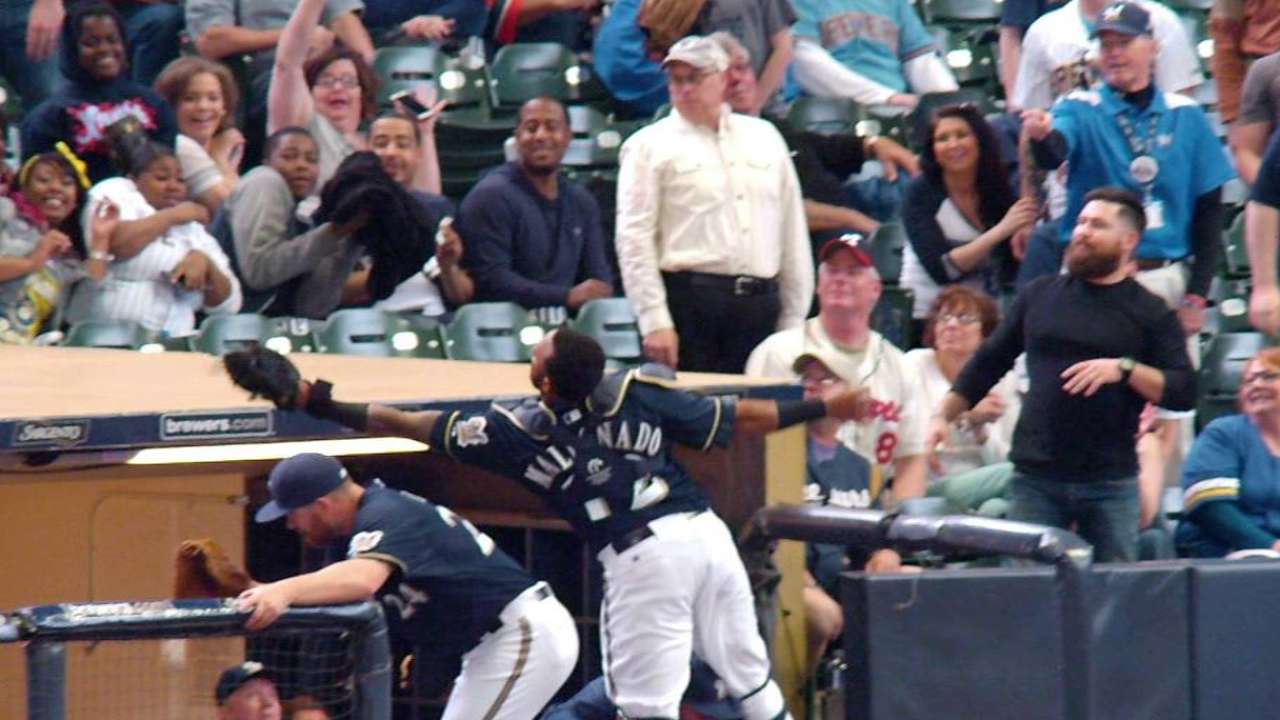 ST. LOUIS -- The good news was that Brewers catcher Martin Maldonado was unscathed after his dugout dive in Sunday's loss to the Pirates. So were bench coach Jerry Narron and pitching coach Rick Kranitz, who found themselves helping to absorb Maldonado's fall. There was only one problem.
"You should have made the catch," Narron chided Maldonado on Monday morning.
It would have been a spectacular catch to retire Jung Ho Kang in the ninth inning at Miller Park, had Maldonado been able to reach Kang's foul pop into the Brewers dugout. Maldonado gave chase and dove over Narron and Kranitz at the last minute in an attempt to make a play, but he missed the ball by a few inches.
"Close," Maldonado said.
The near-gem came at the end of Maldonado's first start of the season in place of slumping Brewers starter Jonathan Lucroy. Maldonado and Lucroy could each also see some action at first base, but barring an injury, Maldonado knows his playing time again will be limited this season. He hasn't started more than 40 games since 2012, when Lucroy missed time with a broken hand.
"I feel good," Maldonado said. "Every start is going to help more. Yesterday, I went 0-for-3. Last year, I went 0-for-5 in Boston [in his first start], the extra-inning game, 30 degrees. Making progress."
Adam McCalvy is a reporter for MLB.com. Follow him on Twitter at @AdamMcCalvy. This story was not subject to the approval of Major League Baseball or its clubs.