Indians confident in Perez to step in behind plate
As Gomes recovers from sprained knee, 'luxury' backup takes everyday role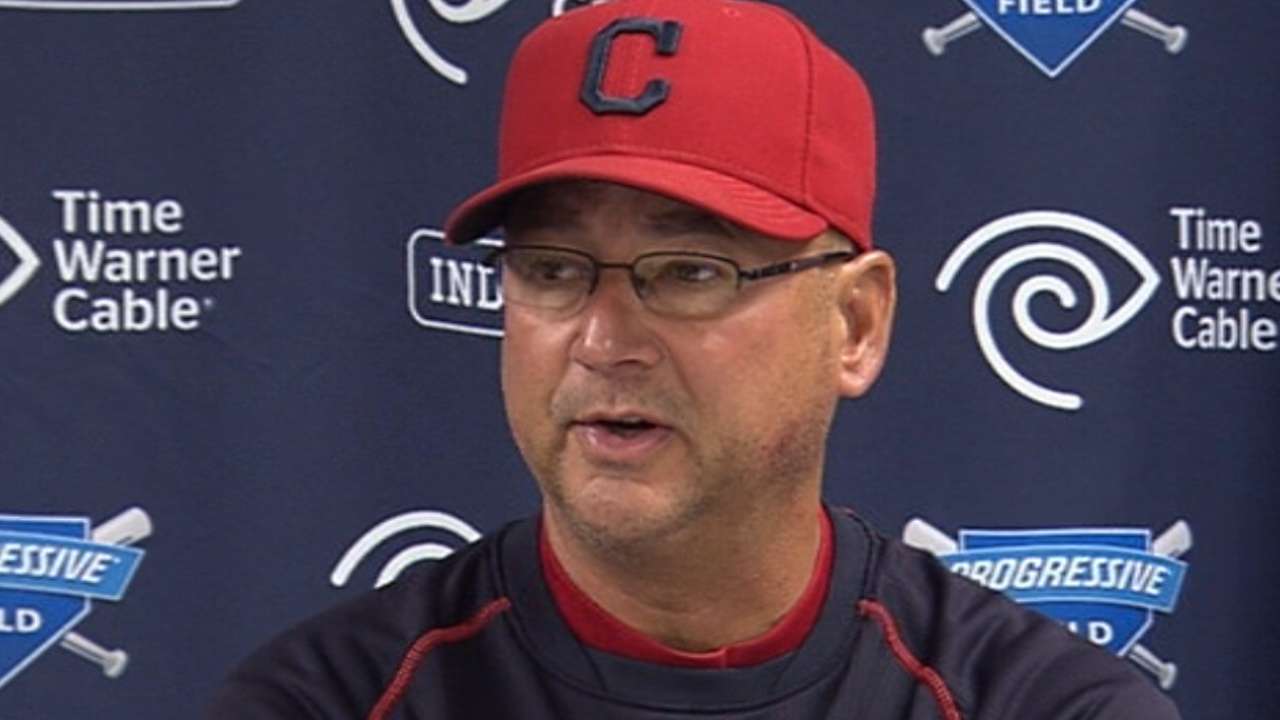 CLEVELAND -- Roberto Perez found himself in the Indians' backup catching role based on circumstance. Yan Gomes has emerged as one of the top young catchers in the game, both in terms of his developing offense and strong defense, so it would be tough for anyone to supplant him as Cleveland's starter.
"He's a backup here because we have Yan Gomes," said Sandy Alomar Jr., the Tribe's first-base coach and a former Major League catcher. "Anywhere else, he could start."
It is circumstance, once again, that has now pushed Perez into the everyday role.
In the ninth inning of Saturday's loss to the Tigers, the Indians not only lost the handle on the game, but they lost Gomes to a right knee injury. A dangerous play at home -- one in which Detroit's Rajai Davis slid through the catcher's right foot, which was planted on the plate for a forceout -- hobbled Gomes, who had to be helped off the field by two members of the Tribe's medical staff.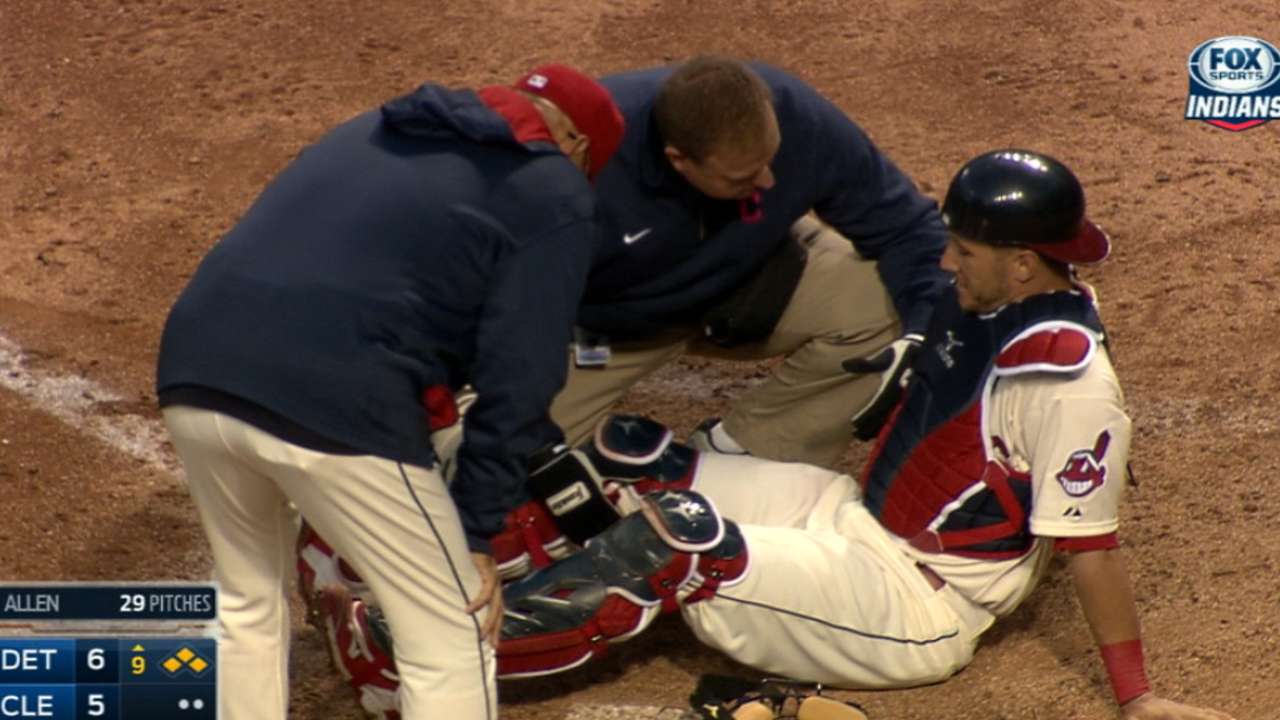 After a series of tests, the Indians determined that Gomes will likely miss six to eight weeks with a sprained knee.
"Anybody that's been around Gomer for five seconds knows he'll work, he'll overwork, and he'll be back the minute he can be," Tribe manager Terry Francona said.
Until then, though, Perez has been tasked with taking over behind the plate for Cleveland.
Ask the Indians' pitchers, and they will rave about Perez's game calling and receiving skills. Talk to Alomar, and he is quick to say that it is a "luxury" to have a starting-caliber catcher like Perez in the reserve role. Ask Francona, and he will bring up Perez's work ethic and the catcher's ability to be a threat in the batter's box.
Talk to Perez, and the 26-year-old catcher will say he is ready for this opportunity.
"My mentality hasn't changed," Perez said. "I always come to the field ready to play. I pretend like I'm going to play that day, so nothing changes."
While Perez might not boast the same offensive presence as Gomes, who won an American League Silver Slugger Award last season, the young catcher does offer a similar defensive skill set.
Throughout his Minor League career, Perez was heralded as Cleveland's top defensive catcher. In his 29-game taste of the Majors last year, Perez helped the pitchers post a 2.60 ERA with him behind the plate (232 1/3 innings) and the catcher threw out 36 percent (8-for-21) would-be basestealers. Both in the Minors and Majors, Perez has been rated as an above-average pitch framer as well.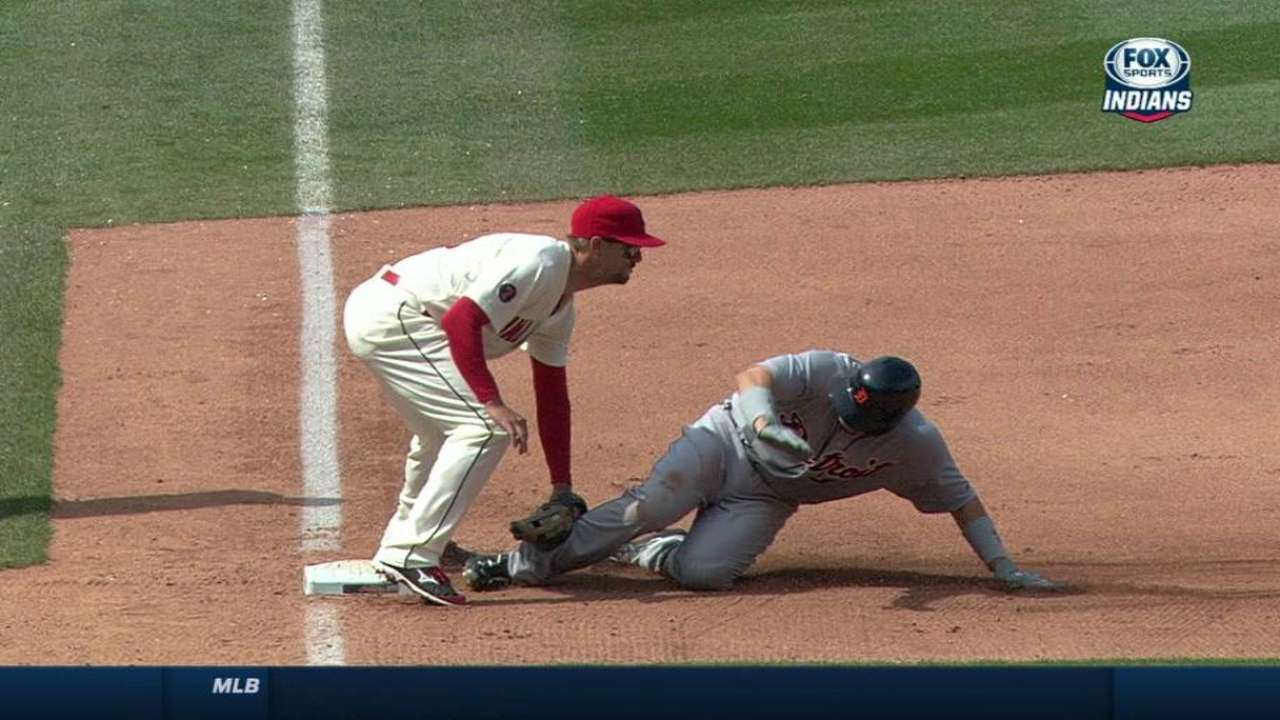 "We're spoiled to have both him and Yan," Indians ace Corey Kluber said. "I think a lot of times, teams are probably not fortunate enough to have two guys as good as them defensively."
The Tigers stole three bases on Perez on Sunday, but Ian Kinsler told reporters that the thefts were more on the Tribe's pitchers than the catcher.
"Perez has a very good arm. He's very capable," Kinsler said. "I think Yan has a little more experience. He's able to control the game a little bit better, but Perez has a great arm. That's something we have to respect. So it doesn't change too much."
Offensively, Perez took an incredible leap forward last year.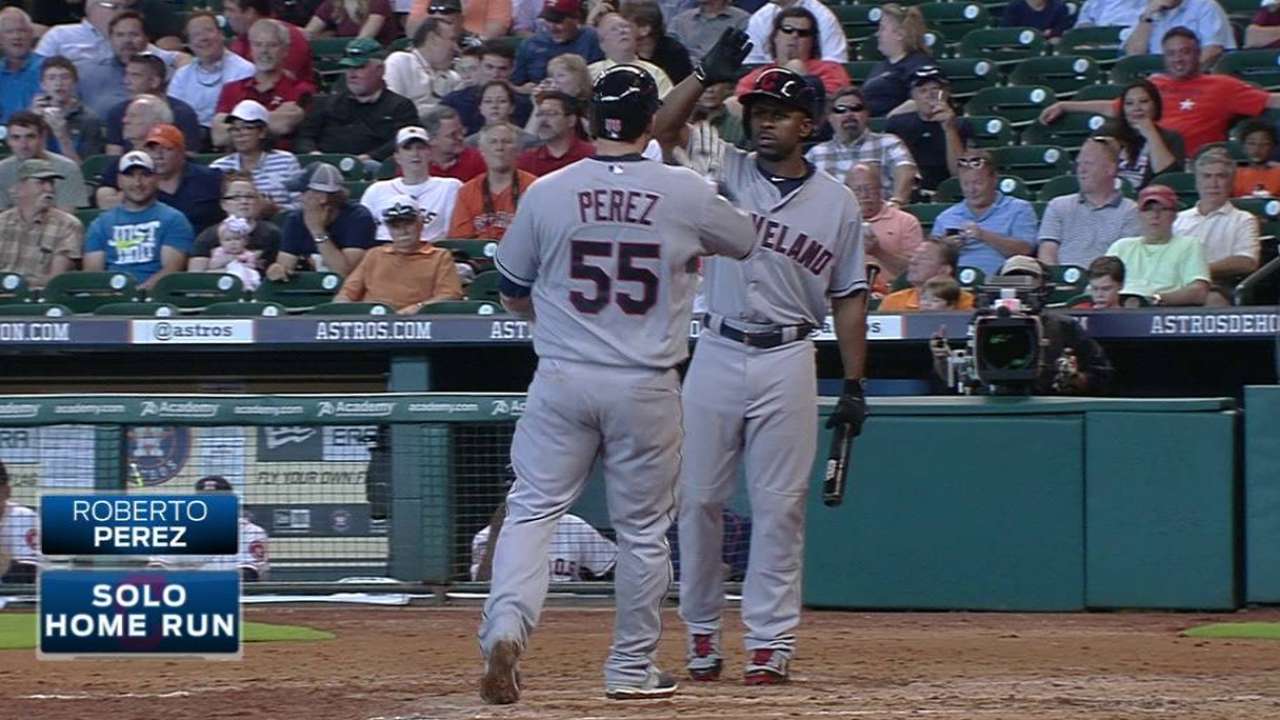 In 53 games at Triple-A prior to being promoted to Cleveland in July, Perez hit .305 with eight homers and 43 RBIs. That showing followed a dismal 2013, in which the catcher battled through Bell's palsy (partial facial paralysis that prevented him from closing one eye for months) and posted a .200 average in 99 games between Double-A and Triple-A.
"He really kind of turned it around," Francona said. "His batting average or whatever, that's not the end all, be all. But the fact that he's a threat when he's hitting is important, because he can drive the ball out of the ballpark. He has improved dramatically."
Alomar has full confidence in Perez's ability to step up for the Indians while Gomes is sidelined.
"He's a good catcher, man," Alomar said. "He's prepared. We're in good hands behind the dish until Gomer gets back. It's a big loss for us having Yan Gomes out, but I think Roberto is going to do a good job."
Jordan Bastian is a reporter for MLB.com. Read his blog, Major League Bastian, and follow him on Twitter @MLBastian. This story was not subject to the approval of Major League Baseball or its clubs.