More than squat: Padres catchers pacing offense
Nieves' slam, Norris' multihit efforts make position productive in first week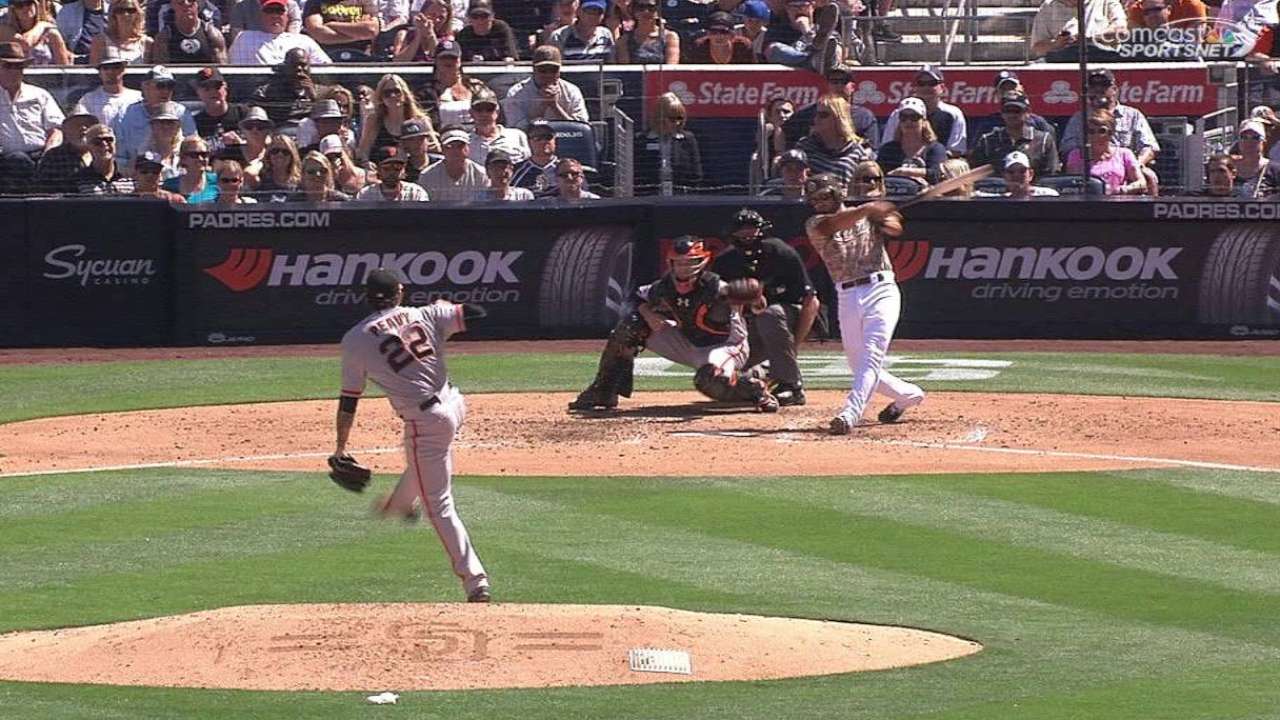 Bill Center, longtime sportswriter for U-T San Diego, is an employee of the Padres.
The most productive position for the Padres after one week of the season is catcher. Derek Norris and Wil Nieves have combined to hit .310 (9-for-29) with two doubles and a homer for seven RBIs.
Of course, the stats for the position improved drastically Sunday afternoon with one swing of Nieves' bat. Nieves led San Diego to a 6-4 win by hitting the first grand slam of his career off former batterymate Jake Peavy.
In 1,152 career at-bats before his fourth-inning grand slam, Nieves had a total of nine homers and 110 RBIs. On the slam, Nieves also tied for the Padres' RBIs lead on the season.
Norris, of course, is San Diego's regular catcher. He had caught the season's first six games before taking Sunday off.
Norris has had three multihit games in his six starts. He is hitting .320 (8-for-25) with two doubles, three RBIs and four runs scored. Norris' eight hits lead all Major League catchers.
As for Nieves, he was the 11th catcher in Padres history to hit a grand slam and the first since Ramon Hernandez on Sept. 27, 2005.
At 37 years and 119 days old, Nieves is also the fourth-oldest player in Padres history to hit a grand slam, behind the late Tony Gwynn (39 in 1999), Kurt Bevacqua (38 in 1985, when he did it twice) and Champ Summers (37 in 1984).
The grand slam marked the first time in Nieves' 421-game career that he had four RBIs in a game.
Notes from the scorebook:
• San Diego had two homers Sunday, from reserves Nieves and Will Venable, who got his first start of the season Sunday and homered to right off Yusmeiro Petit in the seventh. Venable's homer run was his 40th at Petco Park, the second-highest total in the ballpark's history.
• Tyson Ross picked up his first win of the season Sunday. But the 6-foot-5 right-hander allowed three runs on six hits and four walks over six innings, ending a streak of eight straight starts at Petco Park in which he had allowed two or fewer runs while working at least six innings. The streak was tied for the third longest in the Major Leagues, behind Miami's Jose Fernandez (20) and Padres teammate Andrew Cashner (18). Ross is 6-2 with a 1.92 ERA over his last nine starts at Petco Park dating back to last June 21. He has a 2.03 career ERA at Petco Park covering 160 innings in 31 games (22 starts).
• Left fielder Justin Upton has a hit in all seven Padres games this season and in nine straight games dating back to last season. Upton is hitting .308 (8-for-26) this season and is hitting .324 (11-for-34) over the nine-game streak. Upton and Giants left fielder Nori Aoki are the only National League players to hit in seven straight games this season.
• Right fielder Matt Kemp was 2-for-4 Sunday to become the first Major Leaguer to have four multihit game this season. Kemp was 6-for-17 in the four-game series against the Giants and owns a .325 career batting average at Petco Park (75-for-231). That is the highest batting average at Petco Park among players with at least 200 at-bats.