MLB.com Columnist
Richard Justice
Despite early struggles, Nationals will rise
Washington, sitting fourth in NL East, has talent to meet high expectations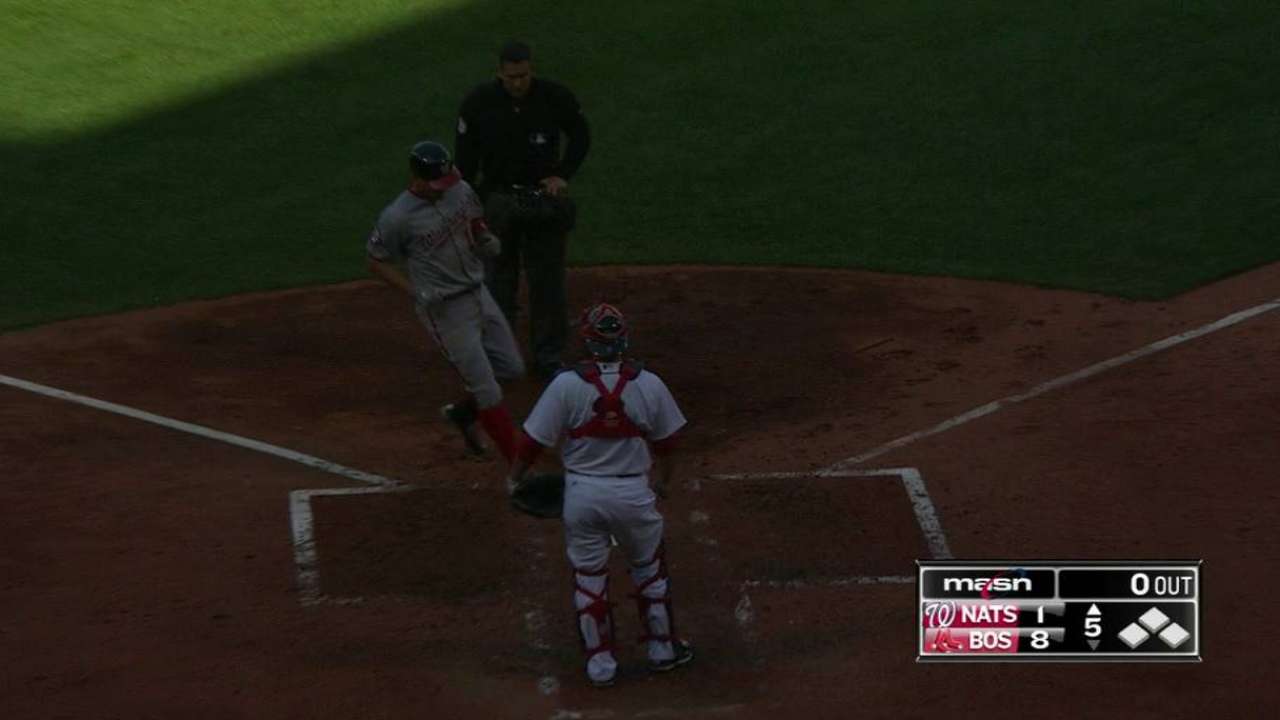 BOSTON -- Washington Nationals left fielder Jayson Werth sat in front of his locker in the visitor's clubhouse at Fenway Park on Monday afternoon and was peppered with questions players on really bad baseball teams always get.
Poor defense? Check. Poor hitting? Check. Pitching, attitude, preparation, panic? Covered 'em all, and thanks for asking.
There was just one small thing that made the conversation odd. Werth is not on a bad baseball team. In fact, he's on one of the five best teams in the game.
Yes, still. That's not just me talking, either.
"I think we're a great team," Nationals right fielder Bryce Harper said after a sloppy 9-4 loss to the Red Sox dropped his team to 2-5 and kept it in fourth place in a division they are supposed to own.
How about all those mistakes, Bryce?
"I think we're just trying to play the game," Harper said. "That's how it is right now. Hopefully, we can get it going a little bit. It happens. That's just baseball."
Still, they all understand the questions are fair. At the moment, the Nats are lousy. They can't hit or play defense. When they do get a lead, they have trouble holding it.
And so in a season when a lot of people picked Washington to go to the World Series, things are off to a tough start.
If Monday afternoon wasn't the low point, then things are going to get real ugly. This was a day two fly balls were allowed to fall in, a routine grounder wasn't fielded and a starting pitcher (Jordan Zimmermann) couldn't get out of the third inning.
"About as bad as you can get," Nationals manager Matt Williams said.
How about a vote of confidence for the fellas, Matt?
"We've got talented players, talented pitching," Williams said. "It's a bad spell. You've got to get out of that bad spell, though. You work hard to get out of it. Starting tomorrow, we plan on doing that."
OK, back to Werth for some perspective.
"A week ago, we were set to win the World Series, as far as you guys were concerned," he said.
Well…
Cough. Shuffle feet. Stare at floor.
Now?
"I don't know where we're at now," Werth said.
He meant that he's not sure what the media think of the Nats with seven games in the books.
Not to worry. The Nationals are simply too talented not to win the National League East. They've got too much pitching, too much experience, too much of everything.
This is almost the same core that has won more games than any other in baseball since the start of the 2012 season. What they haven't done is win a postseason series.
Expectations can be a burden. Sometimes, they smother clubs. At other times, they take the fun out of things. Williams said high expectations have become the norm for this club, so in that way, 2015 is business as usual.
"It makes no difference," Williams said. "Nobody's tight. Nobody's playing tight."
The Nats are not perfect. Until Monday, they hadn't had any of their top four offensive players from 2014 -- Werth, Anthony Rendon, Adam LaRoche and Denard Span -- in terms of OPS.
Now, Werth is back, and Span soon will be. Rendon, Washington's best player last year, is progressing from a left knee injury and is expected back in the next few weeks. LaRoche signed with the White Sox, so he won't be back.
But the strength of the Nationals is a starting rotation that had baseball's lowest ERA in 2014 and added Max Scherzer to the mix. Strip everything else away, and the Nats simply have too much pitching not to succeed.
When the Nationals are whole again, they'll begin to roll. But they're not perfect. Those defensive breakdowns are troublesome, and so is a bullpen that has surrendered a lead in the sixth inning or later four times.
But the Nats will still win the NL East, despite the Marlins and Mets getting better and the Braves off to a great start. Baseball seasons ultimately expose every weakness and reveal every strength, and a rotation of Scherzer, Zimmermann, Stephen Strasburg, Doug Fister and Gio Gonzalez will carry Washington back into October.
For now, though, it's not pretty.
"I'm not going to get too frustrated at this point," Werth said. "I don't think anybody in here should be overly frustrated. We're not playing the type of ball we want to play, but things can change really quick. You look back to last year and the years before, and we've overcome more than this."
Richard Justice is a columnist for MLB.com. Read his blog, Justice4U. This story was not subject to the approval of Major League Baseball or its clubs.