Frates' dream of becoming big leaguer comes true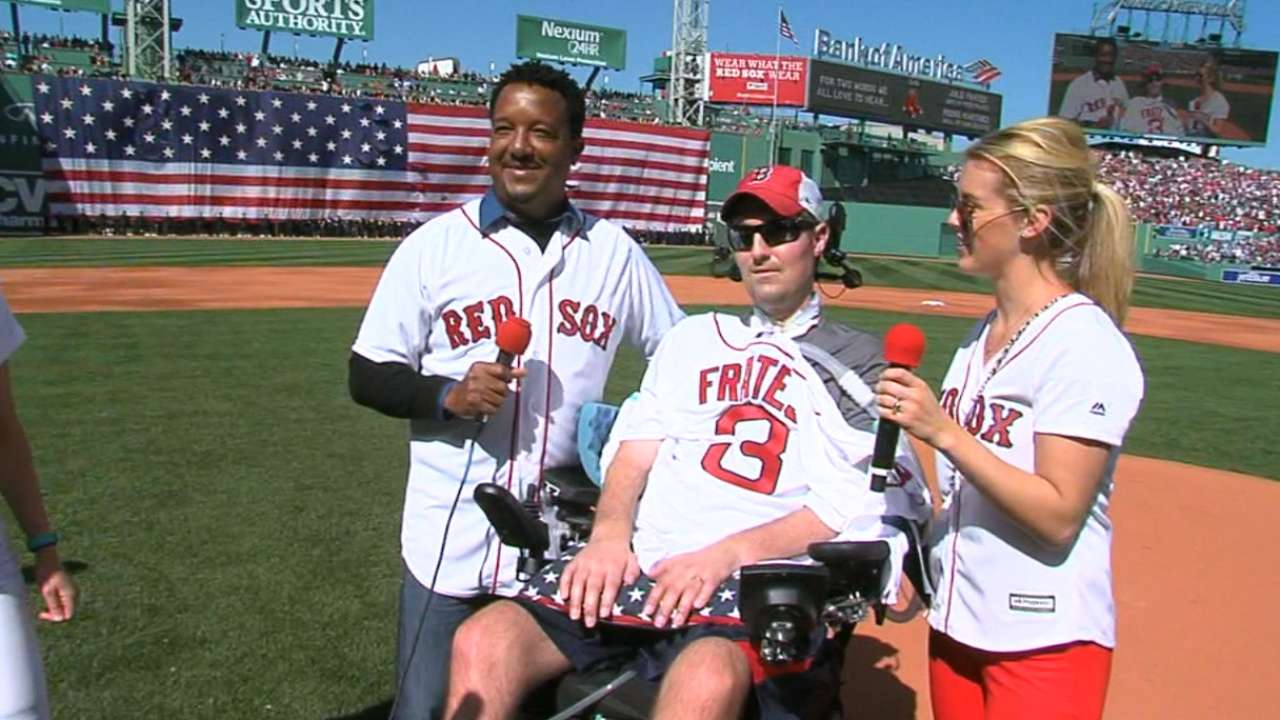 BOSTON -- Once a standout Division I college baseball player, Pete Frates never got the chance to be a Major Leaguer. That changed on Monday, when the Red Sox signed the Beverly, Mass., native to a ceremonial contract before an Opening Day crowd of 37,203 at Fenway Park.
Frates, a former team captain at nearby Boston College, was diagnosed with amyotrophic lateral sclerosis (ALS) in 2012. He has spent much of his time since working to raise awareness about the debilitating disease, which weakens muscles to the point where those who suffer from it cannot speak or walk.
Both Frates and colleague Pat Quinn are widely recognized as the originators of the Ice Bucket Challenge that went viral on social media last year.
"Pete, his ALS, the Ice Bucket Challenge, everything that Pete has gone through, there's been a pretty strong connection made here with the Red Sox," manager John Farrell said. "We weren't aware that there was going to be the honorary contract signed. I thought it was a great gesture on the part of [general manager Ben Cherington] and the organization. Just great to see the attention that he's bringing to his own challenge and what it's meant, really, worldwide."
With Cherington presenting the honorary contract on the field, the entire club walked out to greet Frates and his family in what proved to be the highlight of the day's pregame ceremony. Each player presented Frates and his family with the autographed, red No. 3 jerseys they wore during their exhibition game against Boston College during Spring Training.
"It caught everybody off guard," designated hitter David Ortiz said. "But I think it was outstanding what the organization did, especially for a guy like him. It's like a dream come true for him, and we all are really proud of him."
Following the presentation, Hall of Famer Pedro Martinez joined Frates on the field. Martinez and Frates' wife, Julie, capped the pregame ceremonies with the traditional, "Play ball," declaration.
Alec Shirkey is an associate reporter for MLB.com. This story was not subject to the approval of Major League Baseball or its clubs.