Staked to early lead, Porcello savors first Sox win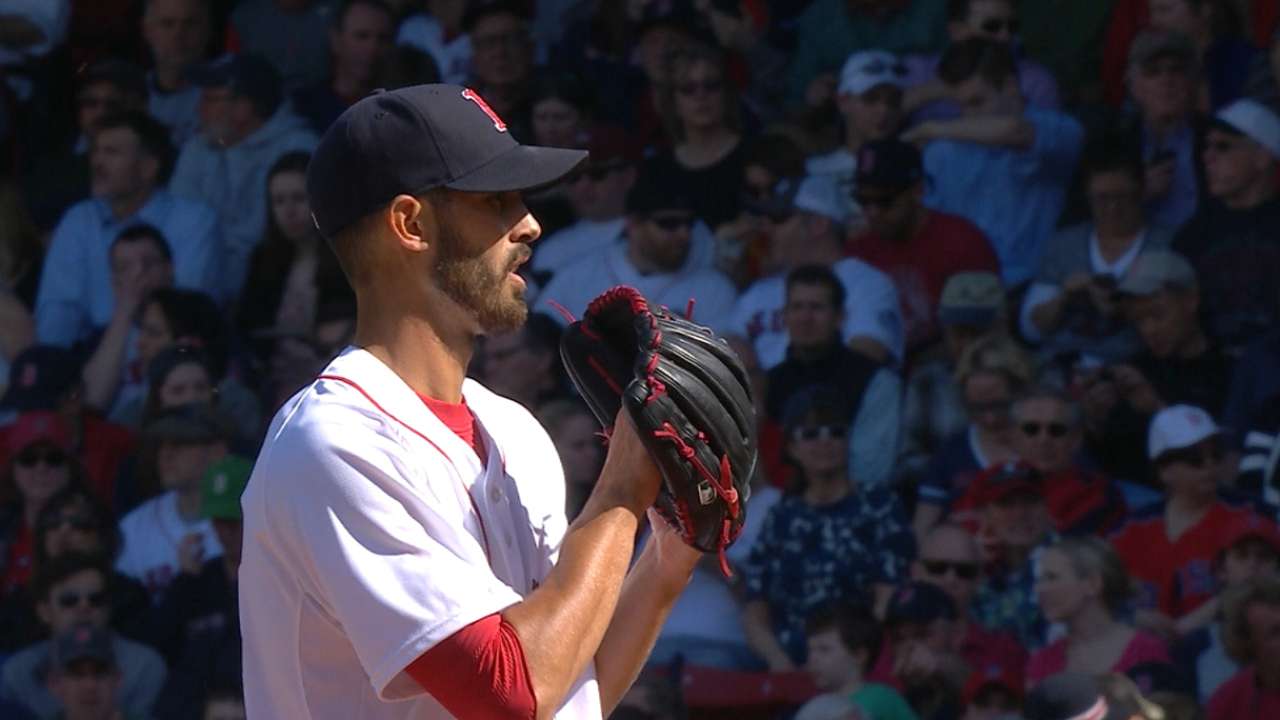 BOSTON -- Rick Porcello fired a high fastball, drawing a mighty swing and miss from Nationals slugger Bryce Harper to end the eighth inning and then turned back toward the Red Sox's dugout to the sound of standing applause from the Fenway Park faithful. As the vibrant, sellout crowd offered its praise, the right-hander took a second to soak in the moment.
"It was pretty special," Porcello said. "I'm not going to forget it. I can't really put it into words right now."
Porcello's home debut had ended the way it began: With a Nationals batter whiffing on a two-strike pitch. More importantly, he gave Boston's beleaguered bullpen some much-needed rest, working eight solid innings on 112 pitches in the team's 9-4 win Monday.
The 26-year-old, still fresh off signing a four-year, $82.5 million contract extension with the club on Opening Day, surrendered three earned runs, including a pair of home runs, on four hits and a walk. But with the offense spotting him an early eight-run cushion, Porcello, who claims a career 52.2 ground-ball percentage, was able to pitch to contact and rely on strong infield defense in his first Red Sox win.
"He went out and established his fastball early on," Red Sox manager John Farrell said. "We know we're going up against a very aggressive-swinging team, so you can make some quality pitches early in the count, hopefully get some quick outs. That seemed to be the case. They're dangerous, obviously. If you leave some pitches in the middle of the plate, they can drive the ball out of the ballpark, which happened on a couple of occasions."
Over the previous three games, including last Friday's 19-inning marathon, the Red Sox's bullpen had combined to pitch 20 1/3 innings. On Monday, the club needed only one frame from Junichi Tazawa to finish the game.
"Last night, [Clay] Buchholz had a tough one," shortstop Xander Bogaerts said. "But as we came into today, he did his job, put the team on his back."
Add in the fact that former Nationals catcher Sandy Leon had never caught Porcello before that game and you have a recipe for another impressive performance from the young pitcher. Porcello, of course, deflected most of the credit.
"He was tremendous," Porcello said of Leon. "For him to call the game he did and the job that he did back there says a lot about how he's prepared. He was easy to work with."
Alec Shirkey is an associate reporter for MLB.com. This story was not subject to the approval of Major League Baseball or its clubs.