Brady caps pregame ceremonies with first pitch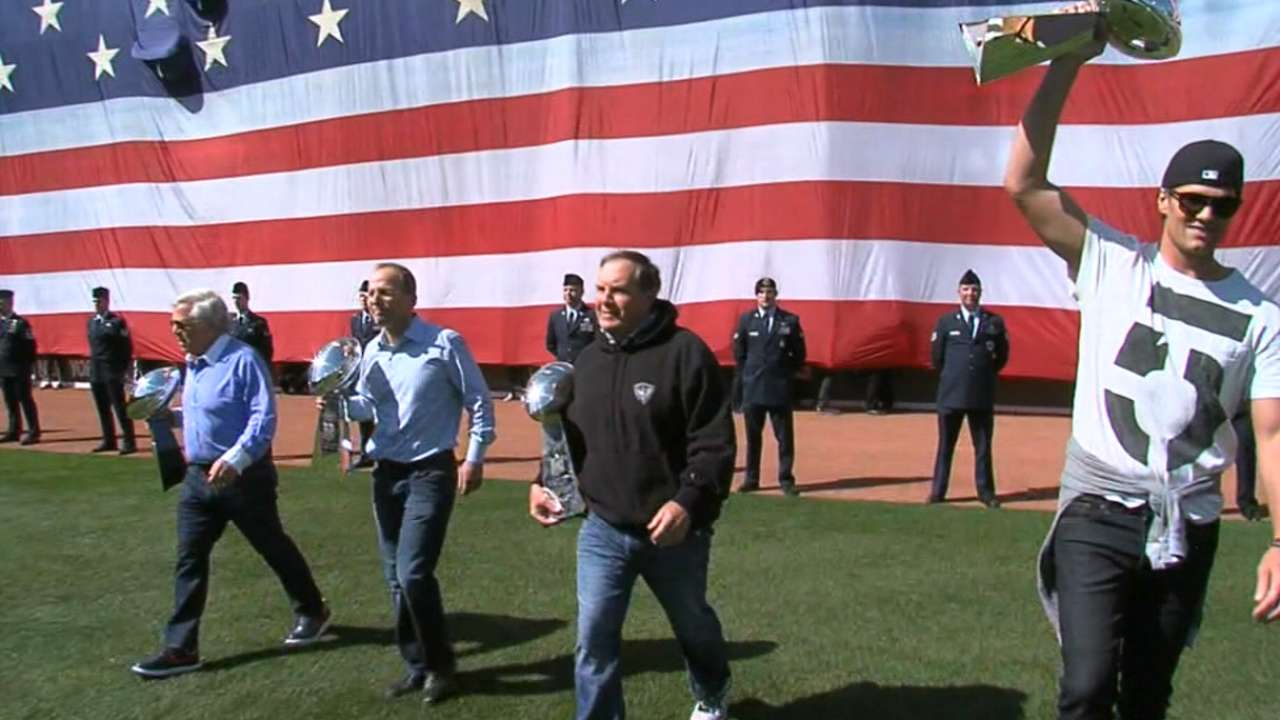 BOSTON -- After a lengthy and brutal winter produced record-breaking snowfall and numerous difficulties across New England, Bostonians were treated to a perfect backdrop at the 2015 edition of Opening Day at Fenway Park, with sunny, blue skies above and temperature a mild 69 degrees at first pitch.
Monday's pregame ceremony began with each team's coaching staff and roster being introduced. Each player was accompanied by a child with the exception of designated hitter David Ortiz, who had two kids walk with him onto the field.
In keeping with the day's kid-friendly theme, 9-year-old Jane Richard, a Boston Marathon bombing survivor, and the St. Ann's Children's Choir sang the national anthem. The performance was capped off with a fly-over of two F-16 jets of the 158th fighter squadron from Burlington, Vermont's Air National Guard.
The Red Sox also held a moment of silence for former pitcher Bill Monbouquette and former coach Wendell Kim, both of whom died during the offseason, as well as recently deceased ex-Boston mayor Thomas Menino.
Soon after, the stadium gave a rousing welcome to Patriots quarterback Tom Brady, hoodie-wearing head coach Bill Belichick, owner Robert Kraft and his son, Jonathan. Each walked onto the field hoisting one of the franchise's four Vince Lombardi Trophies, including the one captured earlier this year with a dramatic, last-minute win over the Seahawks.
Brady, smiling and wearing a Red Sox cap, threw out the first pitch to Ortiz -- a throw that had plenty of pepper but had to be scooped out of the batter's box dirt.
Hall of Fame Red Sox pitcher Pedro Martinez punctuated the ceremony by taking the field at Fenway and declaring to the gathered fans that it was finally time to "play ball" once again in America's oldest baseball stadium.
Fans and members of the Red Sox alike were thrilled to welcome the Red Sox back to Boston alongside the energizing weather.
"Hopefully it means a hard, cold winter is once and for all behind everyone," manager John Farrell said. "The warm weather is upon us. It's a great day weather-wise. I was here most of the winter and can empathize to a certain point what everyone in New England dealt with and the challenges that were presented. Hopefully this is a chance to put all that behind us mentally and really tangibly with a great day on hand."
Tom Stickels, a converted Yankees fan who was in attendance along with his 11-year-old son Adam, likewise relished the chance to soak up the scene, adding that his son's devotion to the team was what caused him to change allegiances in the first place.
"When your son makes you convert, you got to convert," Stickels said.
Alec Shirkey is an associate reporter for MLB.com This story was not subject to the approval of Major League Baseball or its clubs.