MLB.com Columnist
Bill Ladson
Williams dismayed by numerous miscues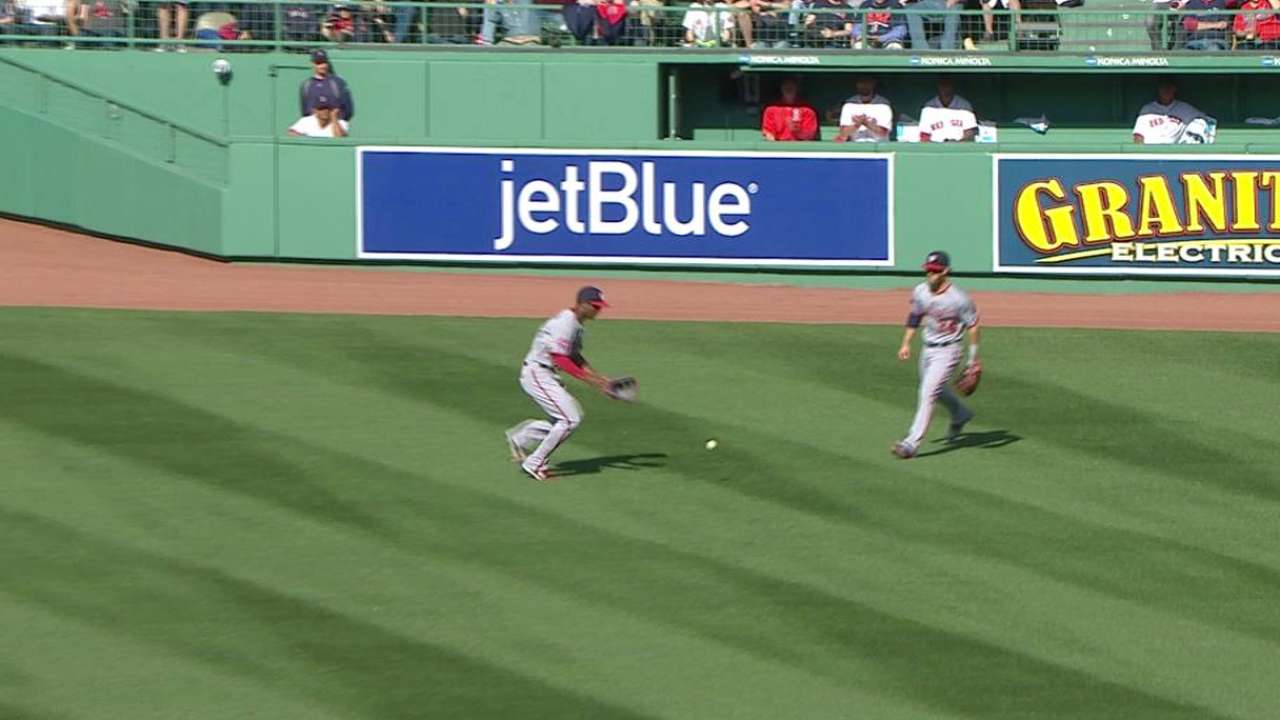 BOSTON -- Matt Williams has stressed defense since he became the Nationals' manager before the 2014 season, but after Monday's 9-4 loss the Red Sox, Williams was clearly not happy by what he saw.
On paper, the stats said the Nationals made one error in the game, but the truth is, they misplayed quite a few balls. Williams sounded as if he didn't want to hear any excuses. Even though Jordan Zimmermann allowed eight runs (seven earned) in 2 1/3 innings, Williams focused on the defense. How bad was the game for Washington?
"It was about as bad as you can get. It's tough to win ballgames if you can't catch the baseball. We have to do better than that," Williams said. "It's not shocking to [to see a] pitcher who doesn't have a good day, but if you don't help him, it makes the day even worse."
The Nationals were at their worst in the third inning when the Red Sox scored four runs. Mike Napoli hit a fly ball to left-center field. It looked like Michael Taylor had a bead on the ball, but it dropped in for a single. Napoli would later score on a single by Mookie Betts. Later in the inning, Sandy Leon hit what looked like a fly ball to right-center field. Bryce Harper and Taylor had no idea who would make the catch and the ball fell in for an RBI hit.
Betts then hit a ground ball that went between third baseman Yunel Escobar and shortstop Ian Desmond to score Napoli. It looked like Desmond had a better chance of catching the ball.
"It will get better," Williams said. "It has to get better. The ball is up there for four or five seconds and they need to be caught. Ground balls are hit and they need to be caught and thrown across the diamond. It's got to get better."
Taylor said it was tough playing center field at Fenway Park because of the high sky, the sun and the wind. Taylor said playing center field was like playing at Space Coast in Viera, Fla.
"It was a little bit of everything," Taylor said. "The wind was probably the worst part, because it's unpredictable. The flags don't tell you what exactly what it's doing. It reminds me a lot of Viera out there today."
The season is early and left fielder Jayson Werth believes the Nationals will get better.
"Things can change really quick. You look back to last year and the year before, we've overcome more than this. It's just a game. We'll put it behind us and get ready for tomorrow," Werth said.
Bill Ladson is a reporter for MLB.com and writes an MLBlog, All Nats All the Time. He can be found on Twitter @WashingNats. This story was not subject to the approval of Major League Baseball or its clubs.