LaRoche gives back, builds bonds with off-field endeavors
Youth baseball complex in hometown among veteran's many entrepreneurial ventures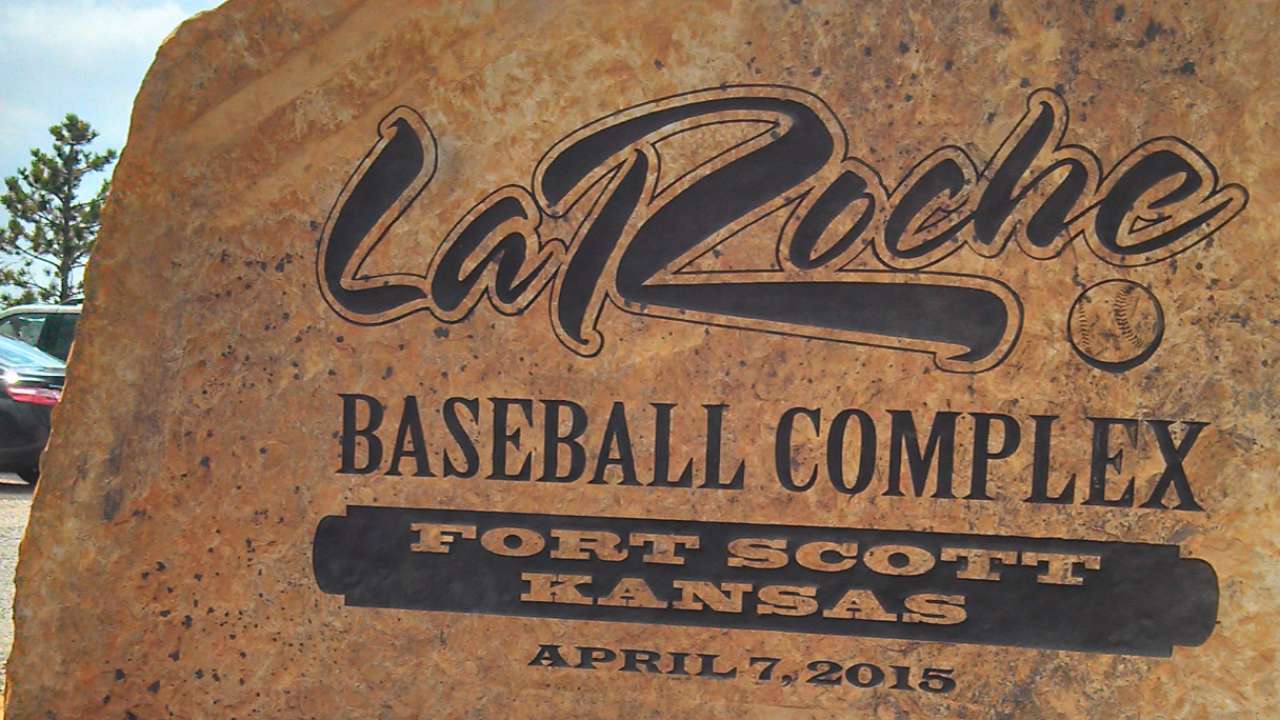 CHICAGO -- Travelers journeying to Fort Scott, Kan. -- population somewhere around 8,000 -- quickly receive notice that it's the original home of Gordon Parks.
Parks certainly deserves the recognition, as a renowned photographer, writer, musician and director of the iconic original "Shaft" film before his passing in 2006. But in the heart of this Midwestern city resides another "bad mother ... shut your mouth," in the person of Adam LaRoche.
Actually, there's nothing bad about the low-key 35-year-old. By day and often times by night, LaRoche practices his craft as the White Sox designated hitter/first baseman via a two-year, $25 million deal.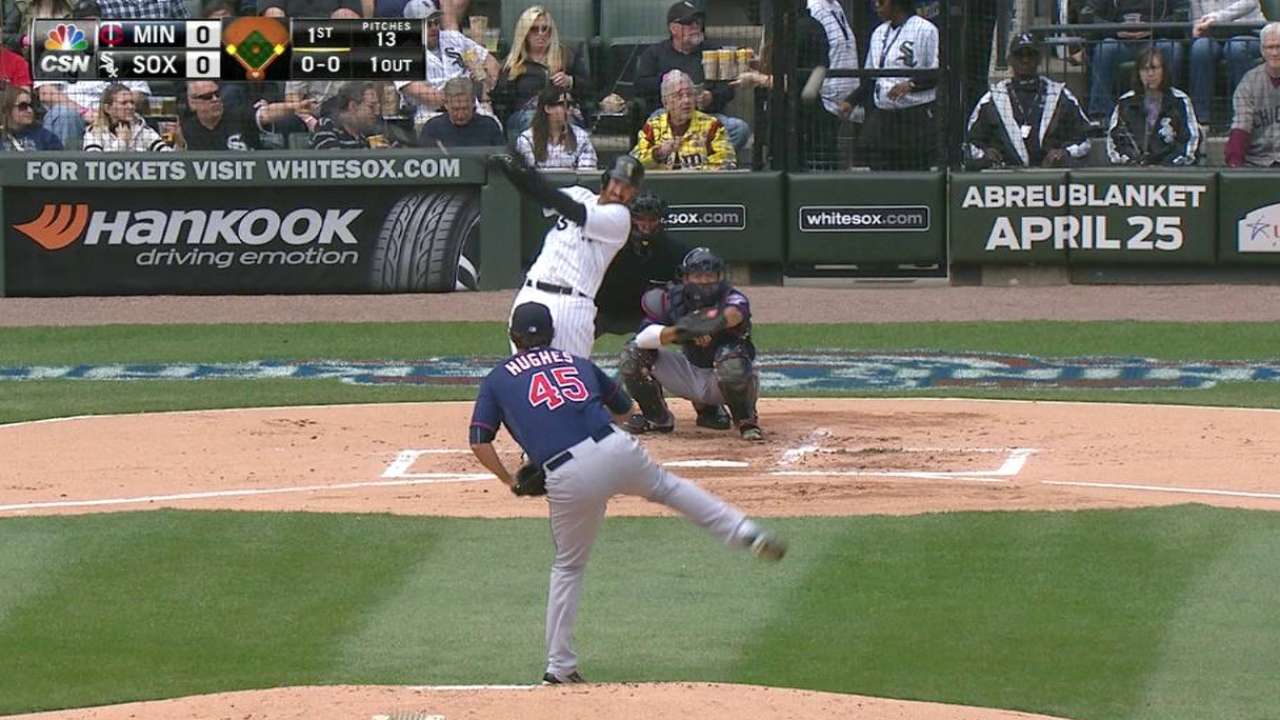 A man whose character has been compared to that of former White Sox slugger and all-around-great-guy Jim Thome by White Sox general manager Rick Hahn, LaRoche -- who has 245 career homers and an .811 OPS -- also stands as one of baseball's great entrepreneurs. The proof stands in the ventures.
• The LaRoche Baseball Complex-Dave Regan Stadium, which is now the home for the Fort Scott High School Tigers, officially opened on Tuesday, approximately 24 hours after the White Sox dropped a 10-1 Opening Day decision to the Royals in Kansas City. LaRoche invested more than $2.5 million for this professional-like complex that evokes thoughts of Spring Training facilities, naming the stadium after his late uncle who coached him and served as a true mentor. LaRoche still lives in Fort Scott on his E3 Ranch.
LaRoche was very devoted to the entire concept, even when he wasn't in town, with his offseason dedicated to finalizing a plan that took seed five years ago. He paid attention to every small detail, and what LaRoche got was a party for the Tigers' first game that they hope will last for decades to come.
LaRoche's uncle started the Fort Scott baseball program, and his father Dave, a 14-year Major League hurler, also has helped out. Josh Regan, his cousin and close friend, coaches the highly touted team now, and LaRoche could be part of the program some day.
"I would like to coach there when I'm done," LaRoche said. "I don't have any interest in college ball or pro ball, but I could see going back there and helping out with that program."
"I'm so impressed with Adam's ability to put this thing together. It wasn't like he turned it over and said, 'Hey, build this,'" Regan said. "Just the little nuances, the stone and the entry way and all the things that he did, it's amazing. It's truly a masterpiece in my opinion."
• After meeting the Robertson family 10 years ago -- yes, that Robertson family from "Duck Dynasty" -- a show known as "Buck Commander" was created. It started as a straight-to-DVD hunting program that found its way to a few sporting goods stores. Now it's on the Outdoor Channel and selling products to hunters, with LaRoche, Willie Robertson, country-music recording artists Luke Bryan and Jason Aldean and baseball friends Ryan Langerhans and Tom Martin at the forefront.
An initial meeting for Bryan and LaRoche took place when LaRoche was a young player with the Braves and a group of players went to a small venue postgame to see Bryan perform. They were too late for the show, so they went backstage to meet him. By LaRoche's recollection, Bryan went back on stage and played for another 1 1/2 hours for the five or six players.
"That's the kind of guy he is," LaRoche said.
"From then on, as my career continued to get better and obviously Adam has had an amazingly successful Major League career, we just always stayed close," Bryan said of their decade-long friendship. "That relationship has branched out to meeting a lot of players, and I've just always got a deep respect for everything about him as a person. Just a great father, great guy and handles the fame of baseball and all of that, it's inspiring to watch. [It] teaches me how to act."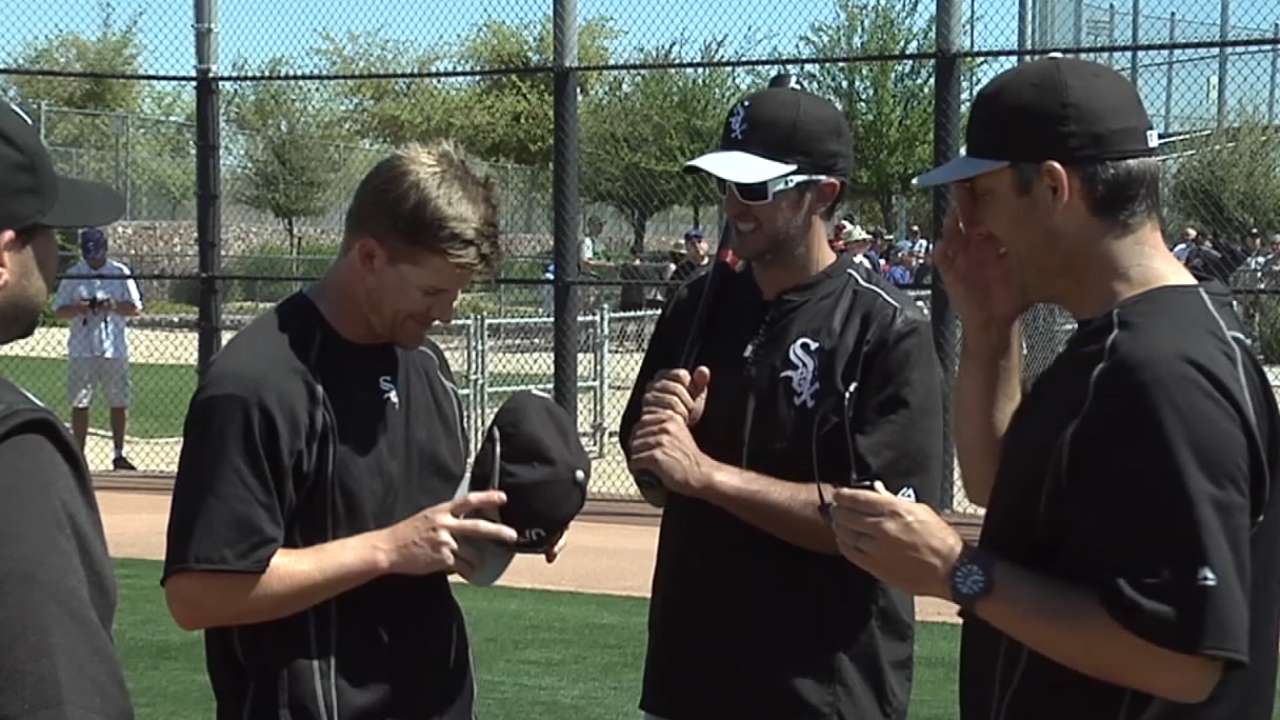 • Bryan made his way to Arizona recently to perform at a party for Cactus League teams in honor of LaRoche's E3 Meat Company. LaRoche raises black angus on his ranch in Kansas and has been selling all-natural hormone-, steroid- and antibiotic-free beef to players for the last four or five years sort of by word of mouth. They can go online to order, and that meat will soon be available to the public.
• Finally, with his brothers, Andy and Jeff, LaRoche owns the E3 Chophouse and the Cantina in Steamboat Springs, Colo.
LaRoche is also a married father of two. His son, Drake, spent a portion of Spring Training with the White Sox. Having this full life, these various business diversions provides LaRoche an outside respite from baseball's inherent failure. Or at least they should.
"Some days, I would say no," LaRoche said with a smile. "It can be a lot of meetings and just a lot of decisions going on. But it has allowed me to meet some awesome guys that I can turn over all this stuff. I don't really have to worry about it.
"We have so many good people working that run with this stuff that we can trust. I don't have to have my finger on everything that goes on in all the companies."
Hunting is the only thing LaRoche claims to truly know among his many interests. Make that, hunting and baseball. But sure enough, those "side things start up" and they see what happens.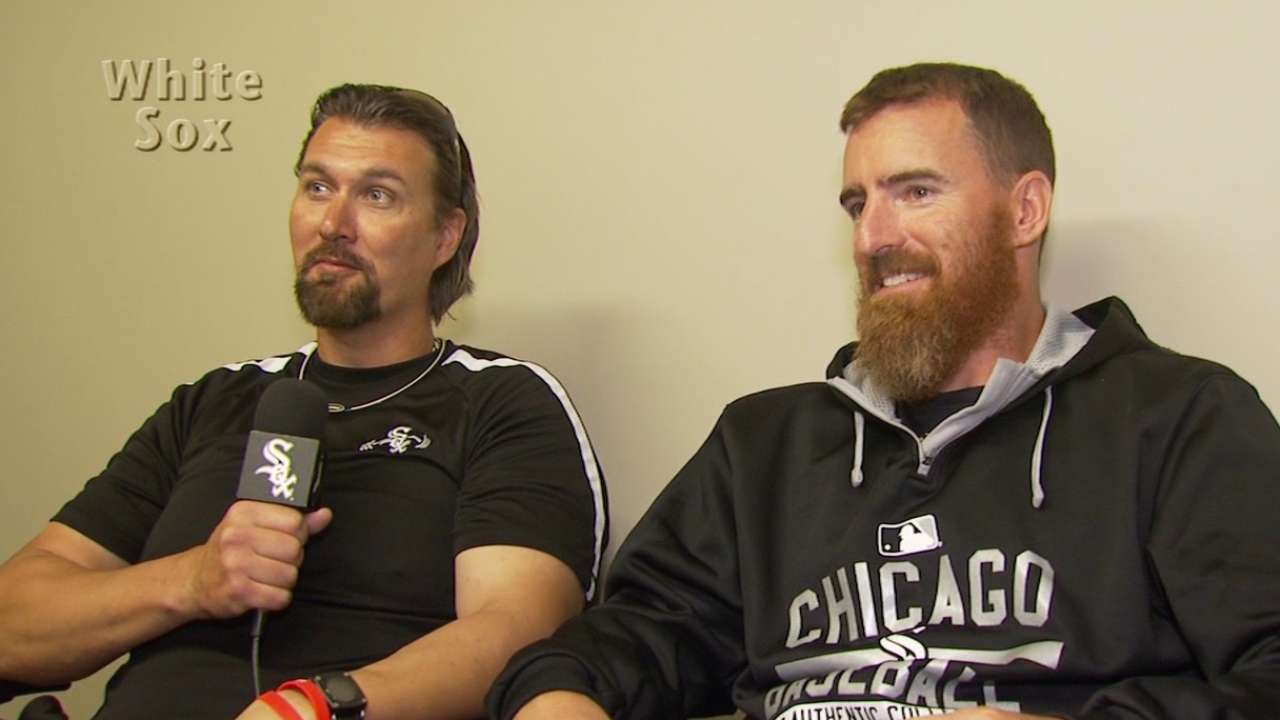 LaRoche is a favorite son of Fort Scott, as proven by the numerous hugs, handshakes, smiles and pats on the back offered up during the baseball complex's opening, and he's equally proud to call that city home. He's a man who has been afforded fame and financial freedom via baseball, he has used that to improve the quality of life for others.
At the baseball complex featuring his family's name, one reporter rightfully referred to LaRoche as a role model and asked for personal advice to young players. LaRoche paused, smiled while acknowledging the tough question and then came up with a succinct response.
"Love God and love everybody else around you," LaRoche said. "The rest will take care of itself."
Scott Merkin is a reporter for MLB.com. Read his blog, Merk's Works, and follow him on Twitter @scottmerkin. This story was not subject to the approval of Major League Baseball or its clubs.