Giants lament lapses in road-trip finale
Stranded runners, defensive mistakes don't help in losses to Padres
SAN DIEGO -- The Giants played a game Sunday, but they didn't play their game.
Poor execution at the plate and in the field hampered them as much as Wil Nieves' fourth-inning grand slam in Sunday's 6-4 loss to the San Diego Padres, who captured three of the series' four games.
San Francisco finished 3-4 on its two-city, season-opening trip, which was hardly a disaster but reminded the defending World Series champions that they must avoid fundamental lapses.
"As we've come to be known, our brand of baseball is playing solid baseball," Giants catcher Buster Posey said.
Solid didn't include squandering two opportunities with a runner on third base and one out. Solid didn't encompass multiple missed cutoff throws Saturday. The Giants didn't make any egregious defensive mistakes Sunday, though Will Middlebrooks' fourth-inning bloop single that fell in front of center fielder Gregor Blanco might have been catchable, and left fielder Nori Aoki didn't cleanly come up with Alexi Amarista's sixth-inning line drive, which went for a run-scoring triple.
"We have to clean that up and do a little better job," Bochy said, addressing the outfield defense in general.
Posey said the Giants "definitely" could have won another game or two on this trip, but pointed out that it's far too early in the year to dwell on such what-ifs.
"It's hard to analyze too much now," he said.
Mentioning that the Giants' execution was sound during other games on this trip, Posey observed that playing on 14 consecutive days to start the season might help the club establish consistency.
"That is a challenge sometimes at the beginning of the year," Posey said. "You play three or four games and have a day off, four or five games and have a day off. It's nice to get right into the grind of it."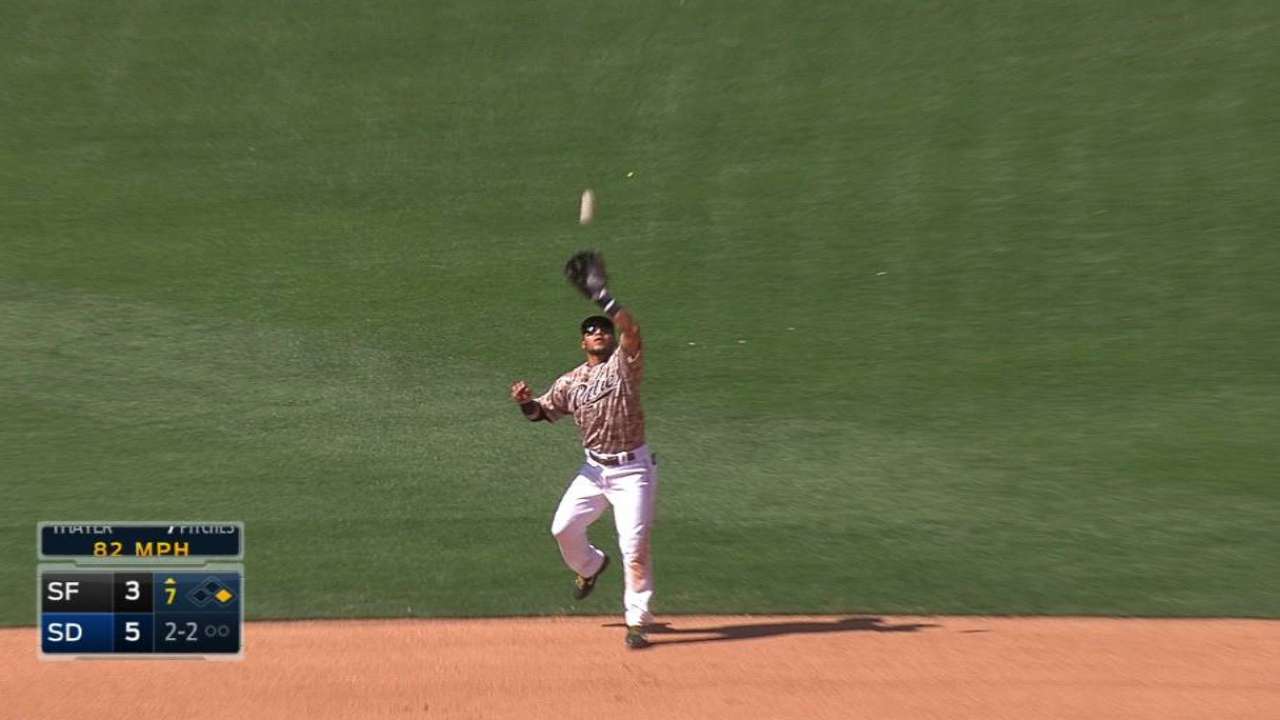 Not everything about the Giants' performance was flawed. Right fielder Justin Maxwell used his 6-foot-5 frame to leap to the top of Petco Park's outfield wall to make a third-inning catch that denied Yangervis Solarte of an extra-base hit or possibly a home run. And Aoki was too efficient, if anything, on a seventh-inning stolen-base attempt. He had such a good jump on reliever Dale Thayer that when Joe Panik popped up, Aoki couldn't return to first base in time to beat Amarista's relay and was doubled off. Posey homered on the next pitch.
Chris Haft is a reporter for MLB.com. Read his blog, Haft-Baked Ideas, and follow him on Twitter at @sfgiantsbeat. This story was not subject to the approval of Major League Baseball or its clubs.