Cruz, Weeks paying quick dividends for Mariners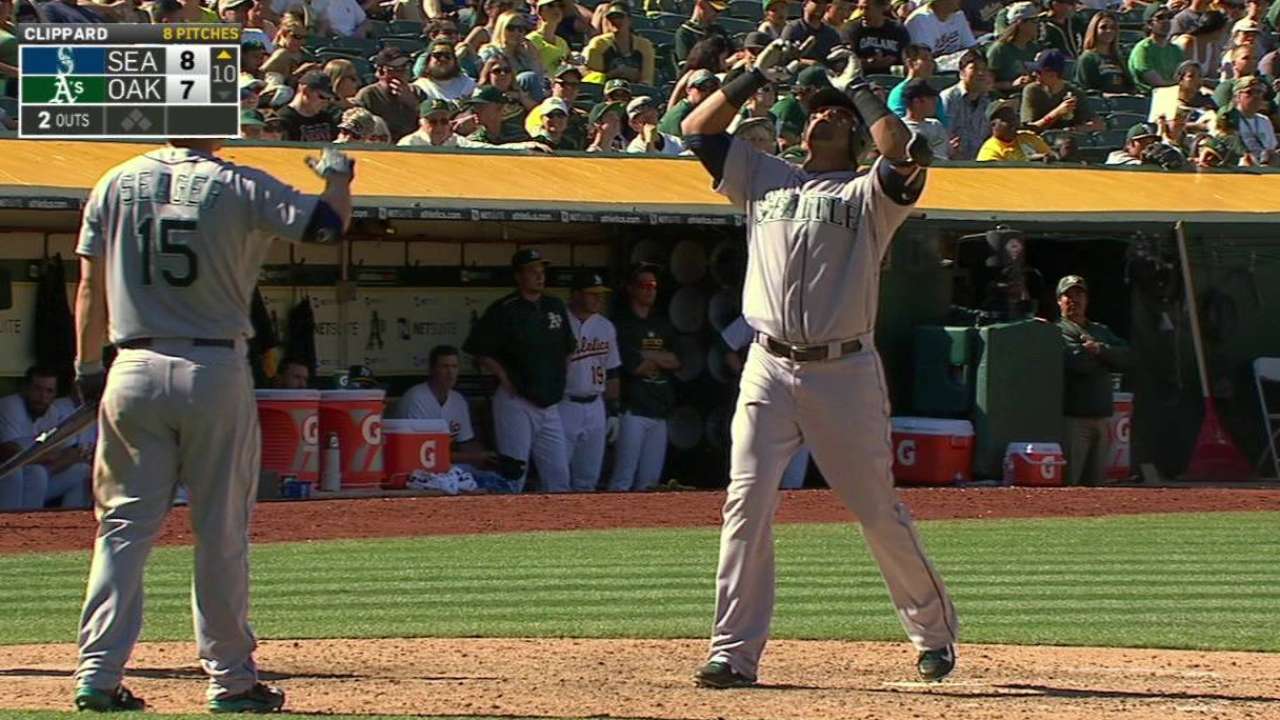 OAKLAND -- When the Mariners signed Nelson Cruz and Rickie Weeks to add right-handed power in the offseason, this is pretty much what they had in mind. Weeks slugged a three-run, pinch-hit homer in the seventh inning on Sunday and then Cruz poked the game-winning shot over the left-field fence in the top of the 10th as the Mariners beat the A's 8-7 in a wild win at the Coliseum.
Cruz's homer -- his second in two days -- came off A's closer Tyler Clippard and saved the day after Mariners closer Fernando Rodney coughed up a four-run lead in the bottom of the ninth. The new Mariners slugger said it felt good to help out his teammate.
"It's important," Cruz said. "It's not every day we're going to perform and do all the things we're supposed to do. You're going to have tough times and that's what we're here for, to pick up each other. Sometimes the offense isn't going to be there and the pitchers will pick us up. It was a team win."
Cruz's three-run bomb on Saturday helped provide some offensive punch in that 5-4 win and Weeks did the big damage with his own three-run pop to center field on Sunday.
"He came up big," said manager Lloyd McClendon. "I said in Spring Training I thought this guy was going to be special for us. I thought he was going to be one of the X-factors for us and today really showed why. He was pretty good today. That was a pretty big at-bat."
And a big moment for Weeks, who spent the previous 11 years with the Brewers and acknowledged he's been pressing early trying to make a good impression with his new club. Weeks was just glad to see his shot off lefty reliever Eric O'Flaherty clear the center-field fence.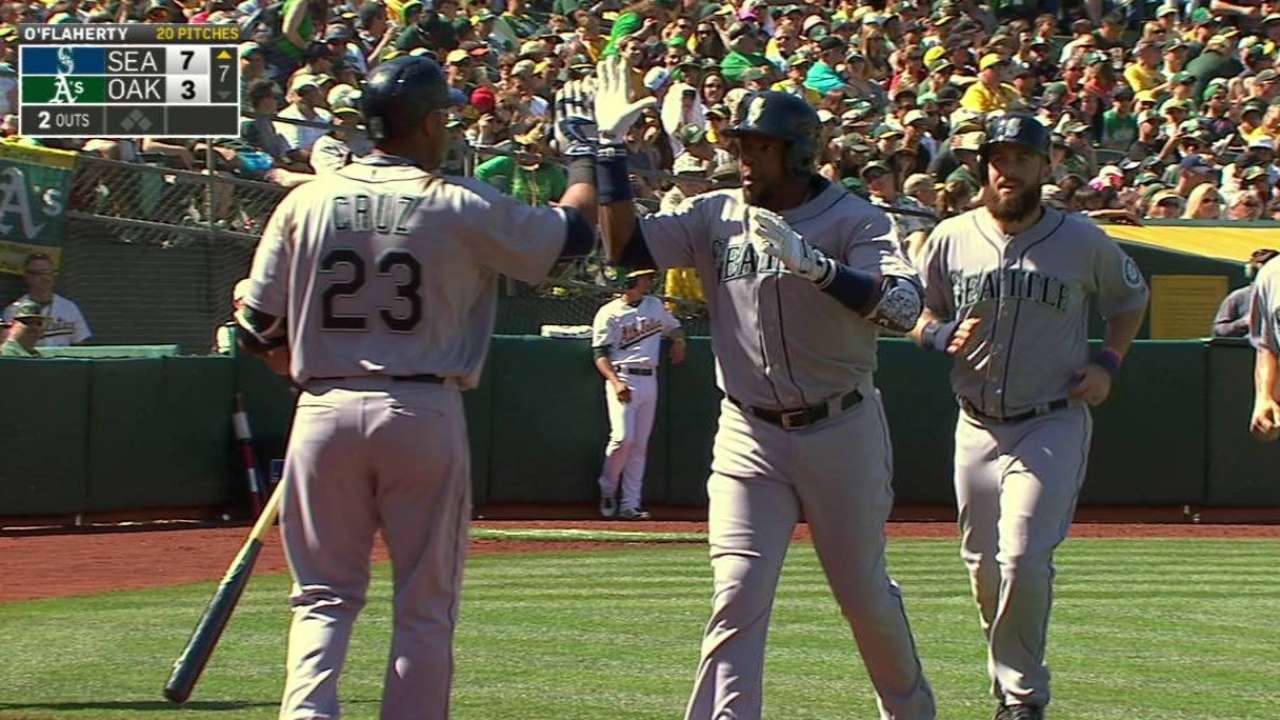 "I knew I got it good, but here, you never know," he said. "It takes a pretty good poke to get it out in center, depending on what the wind is doing. So I didn't know. But it was obviously a situation where I wanted to come through."
Cruz also didn't know if his homer was headed out, but he's a strong man as well and his ball just sailed over the glove of leaping left fielder Ben Zobrist.
"I didn't think it was going to be out because I hit it off the end of the bat," Cruz said. "I was surprised it went out."
For the Mariners, a little right-handed power could be a key element for a club whose offense has been an issue in recent years. And after three straight losses and a lack of run production raised some eyebrows and led to a 1-3 start, Seattle pulled even in the early going with back-to-back extra-inning victories, which didn't surprise Weeks.
"We've got a lot of guys on this team that have been around for a while," he said. "A lot of times, things don't work out quite how you want it to. Every team goes through little slumps here and there. But when you've got guys on a team like this, nobody panics and we came through today with a big win."
Greg Johns is a reporter for MLB.com. Follow him on Twitter @GregJohnsMLB as well as his Mariners Musings blog. This story was not subject to the approval of Major League Baseball or its clubs.