MLB.com Columnist
Lyle Spencer
Gritty Royals champion impressive 6-0 start
KC plays with purpose in taking apart Angels in ALDS rematch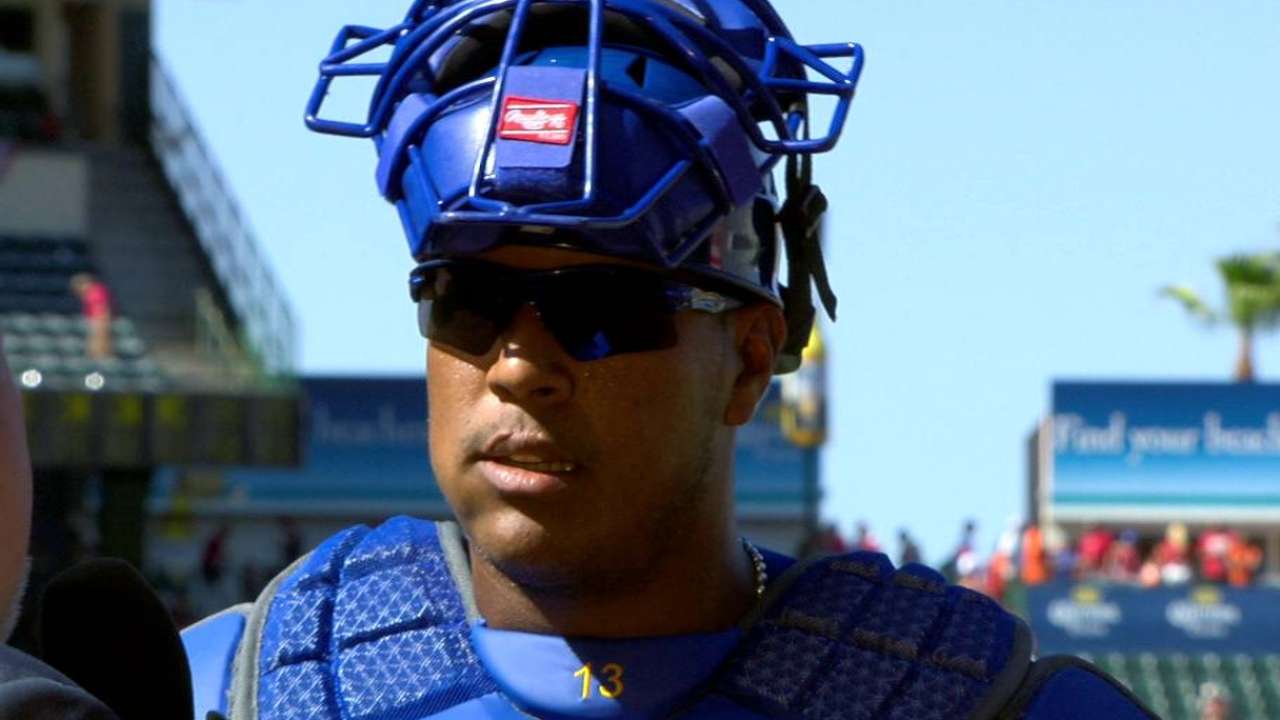 ANAHEIM -- Six games in April won't add up to a hill of rosin bags in the grand scheme of things. On the other hand, the reigning American League champion Kansas City Royals look abundantly capable of successfully defending their crown based on the way they have performed across the board in blasting off to a 6-0 start.
If they're looking to make a statement to disbelieving critics who can't seem to accept as authentic what happened last October, the Royals could not be making a more emphatic point with colorful ads on Internet sites and in all the major dailies across the land.
"We're hungry," first baseman Eric Hosmer said. "The way last season ended [in a one-run Game 7 World Series loss to the Giants] left a bad taste in our mouths. We're on a mission."
Swept in the 2014 AL Division Series by the Royals after winning more regular-season games (98) than any team in the Majors, the Angels presumably had an motivational edge in this weekend series.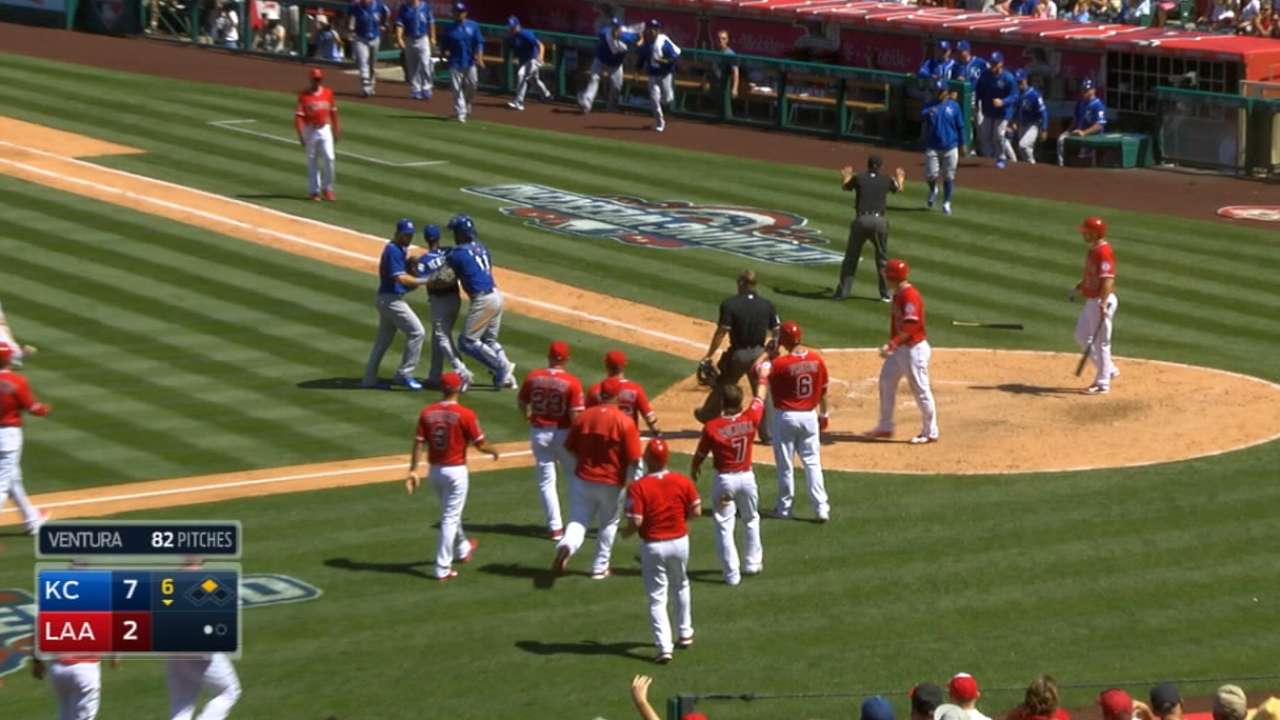 But by the time both benches and bullpens emptied in the sixth inning on Sunday over an incident involving Kansas City pitcher Yordano Ventura and Halos superstar Mike Trout, there was no need for trash talk or any other kind of dialogue. The Royals had taken care of that with their actions.
Taking the finale 9-2, Kansas City dominated this series more impressively than in its dismissal of the Angels last October.
"We're firing on all cylinders," manager Ned Yost said. "Our defense was fantastic again. Our pitching was fantastic, from Ventura and our bullpen, Jason Frasor and Chris Young. We had clutch hitting. We're hitting with power. Over 162 games, it's hard to maintain it over long stretches -- but six games is a long stretch to play as well as we have in all phases."
The exchange between Ventura and Trout, before and after an Albert Pujols double that delivered Trout to make it 7-2, was strange on a number of fronts -- starting with why the pitcher was staring at Trout after he singled through the middle.
Ventura, through a translator, said it was "just baseball, back and forth, competing." Trout shrugged, still trying to sort out what had happened.
"I didn't do anything," Trout said. "I got to first and he was looking at me. When I scored, I said, 'Let's go' to Matt [Joyce, the next hitter], and Ventura was right there talking to me. I didn't know what was going on."
Ventura is probably fortunate Trout is always the coolest guy in a room -- or a stadium.
"The way I try to handle it is to not get too inflammatory on the field as a pitcher -- especially when the other guy [Trout] could crush me," said Angels starter C.J. Wilson, who yielded seven runs (six earned) on nine hits in 5 2/3 innings.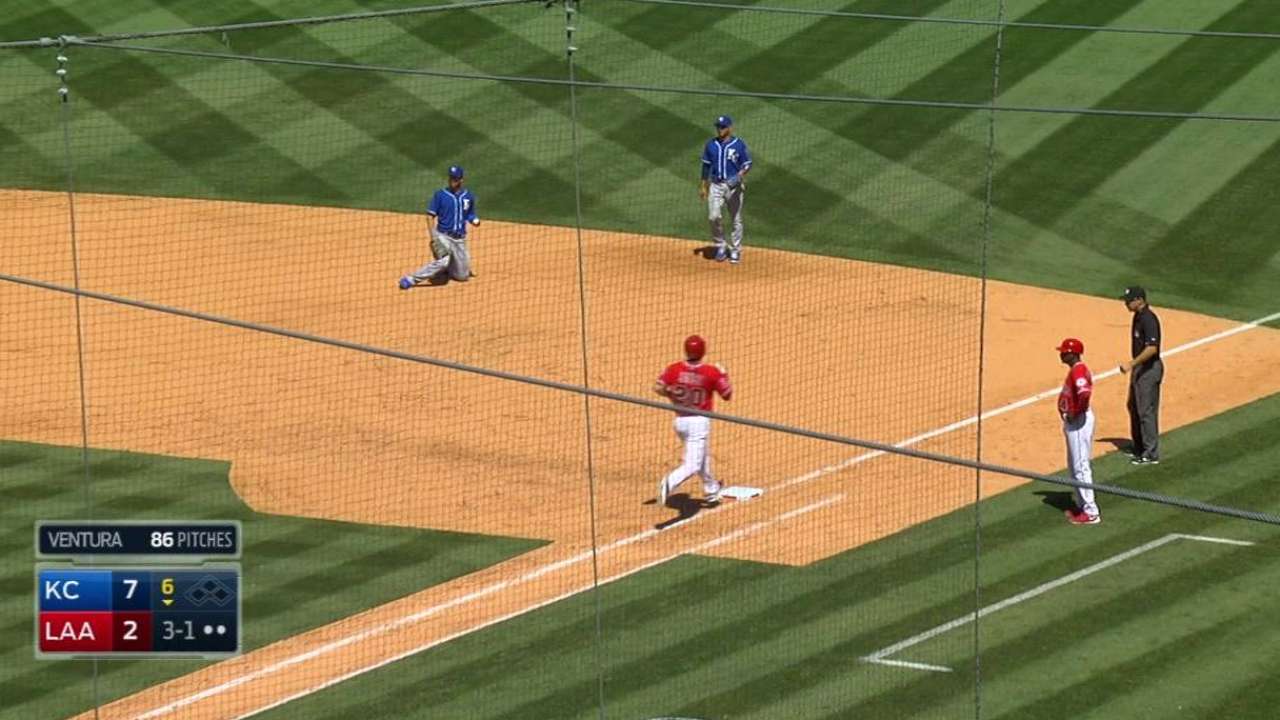 Ventura, who'd yielded a first-inning milestone home run to Pujols (No. 522, 18th all-time), departed with a right calf cramp after Joyce's infield hit in the sixth. Neither "Ace," the pitcher, nor the club thought it was anything serious.
If anyone seemed to draw energy from the brouhaha, it was Salvador Perez, the great Royals catcher. He threw out Pujols trying to steal third and then slammed a homer in the seventh, his second of the series and third of the season.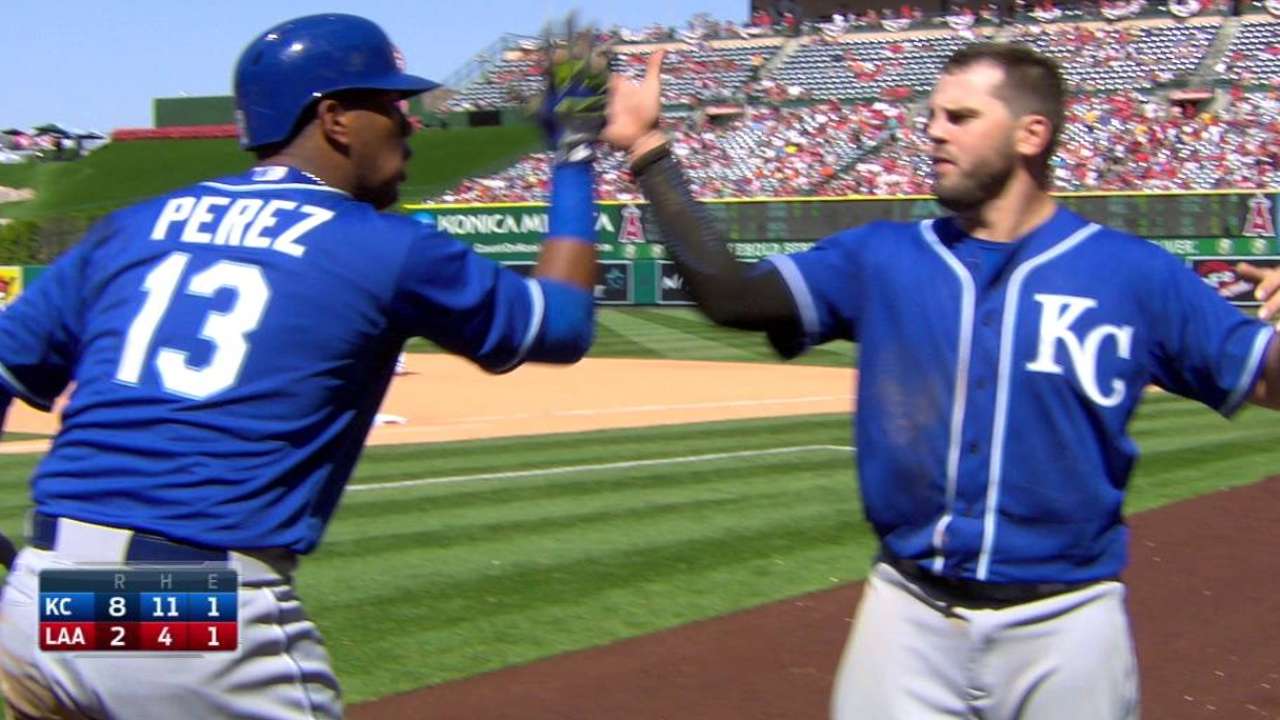 "I felt like they had a decent lineup last year," Wilson said, "but when a guy like Salvador Perez is hitting seventh, eighth, ninth ... he could be a four-hole hitter in a lot of places."
The Royals outscored the Angels, 19-8, in the series, with newest members Kendrys Morales and Alex Rios leading the charge along with Perez and center fielder Lorenzo Cain.
"We like that -- we're confident in our abilities," Hosmer said when asked about the lack of respect accorded Kansas City by the national media. "It's pretty much the same team trying to get better."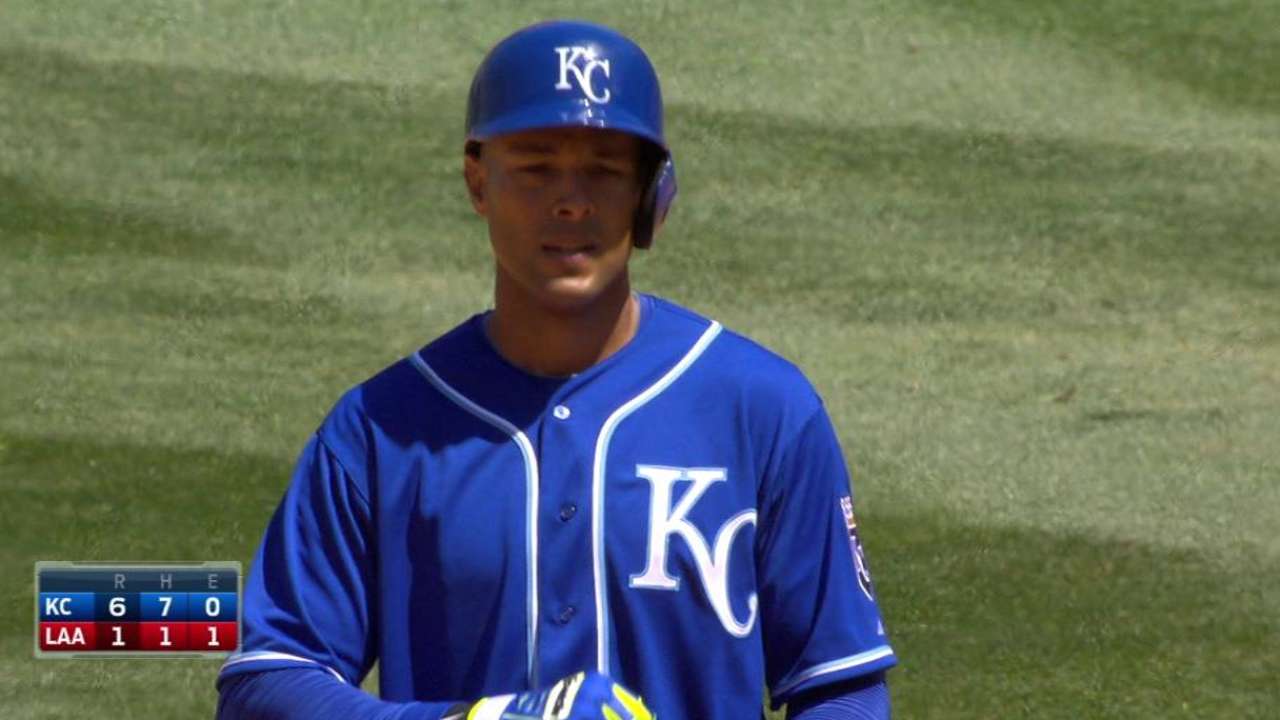 If ex-Angel Morales and Rios, proven stars replacing Billy Butler and Nori Aoki, continue to turn back the clock in Royals blue, this team could be dynamite all summer long, into autumn.
"They bring a veteran presence in our lineup we've needed for a long time," Hosmer said of Morales and Rios. "We have a really deep lineup now. Kendrys being a switch-hitter really helps guys around him, like Moose [Mike Moustakas] and myself. It strengthens our left side and adds balance."
Kansas City has a .327/.398/.537 team slash line, averaging 6.7 runs, while the pitching staff owns a 2.50 ERA. Only the Royals' Central Division rivals in Detroit have been as lethal early in the season.
The Halos are scuffling at .195/.245/.332 offensively, averaging 2.7 runs, with a 4.25 team ERA.
No need for analytics research to explain why one team is 6-0 and the other is 2-4.
Lyle Spencer is a national reporter and columnist for MLB.com. Follow him on Twitter @LyleMSpencer. This story was not subject to the approval of Major League Baseball or its clubs.