Greinke gives Dodgers just what they needed
Righty plays stopper with seven scoreless innings against D-backs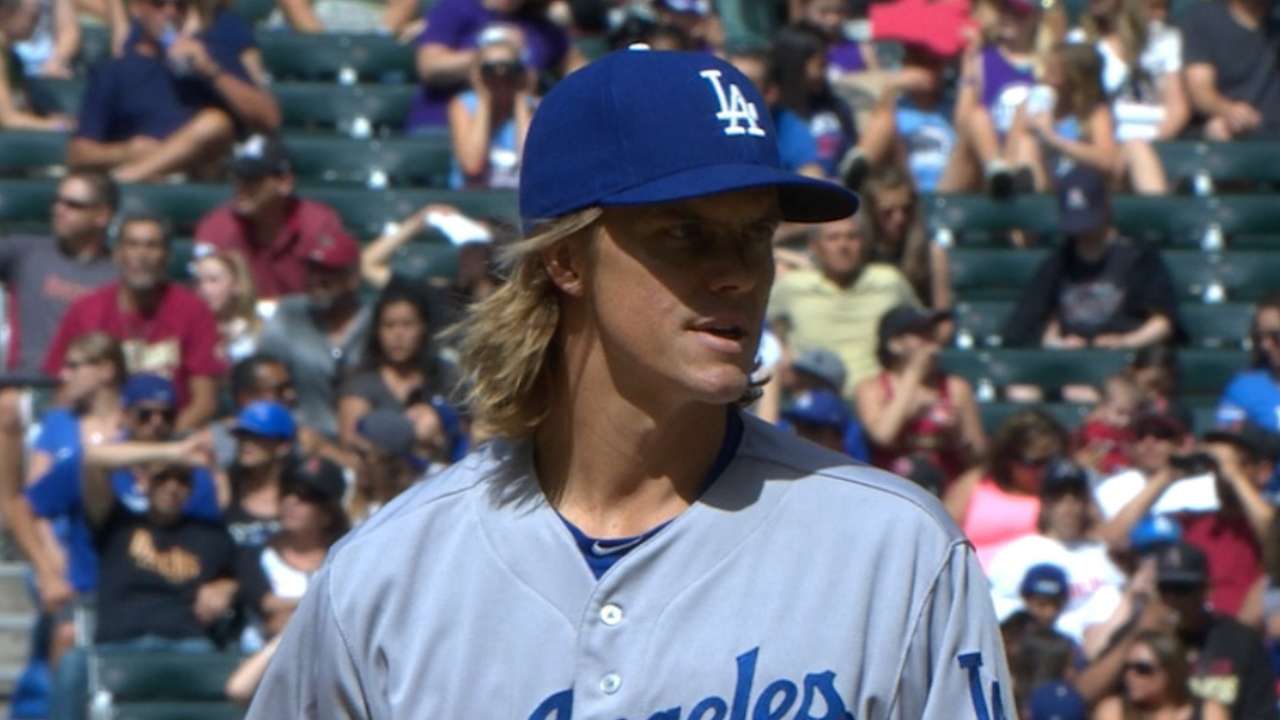 PHOENIX -- If Zack Greinke opts out of his contract at the end of the season and the Dodgers consider whether he's worth giving an even bigger contract than they gave him last time, they might want to remember Sunday's 7-4 win over the D-backs.
Following Clayton Kershaw's loss the night before, Greinke threw seven scoreless innings to prevent the club's first three-game sweep in Arizona since 2008 and the team's fourth loss in five games. The Dodgers are 22-8 in his starts following a loss.
"I thought that was what we really needed today, for him to go deep," manager Don Mattingly said of Greinke, the first Dodgers starter to complete seven innings this year. "Clayton wasn't quite Clayton last night. To have a second starter come out and give us that game, the more of that the better. That's what's going to be the difference for us."
The D-backs' ninth-inning rally -- four runs scoring with Chris Hatcher on the mound -- underscored the importance of Greinke allowing nothing. He struck out seven without a walk, mixing all of his pitches even without having his liveliest fastball.
Greinke is 19-1 against National League West opponents since joining the Dodgers and 33-12 overall with Los Angeles. He's 6-0 with a 1.38 ERA in his last eight starts against Arizona and has won five straight games at Chase Field.
"That's a lot of outings," Greinke said about the NL West mark. "I don't know why it is. But it could change real fast, too."
Greinke's brilliance was countered by Hatcher's struggles. He relieved Paco Rodriguez with a runner on first, one out in the ninth and the Dodgers holding a seven-run lead because, Mattingly said, he needed to get in some work. Of the next five batters, two doubled, one singled, one walked and one struck out. He threw 26 pitches.
Mattingly brought in Joel Peralta, who battled for 10 pitches before getting Ender Inciarte on a fly to left-center for his second save of the season. That's as many saves as he had with Tampa Bay in 2013 and '14 combined.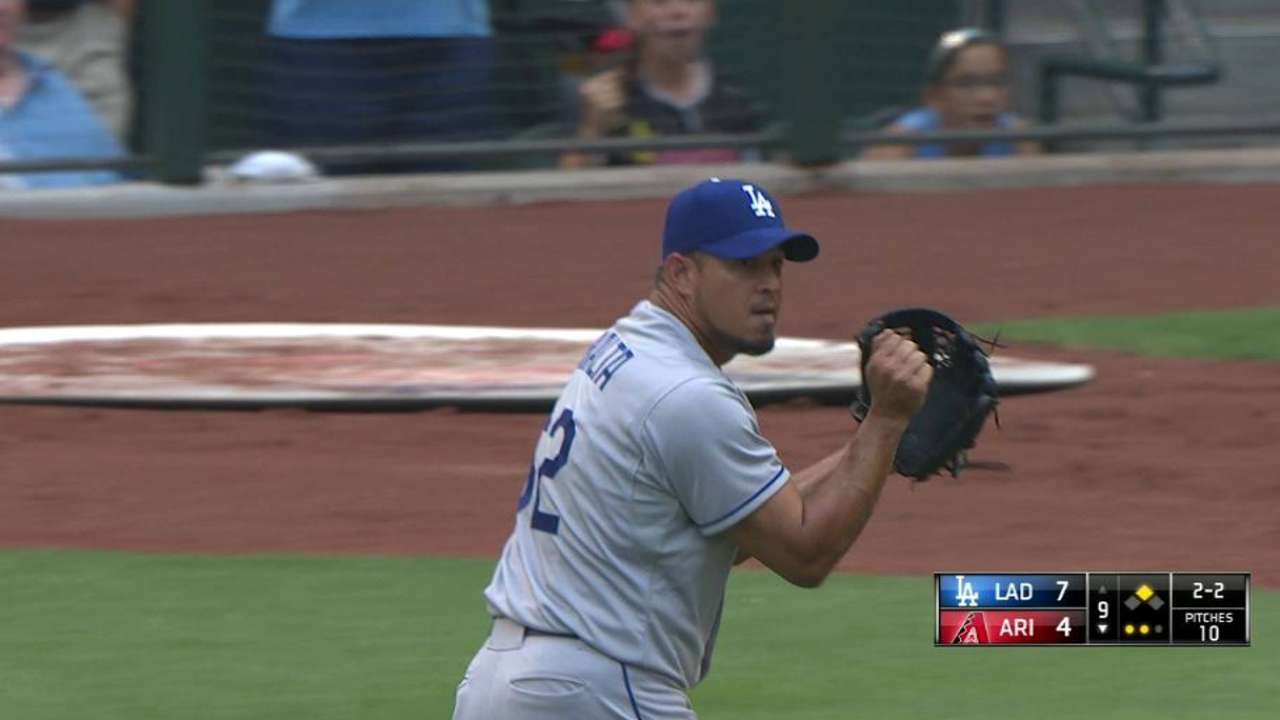 Greinke said he wasn't worried about the game getting away, and Mattingly said he still feels good about the erratic bullpen, mostly because young right-handers Yimi Garcia and Pedro Baez have done more than expected. Baez pitched around a double to Inciarte with two strikeouts in a scoreless eighth inning.
"We've got a number of guys I've gotten more comfortable with," Mattingly said. "I have tons of confidence in Chris and it's going to work out. In general, we're gaining confidence as we go because of the way guys are performing that we weren't counting on."
Ken Gurnick is a reporter for MLB.com. This story was not subject to the approval of Major League Baseball or its clubs.