Pillar shows off glove with two defensive gems
Replacement left fielder also boosted Blue Jays' offense with solo homer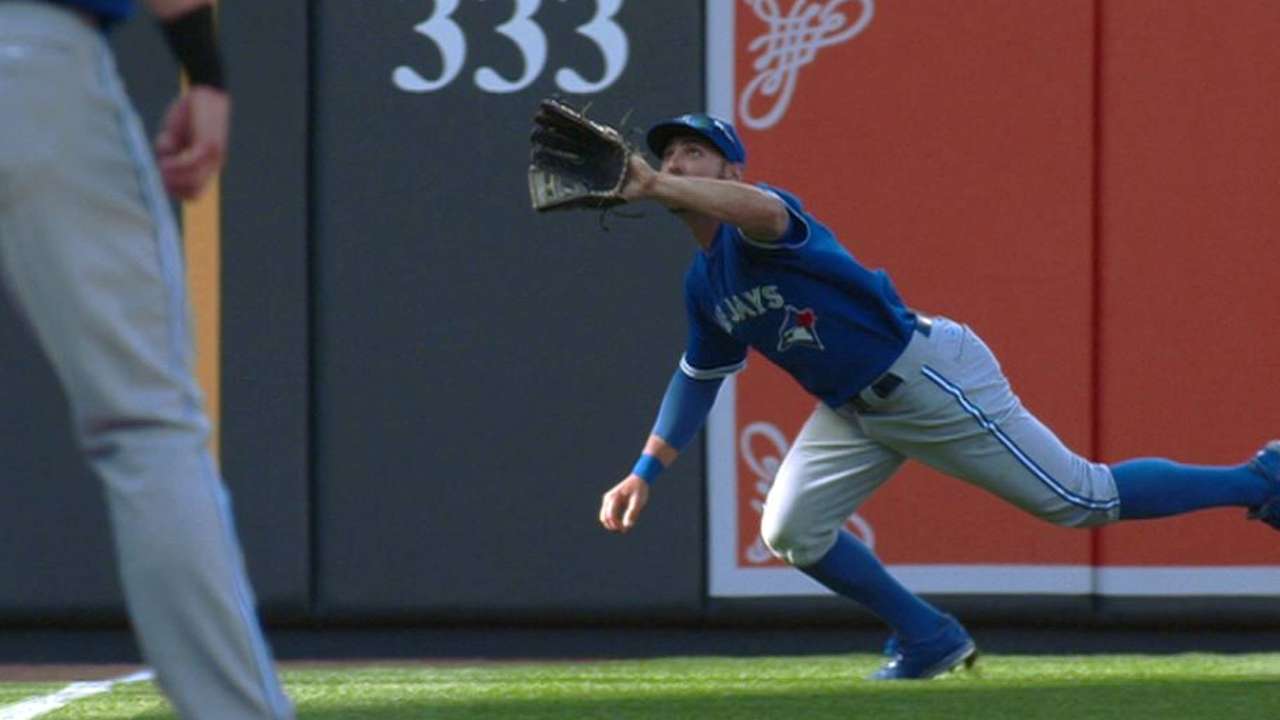 BALTIMORE -- Kevin Pillar sure seems to be making the most of his opportunity for regular playing time while Michael Saunders is on the disabled list with a left knee injury.
Pillar has been one of Toronto's breakout performers during the first week of the season. He's excelled with the bat, but an even bigger storyline has been the highlight-reel defense in left field.
The 26-year-old made a pair of dazzling plays on Friday in Baltimore, and he was back at it during the series finale. Pillar came up with a diving catch in foul territory during the ninth inning that helped preserve Toronto's 10-7 victory, which he also boosted with a solo homer in the second inning.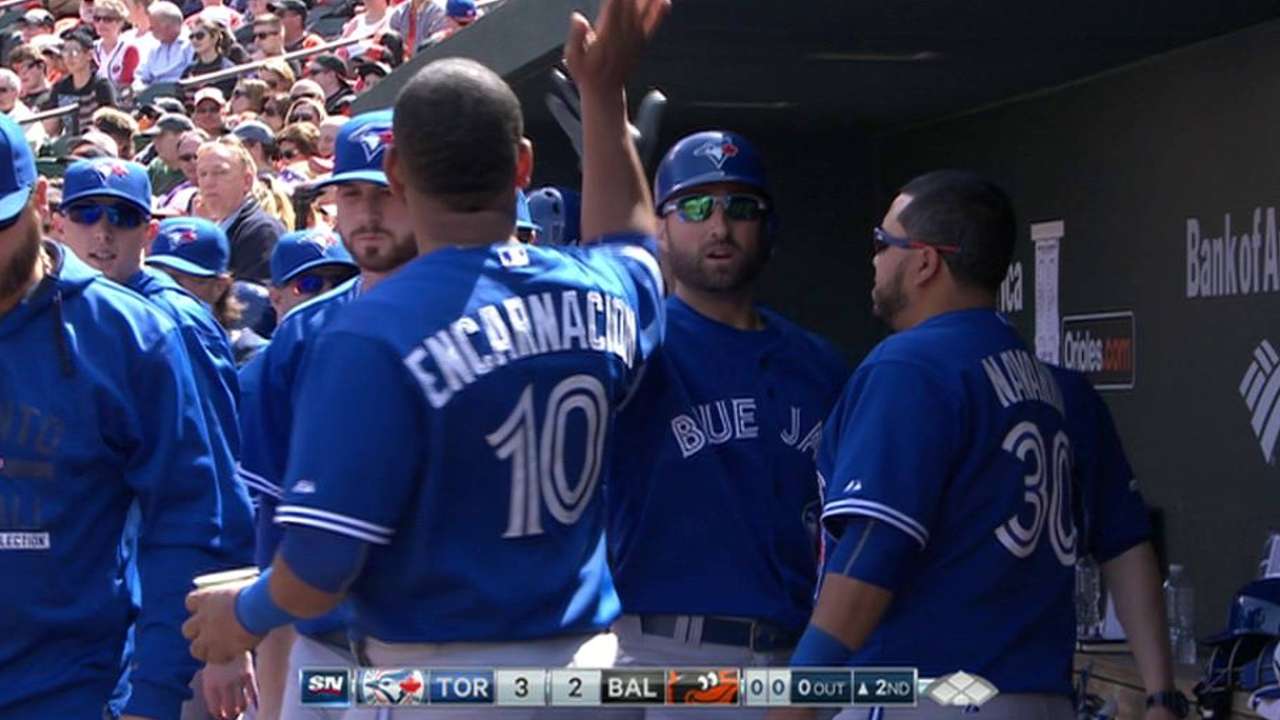 "Trying to get back to Toronto," Pillar said with a grin, when a comment was made about how much ground he covered on the catch. "It was kind of a low-risk play. The ball was foul, just trying to get outs.
"I've got a lot of faith in [reliever Miguel] Castro. He's got great stuff. Any time the ball goes up, we're trying to help our pitchers out. Very fortunate to be able to hang onto my own glove."
The ninth-inning grab wasn't the only impressive catch Pillar made on Sunday afternoon. He also took a hit away from Adam Jones in the seventh inning. Jones hit a sinking line drive to left and Pillar sprawled out to come up with the play that ended the frame.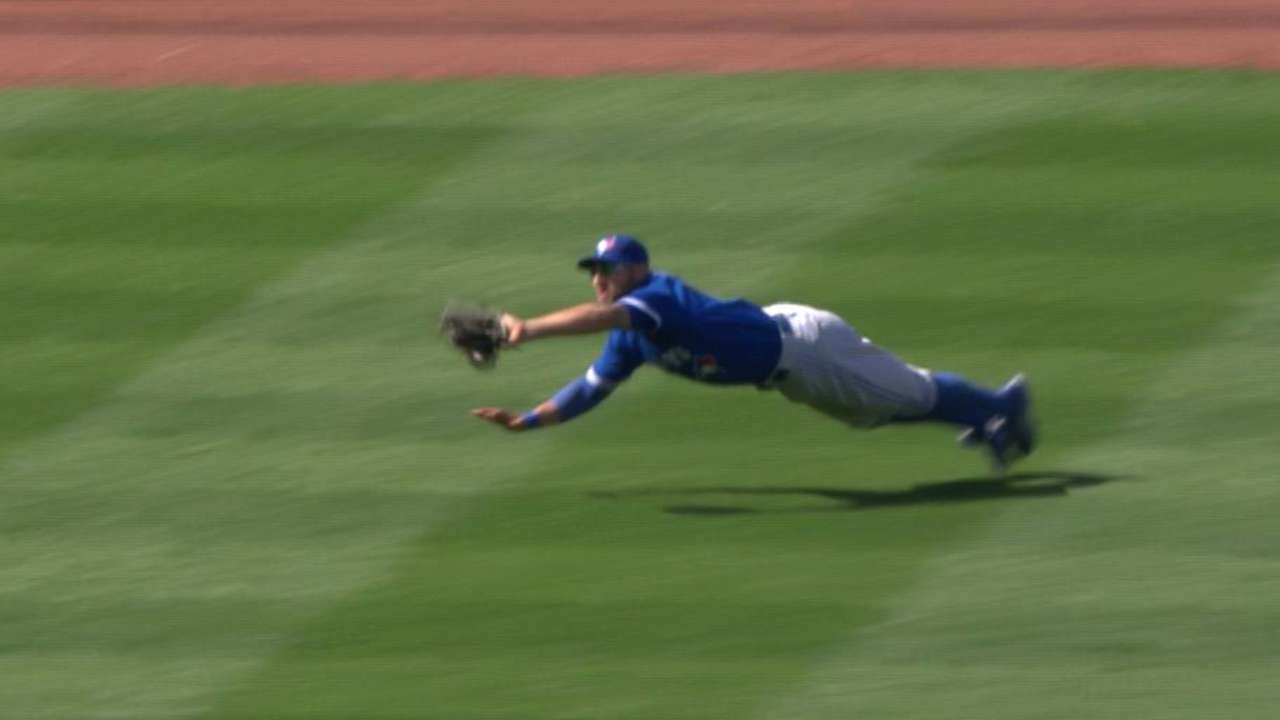 When Pillar was asked about the plays after the game, he also was quick to point out that the team as a whole has been much better defensively this season.
"We've got a lot of faith in our pitching staff," Pillar said. "If we can just make plays for them, get outs, I think that was an emphasis in the offseason, to improve our defense.
"I think that's pretty evident with the addition of [third baseman Josh] Donaldson, me and [Dalton] Pompey in the outfield. [Devon] Travis is doing a hell of a job at second base. [Justin] Smoak's an outstanding defender, it doesn't get talked about a lot at first base. I think we're confident in our bats too. If we can keep the game within reach, we feel like we can come back offensively."
Gregor Chisholm is a reporter for MLB.com. Read his blog, North of the Border, and follow him on Twitter @gregorMLB. This story was not subject to the approval of Major League Baseball or its clubs.