Cuban-born players support Dodgers' cause
Guerrero, Puig homer; Grandal tallies two hits and scores twice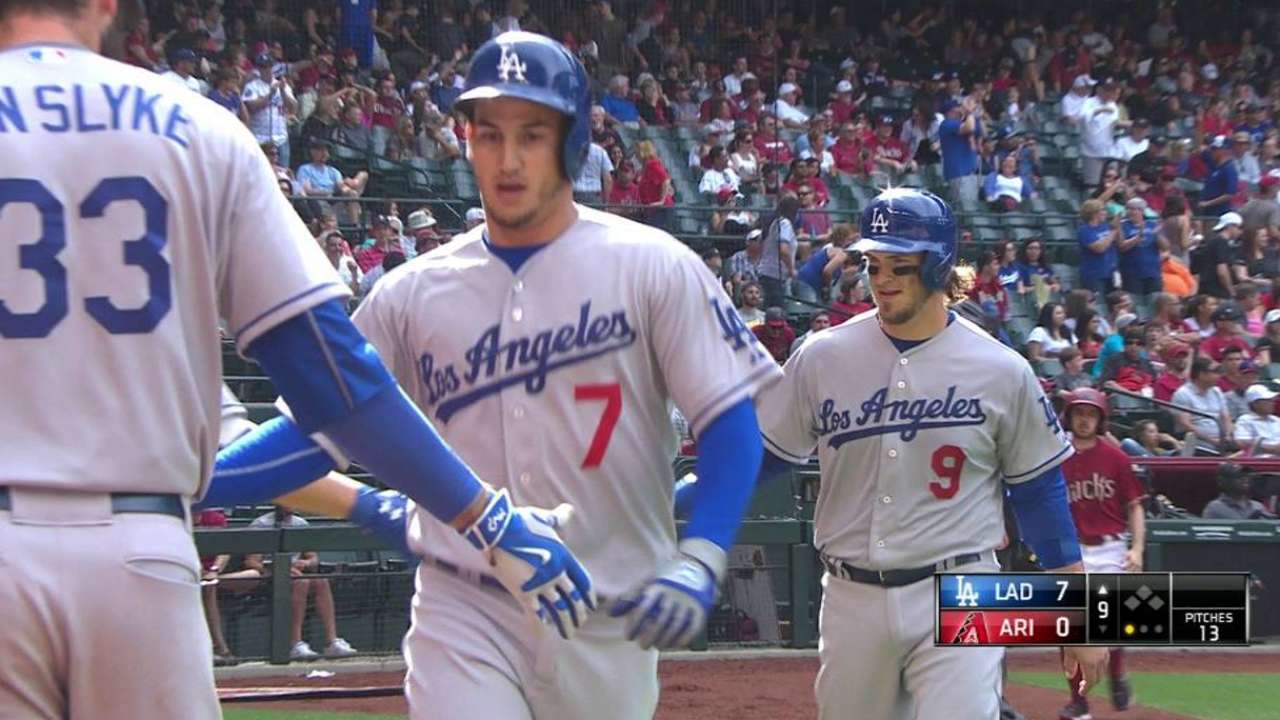 PHOENIX -- Dodgers ownership has committed more than $150 million to Cuban players since taking over in 2012, and Sunday's 7-4 win over the D-backs showed why.
Alex Guerrero homered for the first time in his Major League career and drove in four runs. Yasiel Puig slugged his first homer of the season. Yasmani Grandal, obtained in the Matt Kemp trade, had two hits and scored twice as the Dodgers fielded a lineup with three Cuban-born players.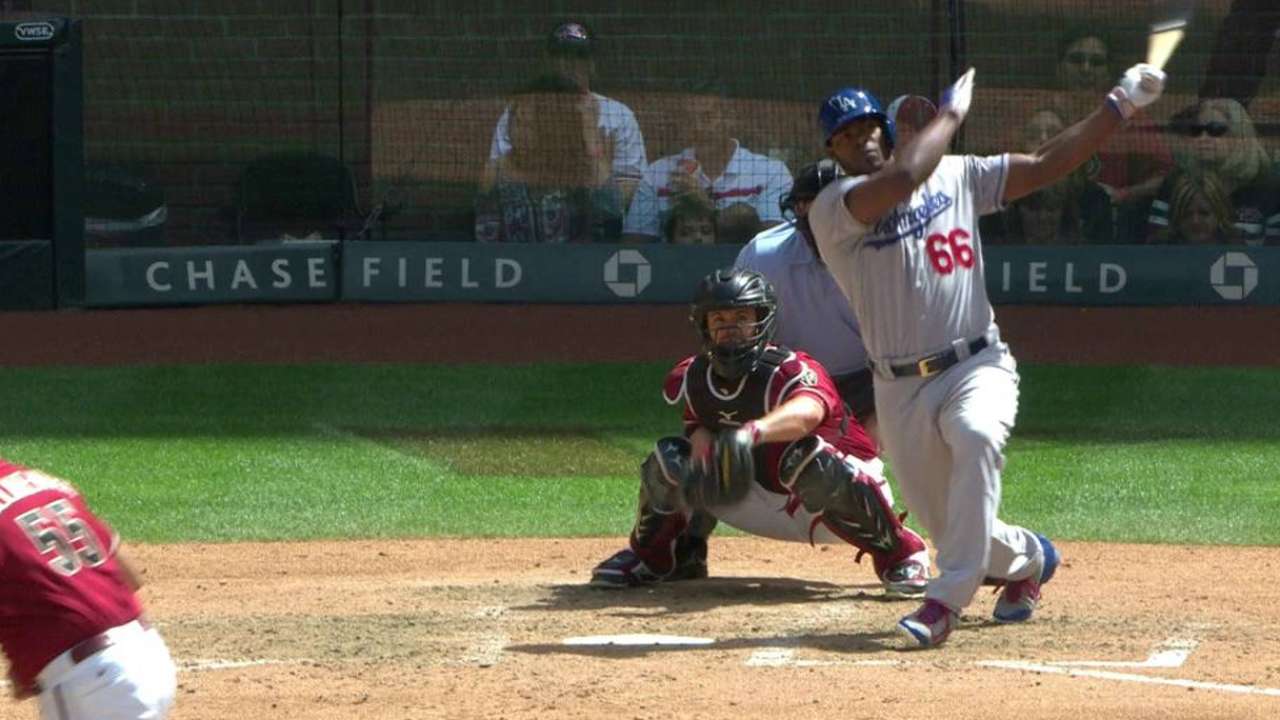 The influx of Cubans (Hector Olivera is still waiting on a visa) is part of ownership's strategy to supplement an emerging farm system that has graduated Joc Pederson into the lineup as starting center fielder. Pederson, like Guerrero, hit his first big league home run on Sunday.
Pederson and Guerrero each had a homer, double and single, part of a 16-hit assault behind seven efficient innings from Zack Greinke that helped the Dodgers avoid their first three-game series sweep in Arizona since 2008, even after a messy ninth inning when four runs scored with Chris Hatcher on the mound.
Guerrero got the start at third base after Justin Turner and Juan Uribe suffered minor injuries Saturday night. He said he was especially happy with his performance because he had seen almost no playing time since the season started.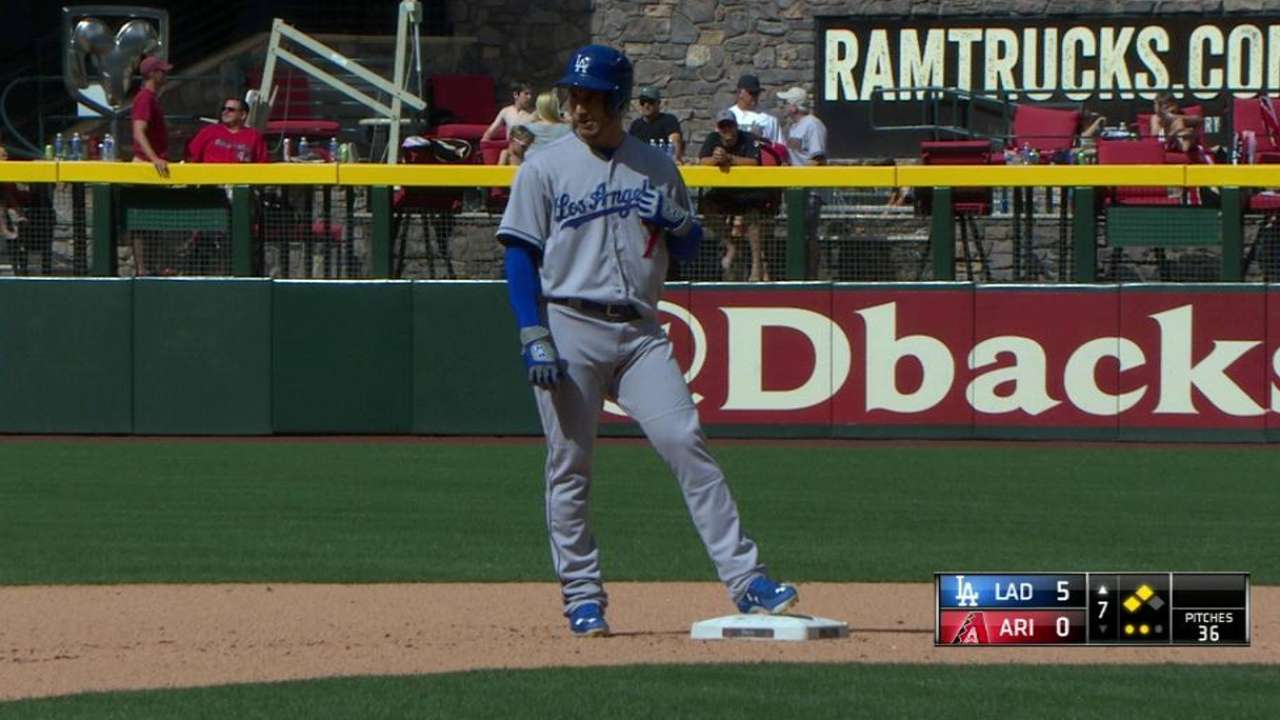 Guerrero -- with a reputation for being a defensive bust -- fielded four grounders flawlessly. His defense was said to be so bad, the club would have sent him to the Minor Leagues this year except for the clause in his contract that prevents it.
"He made all the plays look easy," manager Don Mattingly said.
Defense has never been the problem for Pederson, who credited batting-cage work with hitting coaches Mark McGwire and John Valentin for helping him awaken from a 3-for-17 start.
"It was a relief," Pederson said of his first Major League home run. "After the first hit, I've hit a lot of home runs in the Minor Leagues and you wonder when you'll get the first one. It's nice to get it out of the way and get back to helping the team win."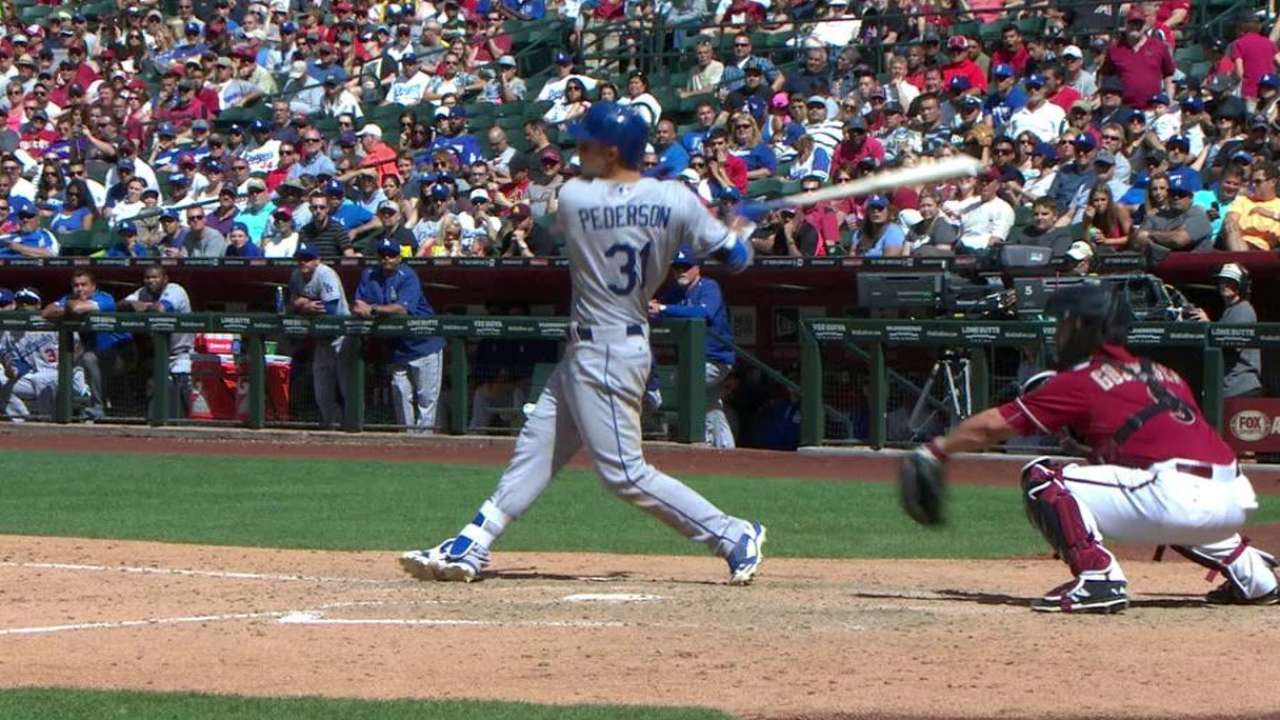 Ken Gurnick is a reporter for MLB.com. This story was not subject to the approval of Major League Baseball or its clubs.