Iglesias on debut: 'I just believe in my stuff'
Reds phenom encouraged after mixed bag in MLB debut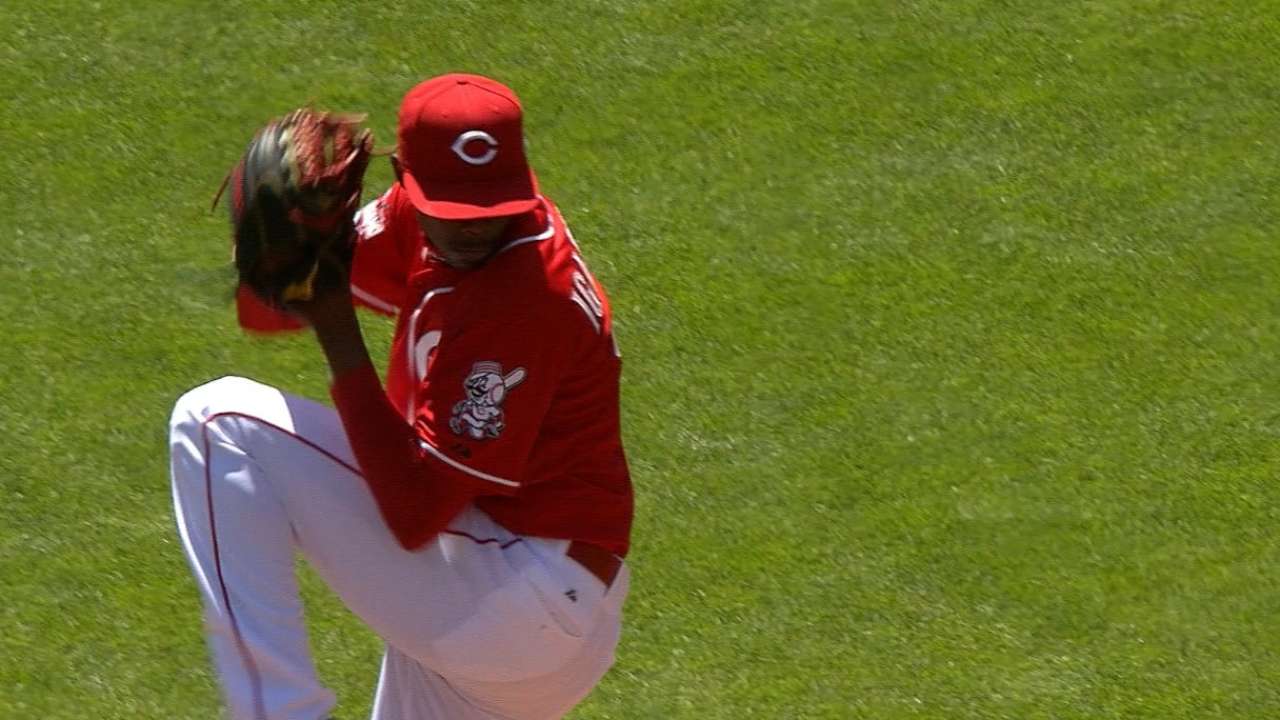 CINCINNATI -- Early in his Major League debut for the Reds on Sunday, Raisel Iglesias seemed to have elements of unfamiliarity and unpredictability working in his favor.
That was before the Cardinals made adjustments, however. Iglesias, 25, gave up three earned runs on five hits over five innings in a 7-5 St. Louis win in 11 innings. He walked two and struck out four in a no-decision. All of Iglesias' trouble came after he retired 11 of his first 12 batters, but he felt he had a good introduction to Reds fans.
"I believe it's only going to get better," Iglesias said with catcher Brayan Pena translating. "I'm not trying to be cocky or nothing. I just believe in my stuff. I believe the first one is always the toughest one, but that one is out of the way now. I'm just waiting for another opportunity."
In a 13-pitch first inning, Iglesias put the Cardinals down in order with two strikeouts. He didn't just change speeds and work both sides of the plate, he also featured multiple arm angles -- overhand and sidearm.
"I trust my pitches in any count," said Iglesias, who was just the eighth Reds player to debut in the Majors without a stop in the Minors, the first since Mike Leake in 2010.
The Cardinals caught up to Iglesias with a three-run rally in the fifth that began with Yadier Molina's double, followed by a walk to Kolten Wong. Matt Carpenter's two-run single put St. Louis ahead and was followed by a Jason Heyward RBI double.
"We had very little video on Iglesias, and we saw different stuff than we saw on the video," Cardinals manager Mike Matheny said. "He was dropping down more. Even if we had some video, the guys will go through the game and start to figure out his movement, release point and tendencies. Then our odds improve."
Iglesias remains a work in progress, still somewhat in the raw stages. He was a reliever in Cuba, and most big league clubs that pursued him last summer profiled him as one here. Only the Reds, who signed Iglesias in June to a $32 million contract over seven years, projected him to be a starter.
"The first four innings, he was outstanding and almost dominant," Reds manager Bryan Price said. "But he was probably starting to get fatigued right there. He hasn't been a starter for a long time, and they were able to take advantage of that fatigue."
What happens next remains to be seen. Homer Bailey is expected back from the disabled list this week after he made a 5 2/3-inning rehab outing Sunday for Triple-A Louisville.
The Reds will have to decide whether Iglesias should keep starting for Louisville or work from their Major League bullpen as a long reliever. Either way, his innings for the season will be capped.
"Any decision that the skipper or team makes, I'm going to be welcoming it," Iglesias said. "Whatever decision it is, I'm ready to take it. I just trust it's going to be the best for us."
Mark Sheldon is a reporter for MLB.com. Read his blog, Mark My Word, and follow him on Twitter @m_sheldon. This story was not subject to the approval of Major League Baseball or its clubs.