Alvarez headed for MRI on elbow, shoulder
Velocity down during Sunday's five-inning outing vs. Rays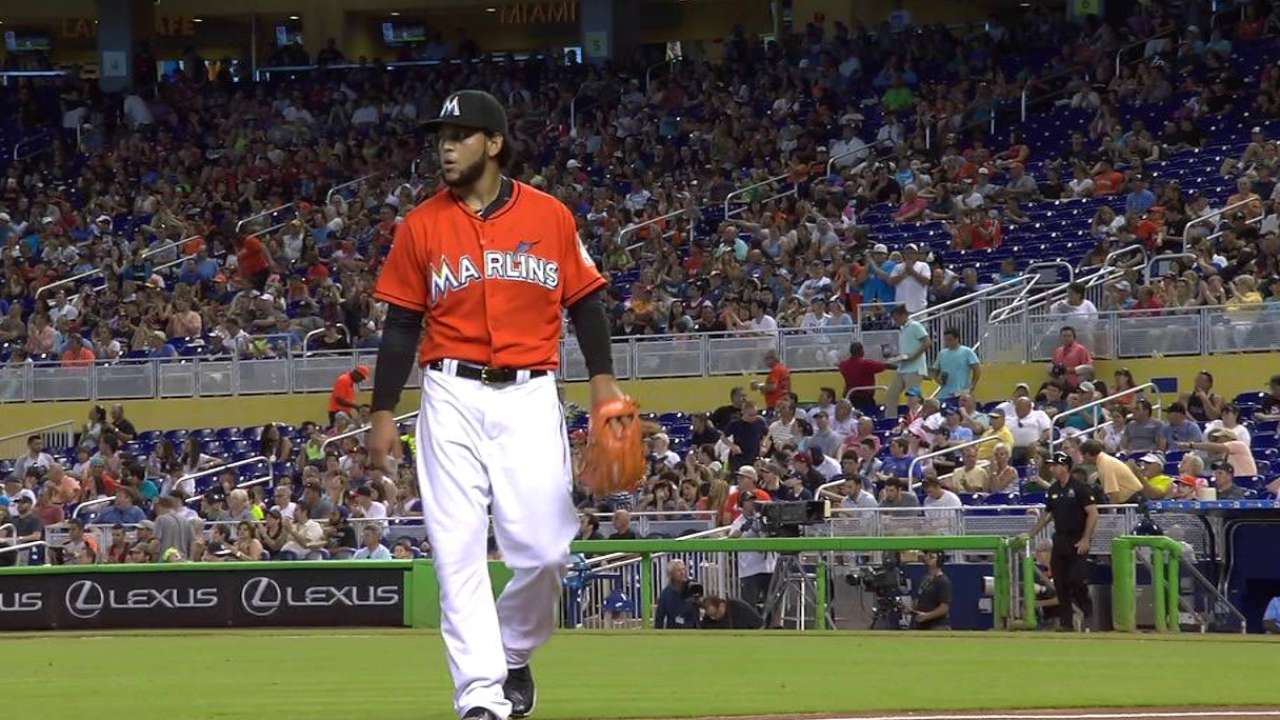 MIAMI -- Henderson Alvarez, an All-Star in 2014 and the Marlins' Opening Day starter, felt discomfort in his throwing arm on Sunday and will undergo an MRI on Monday.
According to sources, Alvarez will have his right shoulder and elbow tested. The right-hander experienced a dip in his fastball velocity in Sunday's 8-5 loss to the Rays at Marlins Park.
The Miami Herald was first to report Alvarez will have an MRI to determine the condition of his elbow, but his shoulder is also a concern.
The team has not commented on Alvarez's status.
The entire week was a struggle for Miami, and Sunday was no different. Alvarez gave up four runs in five innings while falling to 0-2 on the season.
"Today, I didn't feel comfortable," the right-hander from Venezuela said. "I didn't have it."
Alvarez normally works deep into games. He gave up two runs in seven innings in Miami's 2-1 Opening Day loss to the Braves.
Sunday marked the second time in his past 11 starts, dating back to July 24, 2014, that Alvarez didn't last as many as six innings.
"Up in the zone," manager Mike Redmond said. "Missing his spots. His [velocity] was down. It just wasn't his day."
Alvarez's velocity on Opening Day was as high as 93 mph. He was down around 89-91 mph on Sunday.
The Rays scored in the first inning on Asdrubal Cabrera's RBI single, and Miami pulled even in the fourth inning. But Tampa Bay claimed the lead for good in the fifth on David DeJesus' three-run homer.
"It was a sinker that didn't sink, really," Alvarez said. "It stayed in the middle and he put a good swing on it."
Along with dropping two of three to the Rays, the Marlins closed out their homestand at 1-5.
Making Sunday's loss more painful is the fact catcher Jeff Mathis and infielder Don Kelly each sustained fractured right ring fingers.
"The team is kind of struggling," Alvarez said. "The injuries today don't help. It's all about keeping the focus, and keep getting better every day. And keep battling."
Alvarez's next start is scheduled for Saturday in New York against the Mets. If he is unable to pitch, which is likely, David Phelps would be a leading candidate to make a spot start.
Joe Frisaro is a reporter for MLB.com. He writes a blog, called The Fish Pond. Follow him on Twitter @JoeFrisaro. This story was not subject to the approval of Major League Baseball or its clubs.