MLB.com Columnist
Tracy Ringolsby
For Axford, reviving career pales to challenge of ailing son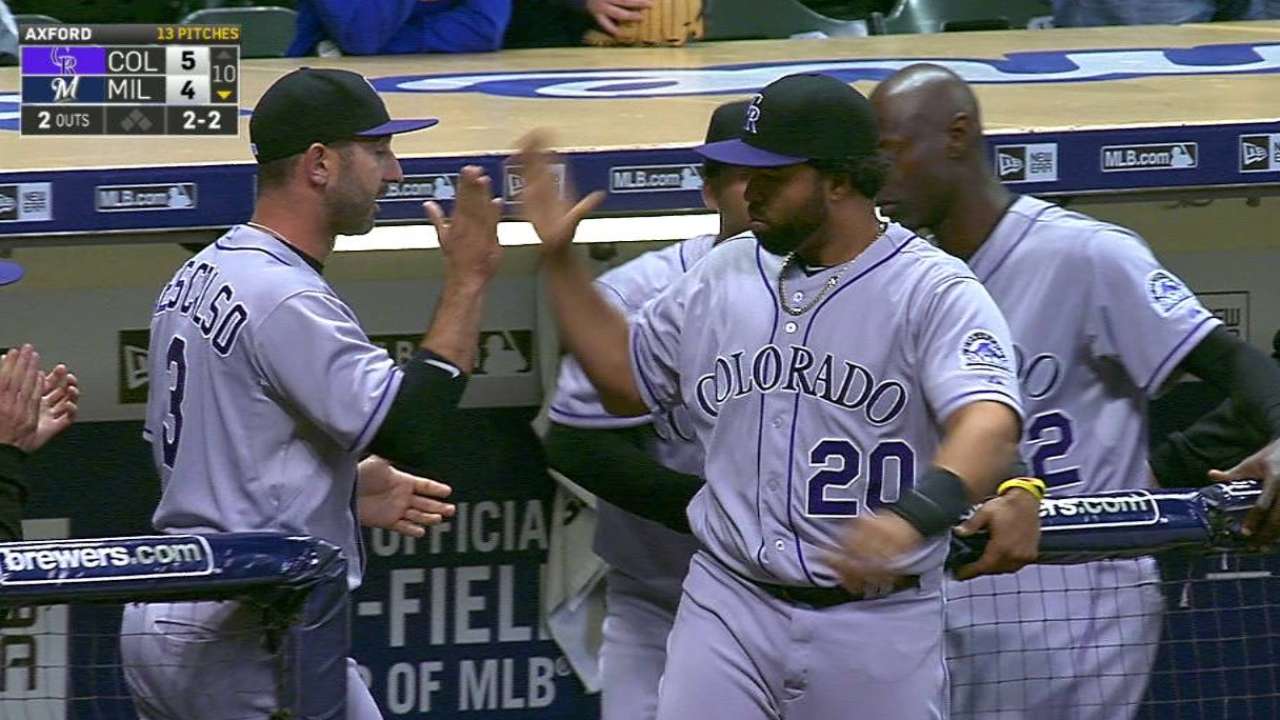 DENVER -- John Axford's baseball season has been interrupted by a dose of reality.
His son Jameson, who turns 3 in June, has suffered another setback in his recovery from being bitten twice on the top of his right foot by a rattlesnake in the backyard of the home Axford and his family rented in Scottsdale, Ariz., during Spring Training.
And Axford, for the second time in three weeks, is putting his efforts to revive his baseball career as a member of the Colorado Rockies' bullpen on hold. The Rockies placed Axford on the family medical emergency list Sunday morning.
It's a matter of priorities.
Right now, for Axford, more important than getting a save for the Rockies is being with his family while doctors try to save Jameson's right foot.
The Rockies flew to San Francisco on Sunday, night they and will open a three-game series against the defending World Series champion Giants on Monday.
Axford will be in Denver, waiting for the emergency medical flight from Scottsdale that will bring Jameson, his mother Nicole and older brother J.B. to Colorado for yet another medical procedure.
While Axford and the Rockies were opening the regular season last Monday in Milwaukee, Jameson was undergoing a surgery in Scottsdale that doctors hoped would bring an end to the anxiety, and allow the healing process to begin.
It didn't work.
"My wife couldn't actually even tell me on the phone because of how tough the news was for her," Axford said. "She's been by his side the entire time in the hospital. So it was difficult to hear that, but I just keep going back to the memories of how happy he was in his good moods and his good spots."
Doctors found a staph infection that was more serious than they expected. They removed all the tissue and skin at the spot of the bite, down to the tendon and bone. Doctors now will perform a skin graft and also repair a muscle flap that was damaged by the infection.
"He's stable, but there are still a lot of issues," Axford said.
The upcoming surgery is complicated, and Axford said among the handful of specialists who were recommended, one happened to be in Denver. That choice became easy considering Axford's current position on the Rockies.
"The doctors in Arizona have been amazing," he said. "They've texted me, called me, keeping me updated with everything. They told me that this was the worst rattlesnake bite they'd seen in the area. It's pretty unfortunate that it went that way for him, but it was fortunate that it was in the area that it was, on his foot, not somewhere else on his body."
Fortunate, yes, but that doesn't make things any easier.
This isn't like trying to salvage a baseball career. This is a bigger challenge.
It's one thing to give up a walk-off home run. There's always tomorrow, and a chance for redemption.
It's not that simple for Axford or anyone else when their child is involved. That is why Axford took a leave from the team for the better part of the final two weeks of the spring in his attempt to regain some stability in a career that has seen him split time with four teams in the past two seasons.
And it is why, after earning a save in Colorado's third game of the season at Milwaukee on Wednesday, Axford is leaving the team again to provide emotional support for his family.
Rockies manager Walt Weiss understands. When Weiss was playing for the Braves in 1997, his son Brody, age 3 at the time, was exposed to E. coli at a waterpark in the Atlanta area. His kidneys shut down briefly, and he developed a blood disease.
"It's such a helpless feeling," said Weiss, "watching your boy lie there."
Brody did, however, recover, and he has been able to live a normal life. He is now a freshman on the baseball team at Riverside (Calif.) City College.
Weiss shared his story with Axford.
"I dealt with a life-and-death situation with my son and was away from the team for a while, so I am able to empathize with John," Weiss said. "That doesn't make it any easier for John, but I think it helps when someone can share a similar experience with you."
It wasn't easy for Axford when he underwent Tommy John surgery in his junior year at Notre Dame, putting his dream of playing professional baseball in jeopardy. He was 24 and working for a cellular phone company in Toronto before the Yankees finally gave him a shot.
That was nothing compared to the helpless feeling of knowing his son is battling to survive.
"Anybody who has kids, you get to see your toddler running around, it's an amazing thing to see," Axford said. "But when your son has been laying in a bed for more than two weeks and can't move and he probably won't be able to walk for another couple of months, what you want is just for him to walk."
Now, however, it is in the hands of the doctors.
Axford is counting on them coming up with a save that will be bigger than any of the 117 he has registered in his career.
Tracy Ringolsby is a columnist for MLB.com. This story was not subject to the approval of Major League Baseball or its clubs.