Springer's game-saving catch wows teammates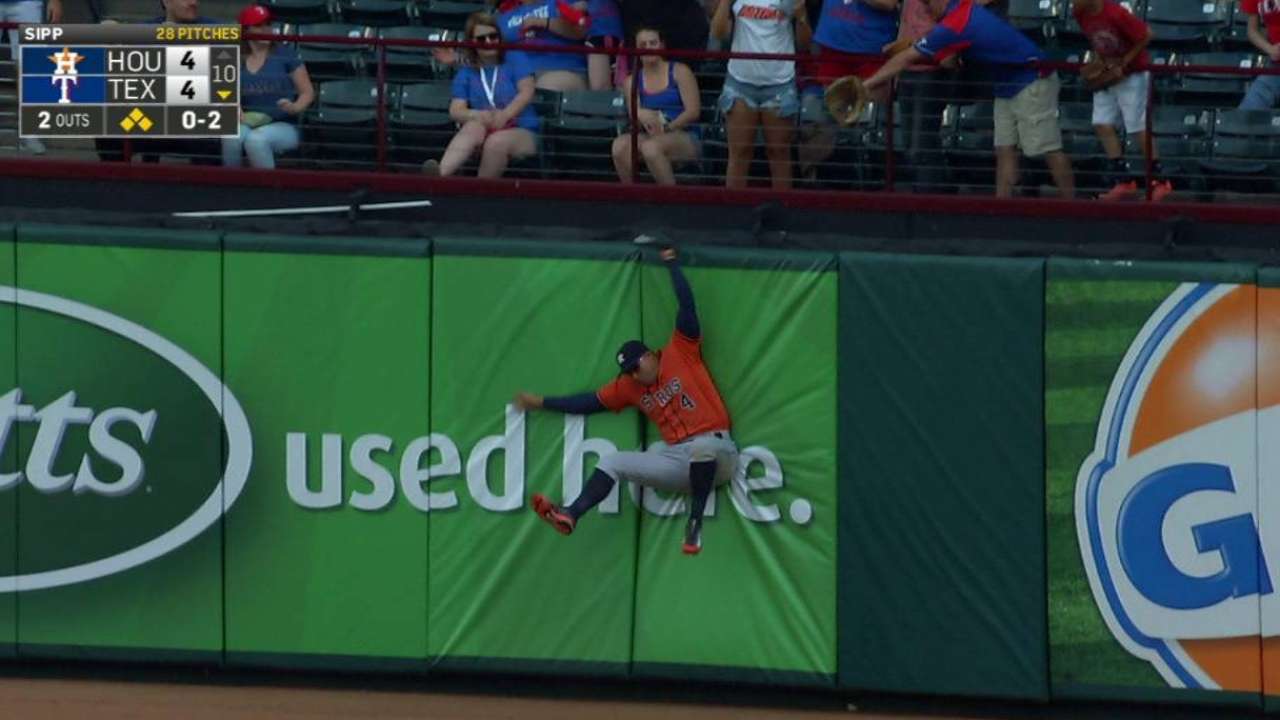 ARLINGTON -- There was disbelief in the Rangers' dugout. There was jubilation in the Astros' dugout. As for Houston right fielder George Springer, he says it was another day at the office.
Springer's spectacular leaping catch at the right-field wall robbed Rangers outfielder Leonys Martin of a walk-off grand slam with two outs in the 10th inning Sunday afternoon at Globe Life Park, and it allowed the Astros to eventually win, 6-4, on a two-run homer by Hank Conger in the 14th.
"It was one of those things it got hit and I just kind of had a bead on it and could tell it was starting to come down, and [I] just got close to the wall and jumped," Springer said matter-of-factly.
As Martin and his teammates looked on in disbelief after thinking they had won the game, Astros lefty Tony Sipp, who gave up the fly ball, was the happiest man in Texas.
"I was getting ready to try to put up the best face for TV for a walk-off," Sipp said. "You know, it's just one of those things where, 'Well, it was a home run.' And, obviously, off the bat, being an 0-2 count and I'm thinking about all the different things I could've done differently. I'm already thinking about tomorrow. And one leaping catch changed everything. I'm definitely grateful."
Martin, who had a two-run single with the bases loaded in the seventh to snap an 0-for-18 skid, was stunned.
"For me, that's going to be the best catch that anybody makes in my life," he said. "Especially a grand slam, walk-off. I can't believe that he made that play. I can't believe it."
Springer has no doubt the ball would have cleared the wall.
"I've seen it now and I know for a fact it was gone," he said. "At the time, it was go up there and you catch it."
Astros manager A.J. Hinch said the reaction to the Springer catch and the Conger homer was similar in the dugout.
"About equal screaming and hollering and excitement," Hinch said. "It doesn't feel like it, but that is just as good as hitting a home run there out of Springer. The guys were pumped. Our guys stayed in the game. The character-builder part of this win is nice. Our guys didn't quit. We didn't do a ton after that four-run inning, but guys stayed in it and did just enough."
Sipp said he's going to be grateful to Springer for a long time for saving him four runs. When asked if he would take him to dinner, he said it's the least he could do.
"It's a lot of things I got to do to make up for that, though," Sipp said. "If you look at a reliever, four runs can change a whole first half of our whole season. He definitely changed that for me. So like I said, grateful is the word I keep using, but definitely grateful for having him out there and making that play for me."
Brian McTaggart is a reporter for MLB.com and writes an MLBlog, Tag's Lines. Follow @brianmctaggart on Twitter. This story was not subject to the approval of Major League Baseball or its clubs.