Martin 'can't believe' Springer's catch to steal win from Rangers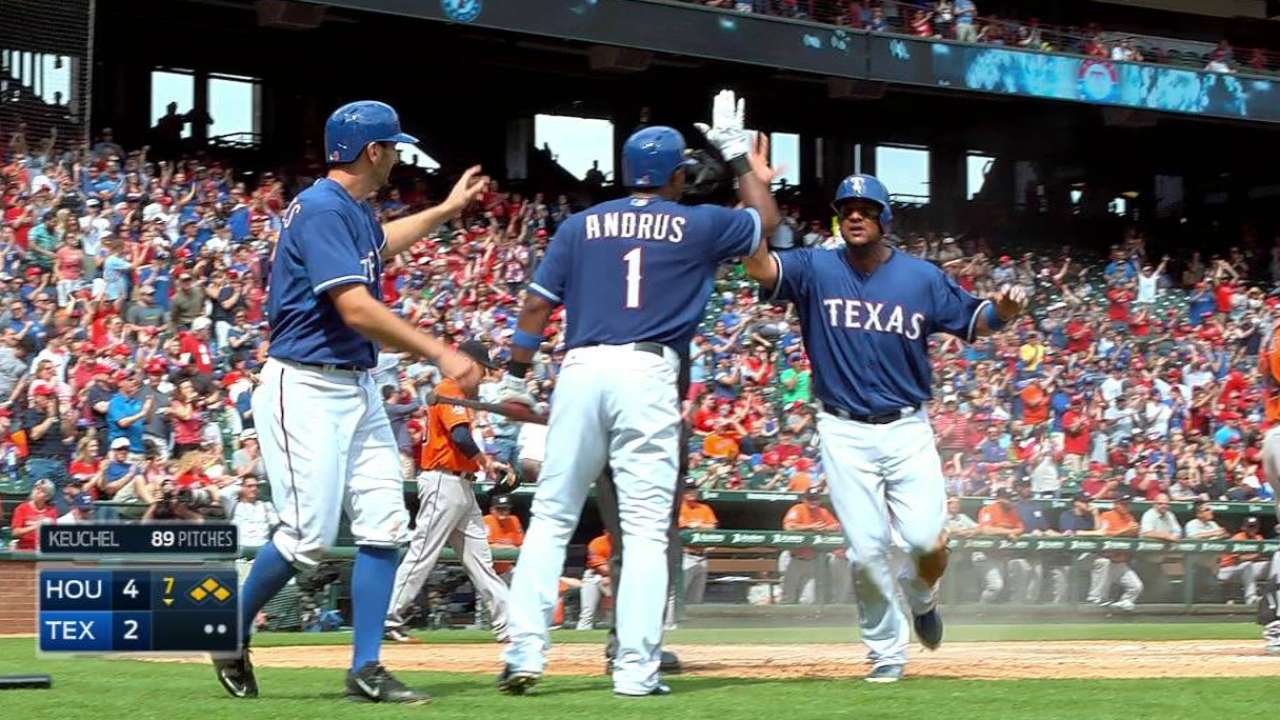 ARLINGTON -- Perhaps 99 times out of 100, the ball Leonys Martin hit with the bases loaded in the 10th inning Sunday against the Astros would have been the walk-off winner.
Not this time. Houston's George Springer made a tremendous leaping catch at the right-field wall, robbing Martin of at most a walk-off grand slam and at least a walk-off single in the Rangers' 6-4 loss.
Springer raced a long way straight back, then leapt, extended his glove and came down with the ball as he crashed into the wall.
"For me, that's going to be the best catch that anybody makes in my life," Martin said. "Especially a grand slam, walk-off. I can't believe that he made that play. I can't believe it."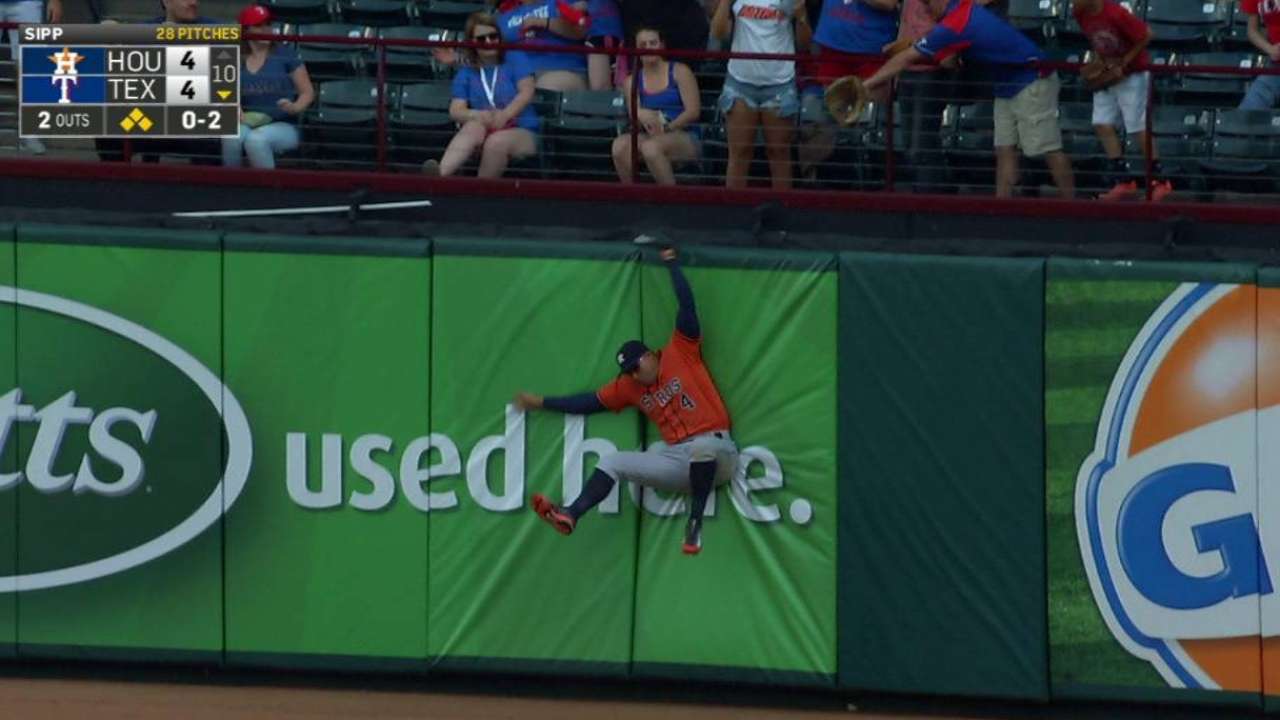 Springer's catch spared the Astros and forced the Rangers to dig deeper into their relatively inexperienced bullpen. Rookie Logan Verrett wound up with the loss, tossing two innings but allowing a two-run homer to Hank Conger in the 14th inning that was the back-breaker for the Rangers.
Conger's shot was the winner, but the whole four-and-a-half-hour affair really hinged on Springer's amazing play. In an instant, he stole the game from the Rangers.
"I felt like I had a good bead on it the whole time and it hung up and I was able to get back to the wall and jump," Springer said. Martin just stared at Springer, bat in hand, with an incredulous look after the play.
"That was my swing of the day, my moment of the day," Martin said.
You could debate whether Martin's shot to right was going to be a home run or a single off the wall -- it was hard to tell from some replay angles, though Martin and Springer both said they thought it was going out. There was no doubt that it would have won the game had Springer not caught up to it.
"It did go out," Rangers manager Jeff Banister said, "other than being in Springer's glove. I would give credit to the kid, getting back to the wall and leaping and robbing Leonys of a grand slam, a game-ender. That's an athletic kid."
Conger summed up the Astros' reaction to the play: "I thought it was going out. It kind of kept going and then all of a sudden I see Spider-Man jump up on the wall. It was unbelievable. In crunch time, that's one of the biggest plays I've seen. I've seen a lot of guys play good outfield. That was impressive."
Although Martin could hardly be blamed for the three runners he stranded in the 10th, the Rangers were only 1-for-8 with runners in scoring position.
"We left 15 [on base]", Banister said, "and we didn't get the hit that we needed, but they battled their behinds off all day long."
Struggles with runners in scoring position has been a recurring trend in the Rangers' four losses. In those games, the Rangers have only two hits in 22 at-bats (.091) with runners in scoring position. For the season, they're hitting .173 (9-for-52) in that situation.
Dave Sessions is a contributor to MLB.com. This story was not subject to the approval of Major League Baseball or its clubs.