Angels, Royals benches empty in strange sixth
Ventura exits with leg cramp soon after confrontation with Trout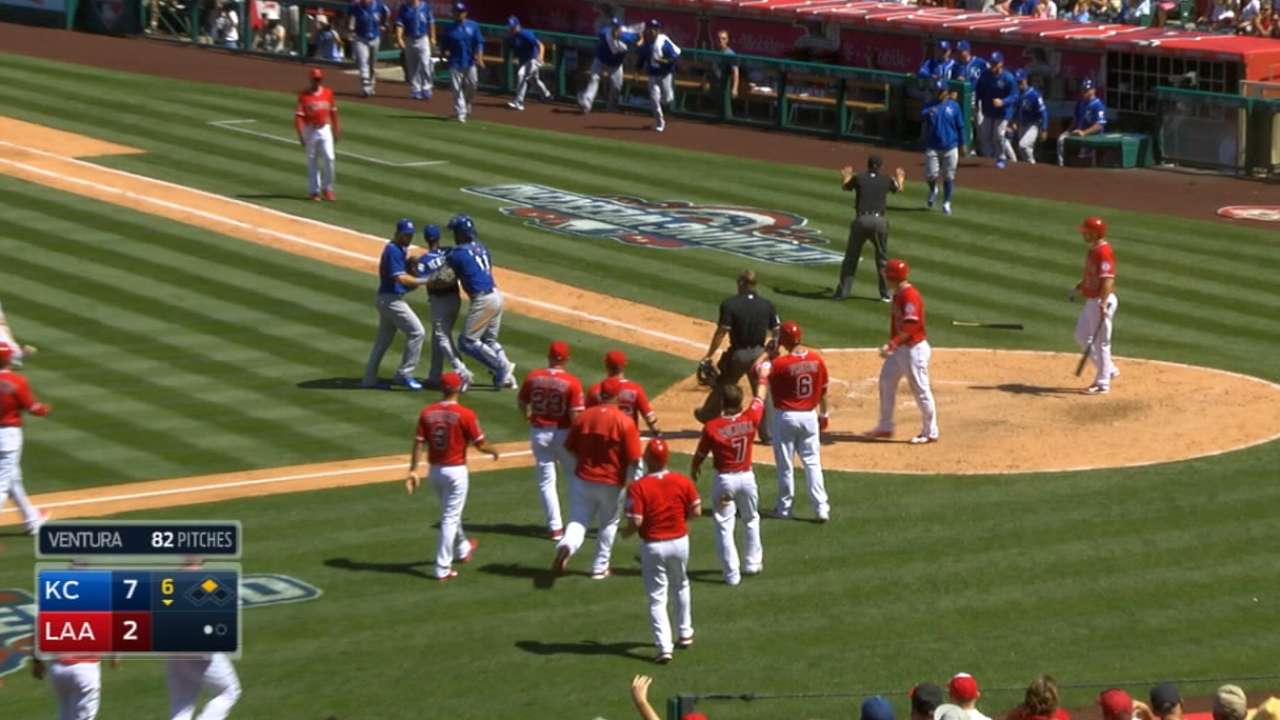 ANAHEIM -- What was heading toward a rather routine 9-2 Royals victory on Sunday suddenly got weird in the Angels' sixth inning.
Royals starter Yordano Ventura had given up just one hit and had struck out seven entering the inning with Kansas City holding a 7-1 lead.
Then with one out, Mike Trout singled sharply up the middle. Ventura appeared to stare down Trout at first base.
"It's just baseball," Ventura said through interpreter Christian Colon. "It's called competing.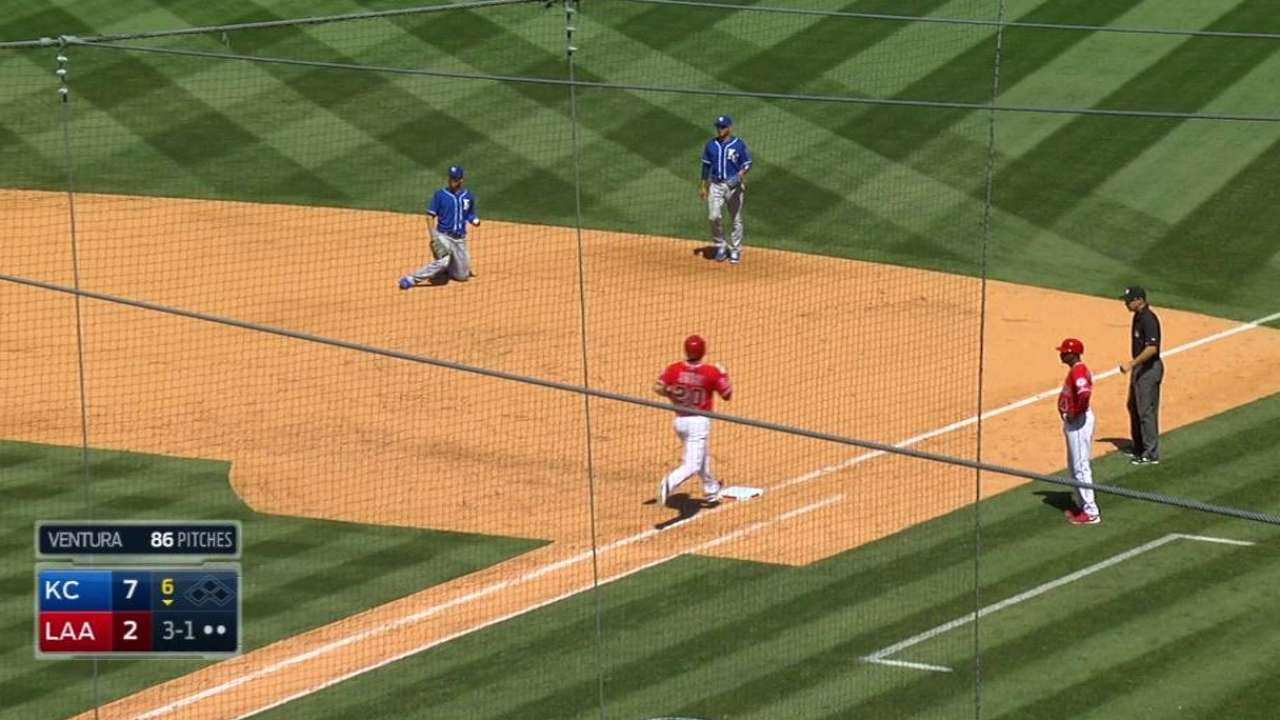 "He kind of looked at me and said, 'What?' and that kind of made me mad."
Then, Albert Pujols, the next hitter who had homered earlier, doubled scoring Trout.
After Trout slid safely into home, he got up and yelled something rather enthusiastically. Ventura, who was backing up home plate, seemed to take offense and had to be separated from Trout.
"I was just playing my game," Trout said. "I got to first base, and he was just staring at me. I just said, 'What's going on?'
"When I slid into home plate, I told [Matt] Joyce, 'Let's go,' and [Ventura] got into my face."
Both benches and bullpens emptied.
"I don't think anything would have happened," Ventura said.
But Royals catcher Salvador Perez didn't take any chances and immediately got between Trout and Ventura.
"It was just a couple of looks -- he looks, the other guy looks," Perez said. "That happens."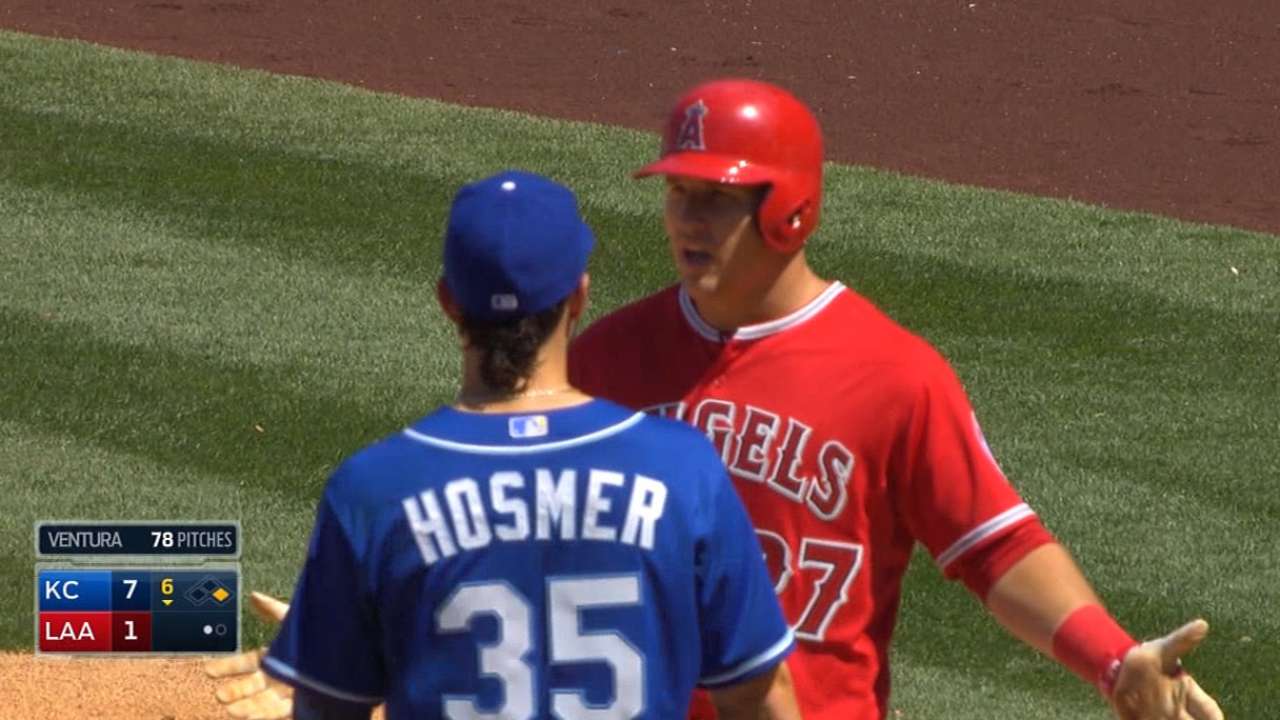 Perez and several other Royals then tried to calm Ventura down.
"I just told him to get back to baseball," Perez said. "I don't want him to fight. I told him, 'Don't get crazy.'"
With Joyce up next, Pujols, with his team down by five runs, took off for third and was thrown out easily.
Then, Joyce hit a grounder to first, and Eric Hosmer bobbled the ball. But as Hosmer regained control and got ready to throw to first, he saw Ventura was not covering the bag. Ventura pointed to his right leg and Royals trainer Nick Kenney came out to the mound.
Ventura was then replaced by Jason Frasor, who got the Royals out of the inning. After the game, Ventura was wearing a massive ice pack on his right calf, which the Royals said had cramped.
Ventura said afterward the calf felt fine. He also left his Opening Day start with a right thumb cramp.
"I will get with the trainers to see how to fix [the cramps]," Ventura said.
Jeffrey Flanagan is a reporter for MLB.com. Follow him on Twitter at @FlannyMLB. This story was not subject to the approval of Major League Baseball or its clubs.