Marcum provides bright spot in return to bigs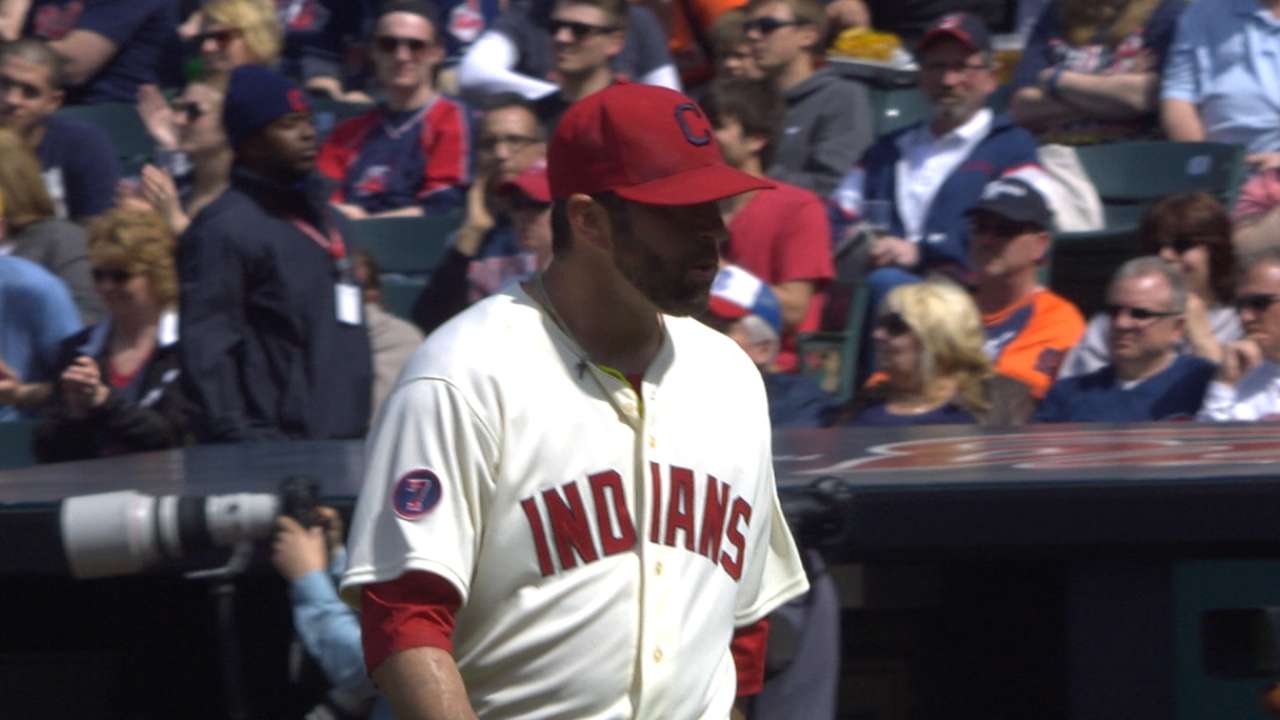 CLEVELAND -- The long road back to the Majors for Shaun Marcum wasn't complete until a car ride on two final long roads -- about 120 miles of I-70 E, and another 130 miles on I-71 N.
Five hours after leaving Indianapolis -- where the Triple-A Columbus Clippers had been playing -- Marcum arrived in Cleveland. It was 3:30 a.m. ET on Sunday morning.
Less than 12 hours later, Marcum came on in relief in the fifth inning of an 8-5 loss to Detroit. It was the first time Marcum had appeared in a big league game since July 6, 2013, after dealing with thoracic outlet syndrome in his throwing shoulder.
"It was nice to get back out there and not have it be a rehab game in Spring Training or anything like that," Marcum said. "The main thing was to go out there and try to get some innings and try to let that bullpen rest."
Marcum tossed five innings against a potent Tigers lineup that knocked around Indians' pitching all weekend. Marcum allowed one run -- a solo homer to J.D. Martinez in the ninth -- and three hits. He struck out four and walked three.
"I thought Marcum did a terrific job," Indians manager Terry Francona said. "He's used to going against some of those types of lineups. I thought he showed the veteran way he handles himself -- you can't run on him, he fields his position, he changed speeds."
Marcum admitted he was a bit anxious. His first three pitches went for balls. The second was a cutter in the dirt. Conveniently, that pitch in the dirt encouraged Nick Castellanos -- standing on second at the time -- to break for third. Catcher Roberto Perez threw him out, and, after nearly two years, Marcum had finally recorded a Major League out.
Well, sort of.
"That was huge," Marcum said. "I was rushing a little bit with mechanics, a little excitement, bouncing fastballs. So to have that play happen kind of settled me down."
After that, Marcum pretty much cruised through the final five innings. It was his scheduled day to start for Columbus, so the Indians had no problem letting him throw 69 pitches. He threw 80 in his final Spring Training tuneup.
"He's worked so hard," Francona said. "To see him out there, heck yeah, I wish we had an eight-run lead and we could have enjoyed it more. He really did a good job -- not just today, but the last year to get back to this point."
August Fagerstrom is an associate reporter for MLB.com. This story was not subject to the approval of Major League Baseball or its clubs.