Murphy's Law in effect in rough weekend for Tribe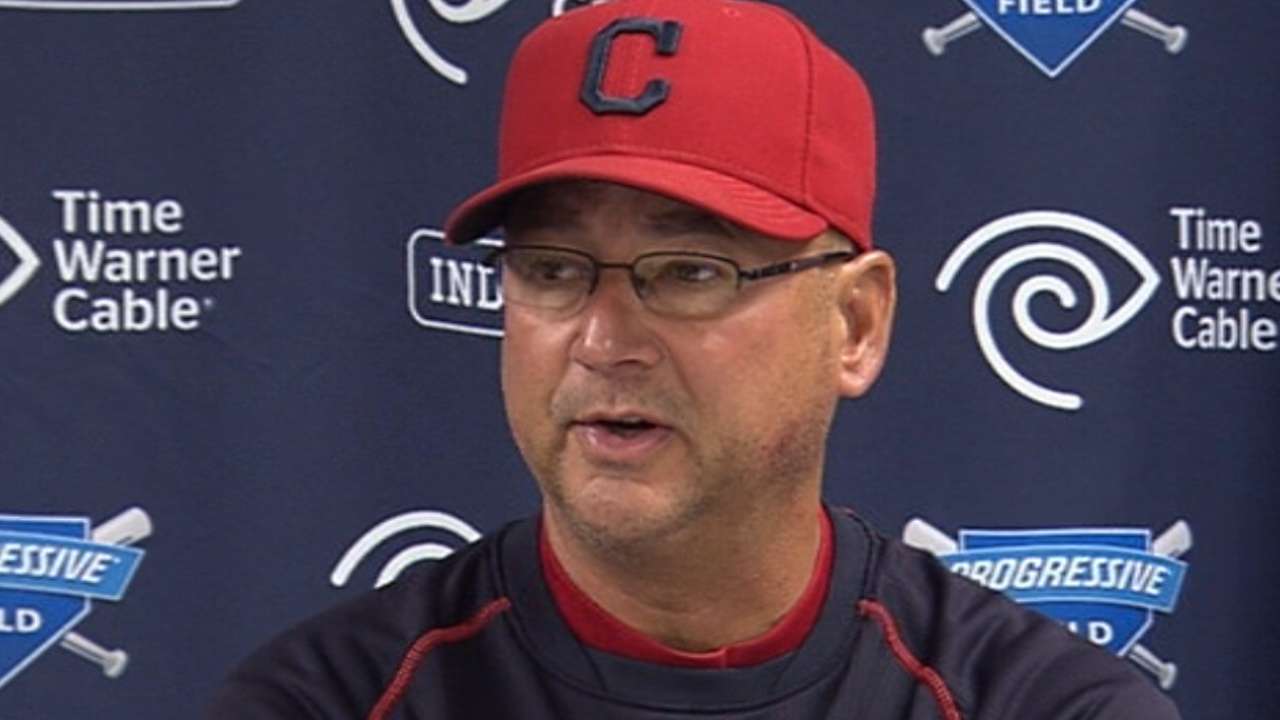 CLEVELAND -- A fitting image to sum up this home-opening series against the Tigers was found on the field before Sunday's game. Indians catcher Yan Gomes came out on crutches, joining All-Star outfielder Michael Brantley for the presentation of the Silver Slugger Awards they both won last season.
Gomes could be sidelined for two months with a sprained right knee. Brantley was out of the lineup for the past two games with a balky back issue that has been bothersome since early in Spring Training. Those two losses were discouraging enough. Then, Detroit dealt Cleveland an 8-5 defeat that sealed a series sweep of the Tribe in their first meeting of the year.
"You can't look back on it and not say that it wasn't tough," Indians second baseman Jason Kipnis said of this weekend. "I don't know which is worse -- losing the three games or losing the two players we did. I actually do know which one is worse, but it's part of the season. Every team is going to go through stuff."
It just seemed like what could go wrong, did go wrong against the Tigers.
Aside from the 6 1/3 strong innings provided by reigning American League Cy Young Award winner Corey Kluber on Saturday, Cleveland's pitching staff was bruised and beaten by the Tigers' bats. Leading the charge was a familiar foe. Detroit slugger Miguel Cabrera -- long a thorn in the Tribe's side -- had two home runs and four hits on Sunday, giving him 11 hits over the three-game series.
Cleveland's fourth and fifth starters -- Zach McAllister and TJ House -- combined to allow 11 runs on 19 hits in 5 1/3 innings in their respective outings on Friday and Sunday. In the middle game, the Tribe's bullpen coughed up seven runs after Kluber's exit. On the whole, the Indians' pitching staff posted a 7.67 ERA in the three games against Detroit after having a 1.04 ERA over the first three games in Houston.
"Some things have gone wrong," Indians manager Terry Francona said. "I actually think this is kind of our time to shine. As a team and as an organization, I think we'll figure out how to win games. Losing three in a row to these guys hurts, and the way we lost, they beat us around pretty good.
"But I feel really strongly that this group we have will find a way to pick each other up and we'll come through this."
Heading into the season, the Indians received a lot of preseason hype from national publications. Sports Illustrated went as far as placing the team on a regional cover and predicting that the Indians would win the World Series. The Tigers, who have won the past four AL Central titles, issued a reminder this weekend that the road to the division crown runs through the Motor City.
Over those past four years, Detroit boasts a 49-28 record against Cleveland. That includes a 26-12 mark over the past two seasons against Francona's Indians.
The Tribe's players are not going to worry too much about three days within a long season, though.
"It's been a tough homestand," utility man Ryan Raburn said. "In the opening series, we lose Yan and Brant's been hurt. That's definitely tough. We played our tails off. We just couldn't quite catch them this series. ... We've got 156 left. These three games aren't going to make or break it. It definitely could've been nicer to take a couple, if not all of them, but we've just got to put it behind us and get ready to move on."
Jordan Bastian is a reporter for MLB.com. Read his blog, Major League Bastian, and follow him on Twitter @MLBastian. This story was not subject to the approval of Major League Baseball or its clubs.