Buchholz frustrated, but not going to let start define season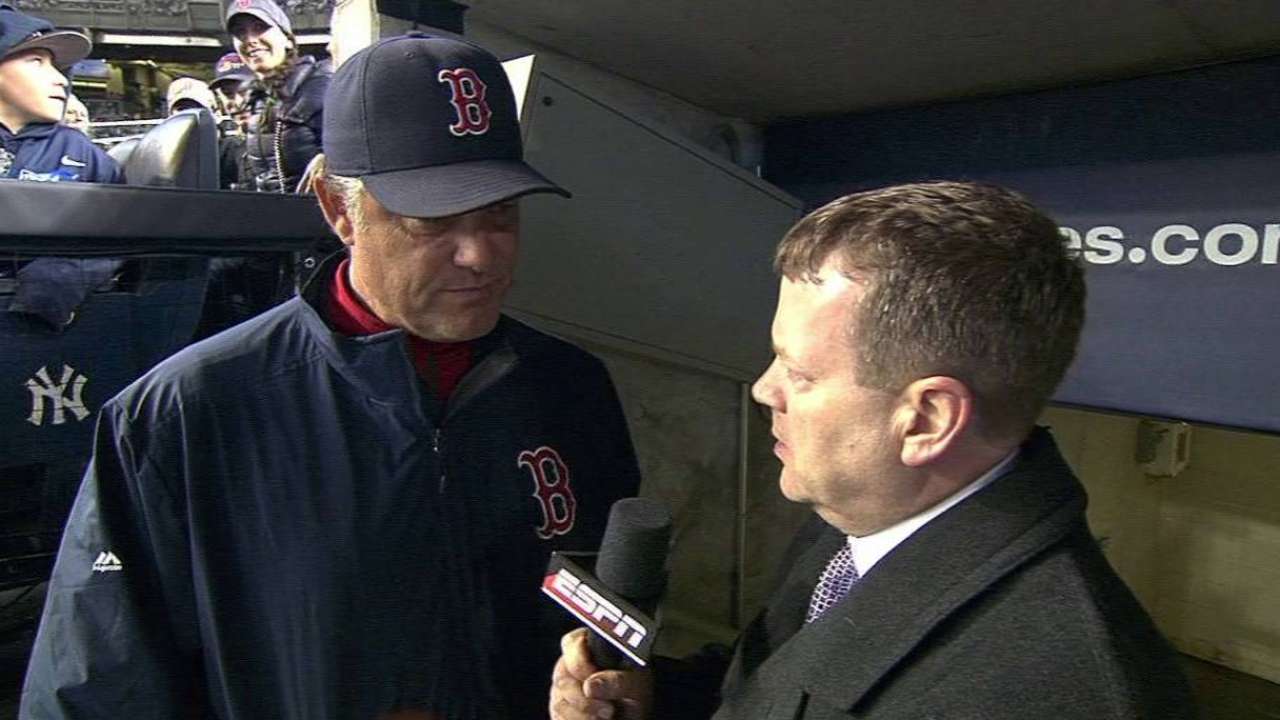 NEW YORK -- This is the season Clay Buchholz is determined to prove that he is the consistent one -- not the enigmatic one. To be sure, Sunday night against the Yankees was a step back in that quest.
But even after being belted around for a career-high 10 runs (nine earned) over 3 1/3 innings, the righty seemed determined not to let one performance -- even as bad as it was -- derail him going forward.
"I'm not going to let one start affect the way I feel about the year that we're going to have or how I feel," said Buchholz after Boston's 14-4 defeat Sunday. "They've got a good lineup. They're not the Yankees for no reason. They always find a way to put a good team together, and it's tough to sweep a series, especially here, too. I think they had a little bit of a chip on their shoulder after the way the first game of the series went and us getting a win yesterday."
Just six days earlier, Buchholz had been electric on Opening Day against the Phillies, punching out nine batters over seven innings of three-hit, shutout ball.
It's hard to fathom that he would go to the other extreme in his second start. Buchholz himself seemed to be having a hard time getting a handle on exactly what happened.
The performance started ominously, as the Yankees erupted for seven runs in the first, three of them coming on a double off the bat of Alex Rodriguez.
"The bases-clearing double, just figured I'd start him off with a cutter away and work it off," said Buchholz. "It was a good pitch. He just hit it."
The two-run homer by Chase Headley and the solo shot by next batter Stephen Drew later in the first inning were not good pitches. Buchholz admitted that much.
"Tonight with Clay, he came out and tried to use all his pitches from the get-go, and at times looked to pitch a little too fine," said manager John Farrell. "The walks along with some balls that were well placed. They squared a couple pitches up, and before you know it, it's a seven-run inning. I know he warmed up sharp. I know he warmed up with all his pitches being executed. It was a different story once he got to the mound."
Though it's hard to imagine a seven-run first wouldn't be the lowlight of the night for Buchholz and the Red Sox, the bottom of the fourth was every bit as exasperating.
Boston had scored three runs against Masahiro Tanaka in the top of the fourth to chip the deficit to 7-3. And Buchholz gave the three runs right back in the bottom of the inning.
"The momentum was clearly swinging back to us," said Farrell. "Particularly with the three runs we were able to put up. Unfortunately, we went back and weren't able to put a zero up. The most important inning to me is after you score. Unanswered runs are big, and that wasn't the case tonight."
Buchholz seemed to lose it mentally a little in the fourth, not backing up home plate on a two-run single by Brett Gardner.
"I mean, if you don't get frustrated out there after some of the things that were going on tonight, then I don't think you're human," said Buchholz. "I felt like they were going to score regardless of a good throw or not. That's a mistake on my part, but yeah, pretty frustrated when things are going that way."
Ian Browne is a reporter for MLB.com. Read his blog, Brownie Points, and follow him on Twitter @IanMBrowne. This story was not subject to the approval of Major League Baseball or its clubs.